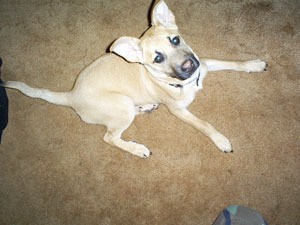 We adopted this wonderful puppy on December the 21st. We were told that he is a German Shepherd mix. Does anybody have any idea, maybe mixed with Belgian Malinois or Lab? As you can see his tail got broke in 3 places, making a kind-of 'M'. We love him more for it!
Sam from Little Rock, AR
Answers
October 10, 2011
0

found this helpful
Best Answer
We Got Izzy from a rescue when she was a few weeks old. She was advertised as a GSD mix. Currently at 10 months, she's around 40-45lbs, which is somewhat small for a GSD. Some of her features include a shorter snout, and a ring tail. Her laws are definitely smaller than I've seen in other GSD and her back is straight, not slanted. We love her either way, but have always wondered what her makeup is.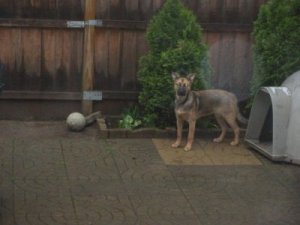 November 13, 2012
0

found this helpful
Best Answer
Our puppy Lily, looks exactly like your dog. We were told she is a German Shepard, Boxer Pit Bull mix.
November 27, 2012
0

found this helpful
Best Answer
Okay I have a puppy named Nala who could be your dogs twin! And she has one break in her tail. She just has rabbit ears lol. But I showed a picture of your dog to my boyfriend and he though it was out dog at first. Anyway, that being said we were told she was a German Shepard Husky mix.
The other dogs I say in her litter had the blue eyes (carried by the husky) and the German Shepard coat. And our girl was the odd ball out so I had no choice but to take her home (: .
Once I took her to the vet, they gave as much confirmation (as they could) to say she has some husky in her bloodline... (This was due to white coloration in fur near her paws, and having further characteristics of husky through her legs and paws.)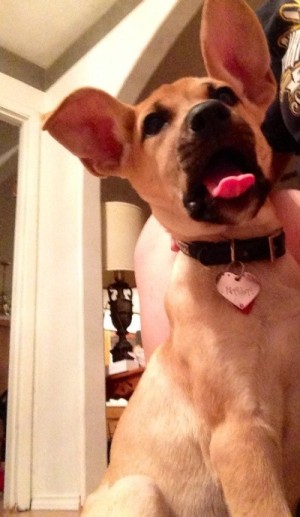 January 4, 2013
0

found this helpful
Best Answer
Hey, looks like mine! I had a DNA test and mine is Stafford mixed with white shepard.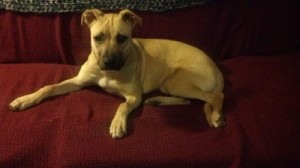 January 16, 2013
0

found this helpful
Best Answer
I had to add to this conversation because my Rosco guy looks exactly like some of these doggies! The picture is a bit old- currently, he is 8 months old and about 50 lbs. We were told her was boxer and german shepard, but people have been telling me he looks pit. Either way, he is the most loyal and loving dog ever! I love him to pieces :-) I'm thinking about getting the blood test just because I'm curious. Anyone know how accurate they are?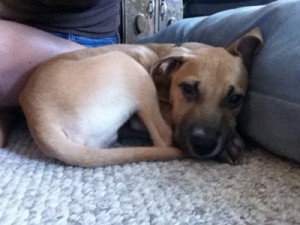 April 29, 2013
0

found this helpful
Best Answer
My puppy looks EXTREMELY similar to all the pups on here. I was told by the owner of Ava's (my puppy) parents that the mother was full-bred german shepherd and the father was have pitbull and half "wolf". Im guessing timberwolf. Let me know what you think of her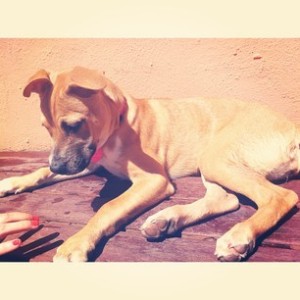 June 23, 2013
0

found this helpful
Best Answer
Seen this, and had to add in my own little baby!
This is (James) Hetfield. The Vet said he was Staffordshire Bull Terrier mixed with German Shepherd. He's about 6 months, and looks just like all the others! ;D
He's extremely energetic, and loves people.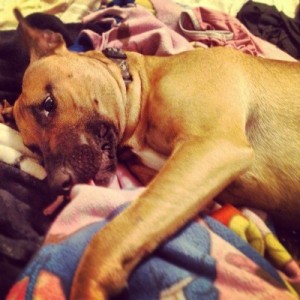 March 23, 2016
0

found this helpful
Best Answer
My Bailey looks like all of these dogs too! She was a rescue, I believe dumped in the area, because there was another one that looks just like Bailey about a mile from here, but that one had more white on her chest... And found almost 2weeks later, was curious about what type of dog she was, and came across this post. Thought I would share the photo of Bailey too.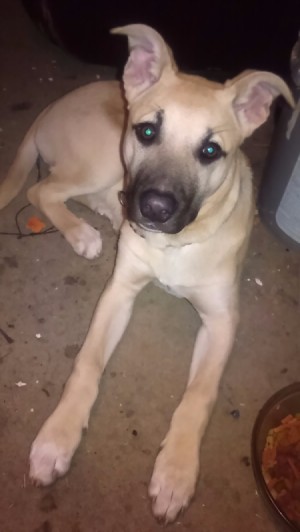 Answer

this Question
I'm wondering if my puppy is a pure German Shepherd, or possibly a mix. The guy we got him from said he was pure, but he still has very floppy ears, which I'm not extremely worried about but still.
He is 8 weeks old and has very tiny hints of white.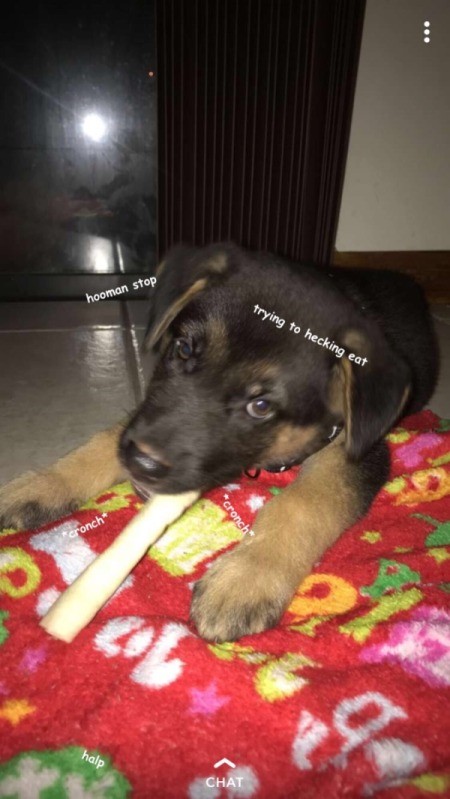 Answers
November 15, 2018
0

found this helpful
Your puppy looks like a German Shepherd, not a mix breed. The floppy ears are typical of a young German Shepherd puppy.
November 15, 2018
0

found this helpful
This dog has some German Shepherd. I'm not sure if it is a mix. You can do a DNA test to make sure.
November 15, 2018
0

found this helpful
What a doll baby!! I want to hug him! I see GS in him and a dash of lab or hound. It's a good time to get him established with the vet so see what he or she says! The vet can look at teeth, jaw, bones and hips and compare against breed standards! Post back what the vet says!! Wishing you a lovely life together!!
November 22, 2018
0

found this helpful
He has a lot of GS characteristics. Some white spots are OK, many have them here and there. the ears take a while to perk up, as they do so naturally there is no need to dock them. when you notice they are starting to perk up a little, stop manipulating and handling his ears, because you can counteract the process and end up with a permanently floppy eared dog. some GS take longer than others for the ears to stand up, but they will. 8 weeks is a little young for them to stand up give him time. Cut pup - he will make a very pretty adult.
March 20, 2019
0

found this helpful
It's a mix of Shepard and possibly American Rotty
Read More

Answers
We have always wondered what breed our dog is mixed with. We got him when he was a puppy from a shelter. In my opinion, looking back at pictures when he was a puppy, he doesn't really look like a German Shepherd. Now that he's grown he looks more German Shepherd than not. He is definitely mixed with something though.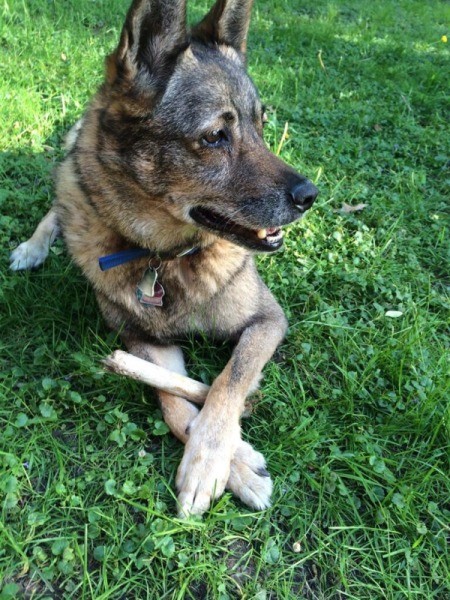 He is also smaller than a German Shepherd would typically be. I am not sure if he's a runt or if it's whatever he's mixed with. His back/hind legs also don't sag like a German Shepherd. Just took a picture of his back to show how he had few colors when he was a puppy and now he has so many.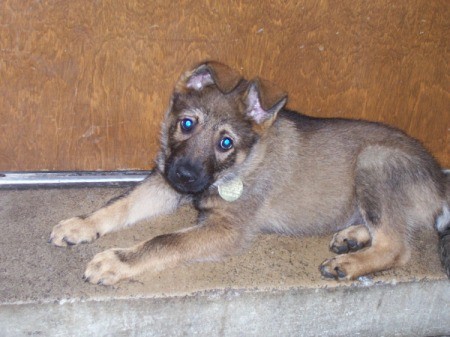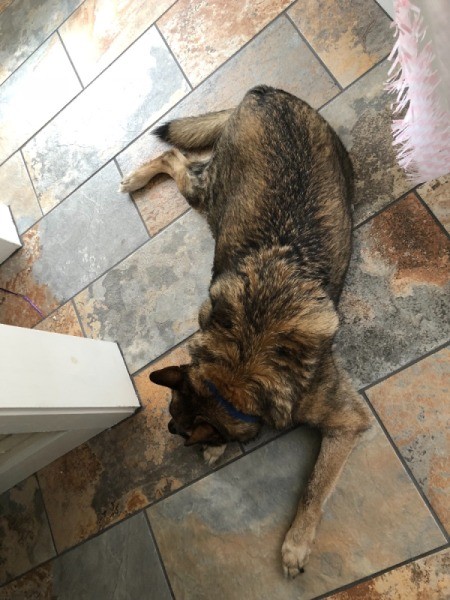 Answers
April 30, 2018
1

found this helpful
I think there may be some Husky in him.
April 30, 2018
1

found this helpful
I can defiantly see the German Shepherd , the crossed legs/ears/tail the snout is not as long as a shepherd. I think there is some Siberian Husky there, either way you have a beautiful dog !!
May 3, 2018
0

found this helpful
I would say husky or possibly chow. The coat color is a common one for a chow and there is something about his muzzle and the set of his eyes and ears that look like a chow to me. If he has a black mouth and tongue it is chow for sure. Beautiful dog!
May 17, 2018
0

found this helpful
husky or chow most like
Answer

this Question
I have a female German Shepherd. She has a wrinkly forehead and floppy ears everything else looks German. I'm just wondering if and what she is mixed with.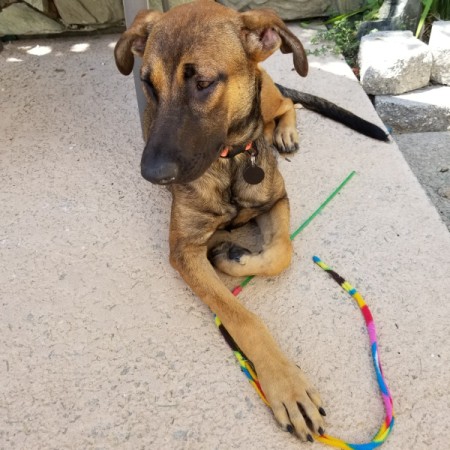 Answers
August 26, 2018
0

found this helpful
I think your dog is a mix of several breeds. You can do a dna test to find out.
August 27, 2018
0

found this helpful
The floppy ears, wrinkles and long legs make me think your dog might be mixed with one or more hound breeds.
August 27, 2018
0

found this helpful
Oh how sweet!! Give her a cookie for me!!
She has a lot of GS markings and coloring. That longer snout and thinner body may be one of the larger hounds...maybe a tad of greyhound or saluki.
Have you asked your vet? Ours is amazing in figuring out breeds. She looks at teeth, bones, hips etc. and is usually spot on!
Whatever your baby is, she is sweet and I wish you a long and lovely history together!
Read More

Answers