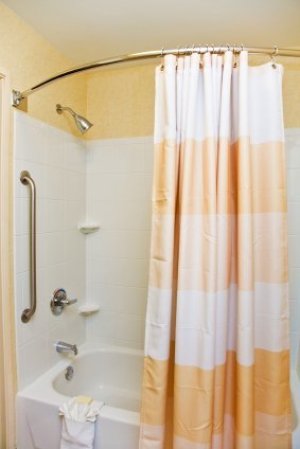 Periodic cleaning will help prevent mold and mildew from building up on your shower curtain. This is a guide about cleaning a shower curtain.
Ad
---
Solutions: Cleaning a Shower Curtain
Read and rate the best solutions below by giving them a "thumbs up".
I have only a shower in our house. I buy just shower liner curtains instead of the fancy curtains, since it's just the two of us. Some times I buy clear ones, sometimes I buy white ones. They are less than four dollars.
When they start to get a build up on them, I take them down and soak them in the sink in a small amount of bleach and white vinegar water. Then I swish it around and hang on the clothesline outside. You can feel it where it needs to be cleaned. Just keep swishing it until it feels clean. Let it dry and hang it back in the bathroom and it's as good as new. One curtain liner can last a long time.
By Michele from SW MO
We bought a new plastic shower liner, used inside fabric curtain. You should not hang up in the bathroom, as it gives off harmful chemicals. So what we did was hang the liner in the outside garage for 10 days.
By Sally from Buffalo, NY
I found that if I spray the plastic shower curtain liner about once a week with a tub and tile foam cleaner, it will look almost new. I use the Dow Scrubbing Bubbles - just spray on the inside of the shower liner, wait a couple of minutes and wipe off with a sponge or spray with the shower head. Works great!

By Melna
Give a "thumbs up" to the solution that worked the best! Do you have a better solution? Click here to share it!
Questions
Here are questions related to Cleaning a Shower Curtain.
How do I remove scum from clear plastic shower curtain? I was told to wash it in the washing machine with laundry soap and vinegar. I did and all I got was a torn ruined shower curtain.

Coreen from Burnaby, B.C.
AnswerWas this interesting? Yes No
Ad
---
---
Most Recent Answer
By Debbie Stewart [6] 02/25/20110 people found this helpful
I have the plastic shower curtain liner in my bathroom. I put it in the washer with warm water,
gain and Clorox bleach and run it through the entire
wash cycle. It comes out like new.
---
I have white tile in our bathroom and a beautiful new fabric shower curtain that was expensive. I just noticed that both have black mildew on them. I have told my husband to close the shower curtain after showering because leaving it pushed open and folded causes mildew.
How can I remove the mildew from both without using those horrible strong smelling sprays? The shower curtain is gold in color with a diamond pattern and piping around the edges. I can't use a product with bleach on it.
By Cisco's Mom
AnswerWas this interesting? Yes No
Ad
---
---
Most Recent Answer
By sharon6345 [14] 04/20/20150 people found this helpful
I have no issues with mine being I buy the good liners. I take both down and drop them in the washing machine. Remove them and hang them to dry.
Archives
Thrifty Fun has been around so long that many of our pages have been reset several times. Archives are older versions of the page and the comments that were provided then.
Any easy to wash your shower curtain is in your washing machine. Put your shower curtain in the washer along with a couple towels, then add 1/2 cup of each detergent and baking soda. Then add 1 cup white vinegar to the rinse cycle. Take the shower curtain out of the washer before the spin cycle and hang it to dry.
---
How To Clean Your Shower Curtain
I slide the curtain off the rod leaving the hooks on the curtains. Throw them in the washer with your bath rugs, add your detergent, lysol, etc. then wash them on GENTLE cycle leaving the hooks hanging out of the washer with the lid down. Works great! When the washer has finished slide hooks back on rod and let curtain or curtains drip dry by hanging them inside of the tub or shower!
By Tracy
Editor's Note: This is not mentioned in the tip but I would imagine you want to remove the curtain from the washer before it starts the spin cycle. (02/02/2005)
RE: Cleaning Your Shower Curtain
Before you hang the shower curtain, cut the "sewing" off the bottom. That is where the mold will start to collect. (02/03/2005)
By Sandy
RE: Cleaning Your Shower Curtain
Vinegar and hot soapy water in your washing machine. mix with either towels or your bath rugs for scrubbing action. (02/15/2005)
By Tara
RE: Cleaning Your Shower Curtain
I just throw mine in the washing machine -- by itself, and wash it in cold water on the delicate cycle. I use Amway SA-8, and a box of that laundry soap used to last me a year, but that was before I was married and had the luxury of being able to do laundry whenever I wanted. (03/18/2005)
By skbeal
RE: Cleaning a Shower Curtain
I also saw on "How Clean is your House" they just put it in the bath tub with hot water and some laundry soap let it soak for a while and I am not sure if they scrubbed it or not. Question? using the washer, your talking the plastic curtains right? (01/03/2007)
By Marsha
Place vinyl shower curtain in washing machine with two large towels, add regular detergent. At the beginning of rinse cycle add 1 cup white vinegar. When cycle is finished, hang to dry. Your shower curtain will come out like new!

By Marilyn from Colfax, LA
---
RE: Cleaning a Shower Curtain
If you clean it it the bathtub you can use a long handled back brush. The bristles are soft enough not to damage it in the hot water but will remove all gunk from the curtain. I also use a back brush for wicker furniture. (01/10/2008)
By MartyD
RE: Cleaning a Shower Curtain
I clean my plastic shower curtain in the washer on hot with bleach, plus a few old towels or rags that can be bleached. They add "scrubbing" action. I run it through the whole cycle, spin and all. In the summer I hang it outside to dry but if it's too cold I run it in the dryer on No Heat just to get some of the water off. Thanks for the tip Tracy about leaving the rings on! I too have a spring-action rod and can slide the curtain off - never thought to leave the rings on! Simple yet brilliant! (01/10/2008)
By Christine
RE: Cleaning a Shower Curtain
I used to wash my vinyl shower curtain until it would eventually rip and then I'd replace it. Then I wondered why I just didn't buy one of those fabric shower curtain liners that I could wash for years before it fell apart. Less plastic in the landfills! (01/11/2008)
By Lynn Beth