Use Beach Rocks Inside Vases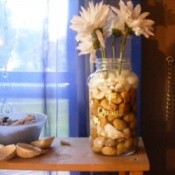 I keep my fresh flowers longer by putting them in stones I've collected at the beach. The jar is decorated with rub on decals. When flowers die, I clean off rocks, add shells and leave it.
By Moonseekerjade from Onset, MA
Feedback
Post Feedback
Add your voice to the conversation.
Related Guides
Related Posts