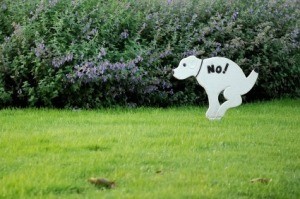 Keeping the neighbor's dogs from pooping on the grass can be a challenge. This is a guide about keeping dogs from pooping on grass.
Solutions
Share a solution for this guide today!
Questions
Here are questions related to Keeping Dogs From Pooping on Grass.
I have people who live next door (I don't consider them neighbors). They have a dog. I have asked them on separate occasions not to let their dog poop on my grass. They have a backyard which the dog could use. They are smokers and anytime they go to their car, they let the dog run loose and naturally he hits my grass.
I have tried some products, the only drawback is I had to spray my lawn every three days. Does anyone have any suggestions to keep him from making my lawn his personal bathroom? My lawn guy will be getting my grass ready for the summer, and I really don't want him being greeted again by the dog poop.
Sure I was told that they would pay the extra money he would charge for picking up their dog poop. The problem I have is they will not honor my request. I don't want to harm the dog, just keep him off my lawn!
By Beverly from Detroit, MI
---
Most Recent Answer

By Vic Peterson06/22/2011
The police and animal control cannot do anything unless you actually see the dog leave a mess and know which animal it is. The police also have more important things to do. However, I have heard that there are sprays and pepper that can be used in the area where they poop. Cats and dogs are creatures of habit and will usually use the same place since it smells like them. It is not a matter of how trivial, or better than other things happening here. It is the time and money and becoming angry due to being dis-respected and cleaning up after someone and the cost of sprays and fences. A neighbor cat used to dig up my bulbs, make my flower beds ugly and smelly with her mess, and the neighbor lady did not care after several pleadings with her. Her cat went to a farm after I caught it for the third time in a cat trap. The time and money I spent on my flower beds and trying to work it out with the neighbor warranted this final action. If she did not care about being responsible, then I took it upon myself to take some permanent action. So, try some type of spray and keep the mess area clean so the smell will not entice them to use your lawn as a toilet.
Archives
Thrifty Fun has been around so long that many of our pages have been reset several times. Archives are older versions of the page and the feedback that was provided then.
Does anyone know of a safe natural way to keep dogs from pooping on the lawn? This is inconsiderate and disgusting on the owners part.
Thanks for your help. Have a happy, healthy new year!
Ajgaymon
---
RE: Preventing Dogs From Pooping on Lawn
Do you know whose dog it is? We had a similar problem with the neighbor's dog, and we just asked them if they could do something about it. He's mostly an indoor dog so now they just attach him to a long leash attached to the house when they let him out so he can't roam over to our yard. (01/01/2007)
By Allison
RE: Preventing Dogs From Pooping on Lawn
Is this from people walking their dogs? My neighborhood dogs & parents are pretty well behaved and/or contained or leashed all the time. If it's people who are walking their dogs just run out & tell them to stop it. Dogs aren't allowed by law to run loose either. If you know whose dog it is I would confront them like the 1st person said. (01/03/2007)
By Me
RE: Preventing Dogs From Pooping on Lawn
How about a sign, "Please curb your dog!" (01/03/2007)
By Cheryl from Missouri
RE: Preventing Dogs From Pooping on Lawn
You might hand the dog owner a little plastic bag, nicely, of course. Then tell him or her that you use lawn chemicals on occasion and do not want the dog to get sick from them. Then post those little signs in your right-of-way that warn of lawn chemicals. (01/04/2007)
By Jantoo
What can I get to keep dogs from pooping on my grass?
Bridget
---
RE: Keeping Dogs From Pooping on Grass
Try "Grant's Dog and Cat Repellent" I found it at a local nursery, but you can order it online. I used it to teach my dogs to stay out of flower beds, but learned it's also effective to keep cats that are allowed to run out as well. You need to use it daily until your animals learn where they can and cannot go. If it's other animals - you could put up a fence. (04/04/2007)
By
RE: Keeping Dogs From Pooping on Grass
Place the large Pop bottles filled with water on your lot, I don't know how large your lot is. But we place one on each corner. The dogs won't poop where they think it is food. Sounds off the wall, but it works (07/08/2007)
By supersweep
RE: Keeping Dogs From Pooping on Grass
My next door neighbor lets her dog poop in the area behind my patio in heavy vines so she doesn't have to clean it up. I complained to the manager, but to no avail. I want to put something on my driveway so it won't go there, and something right on the vines. So I need something to pour on the driveway that won't hurt the cement, and something for the vines that won't hurt them. I don't care about the dog. How about some results? (11/20/2007)
By Charlene
RE: Keeping Dogs From Pooping on Grass
Try a sign for the owner. Do a search for no dog poop on the grass tin sign. (02/08/2008)
By Jim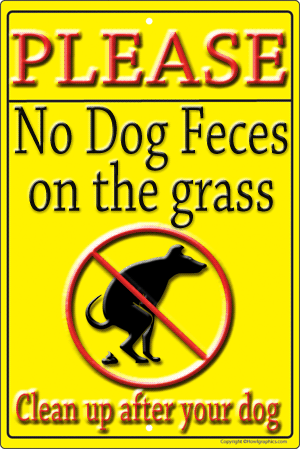 RE: Keeping Dogs From Pooping on Grass
We live in a subdivision, HOA. A nearby woman walked her two small dogs every day to our front yard, she did bring a bag to pick up after them. I had finally had enough of her, would have gone outside except still in pj's, I opened the window and yelled at her and told her not to bring them in my yard again. That I had already discussed this with the board of directors and my next step was animal control and I would file a complaint against her. She walked away shaking her head up and down "yes". I am sure anybody around here heard me but she has not been back. She is now using the yard on the corner. I am not sure what is wrong with her. They say ignorance is bliss. (04/30/2008)
RE: Keeping Dogs From Pooping on Grass
I have had people tell me to spread lye in the area, but I really don't want to hurt the dog I am not sure of this I guess its best to ask a Vet. (12/29/2008)
By George in Naples,Fla
RE: Keeping Dogs From Pooping on Grass
My next door neighbor was letting his dog poop around my mailbox, which is next to the road. One day when I saw the neighbor working in his front lawn I greeted him like a good neighbor. I told him I was having a problem with dogs pooping around my mailbox and I was puzzled as to what to do to stop it. I told him that I didn't want to put any poison down around the area as I didn't want to harm the dogs. I told him that I was thinking about sprinkling pepper all around the mailbox to prevent this. Well, the next day I didn't see any fresh poop around the mailbox, nor the day after, nor the day after that.....and so on. I never did put any pepper down around the mailbox, but it solved the problem. I never mentioned this topic again with my neighbor. (12/30/2008)
By John C.
RE: Keeping Dogs From Pooping on Grass
My subdivision there are 2000 homes probably 1/3 to half have dogs and that may be an understatement. Dog poop has filled the side of my house in front lawn countless times and at times even my driveway. I have had it! I contacted the HOA today to notify them of what I can do since it is against HOA policy to post any type of signs accept if it is approved. My 3 year old son stuck his hand in some today and I am completely lost on what to do. I am diffidently buying a security camera to install on house to at least catch some who are doing this.
I used to love dogs and I have grown up with them my whole life but since I have moved here and have seen the insensitive disrespectful dog owners invade my property with dog crap (sometimes with worms coming out) I have now grown to hate dogs and think that this whole dog owner thing in society is complete madness. I can't believe people will put the health of my kids 2nd to their dog. This is madness people, madness! (06/13/2010)
By finly77