I have people who live next door (I don't consider them neighbors). They have a dog. I have asked them on separate occasions not to let their dog poop on my grass. They have a backyard which the dog could use. They are smokers and anytime they go to their car, they let the dog run loose and naturally he hits my grass.
I have tried some products, the only drawback is I had to spray my lawn every three days. Does anyone have any suggestions to keep him from making my lawn his personal bathroom? My lawn guy will be getting my grass ready for the summer, and I really don't want him being greeted again by the dog poop.
Sure I was told that they would pay the extra money he would charge for picking up their dog poop. The problem I have is they will not honor my request. I don't want to harm the dog, just keep him off my lawn!
By Beverly from Detroit, MI
March 31, 2011
1

found this helpful
Best Answer
You didn't say if you/they own the home. If they are renters, start putting major pressure on the landlord by contacting them on every occasion that they let the dog do his business in your yard. (If you don't know who owns the house, you can look it up on the appraisal district by address and find out.) If they own the home, then start contacting Animal Control. They shouldn't let the dog loose outside of their own yard, period. I have had "neighbors" like this before (even worse ones who tortured my kids), you have my sympathy.
March 31, 2011
0

found this helpful
Best Answer
Dogs are not suppose to be off their property without being on a leash. Since you've talked with the dog owners about this issue and it's not being addressed to your satisfaction, then take it a step further; call the local dog warden of your problem and let them deal with your issue on your behalf.
If the problem continues after the warden's first visit, call again. The first visit is usually a warning and after that it gets tougher. If the owners love their dog, they will keep it confined on their own premise.
A fence makes good neighbors, so check the fence laws/regulations in your state/county. These change and you want to be up to date with what a neighbor must pay or may not have to pay if you decide to put up a fence. An agreement of what type of fence can be put up on a borderline for an example and find out the cost. You can put your own up off the borderline so many feet from it, but at your own expense and neighbor cannot dispute unless it's an electric fence, another example.
April 1, 2011
2

found this helpful
Best Answer
We used to have the same problem. My husband would pick up the dog poop and put it back in their yard. Didn't help. Then he started putting it right at their front door. A few times of stepping in it and they stopped letting the dog go in our yard.
I also saw a sign in a catalog (can't remember which one) that was in the shape of a tombstone, it said "Here lies the last dog that pooped in my yard!" You could maybe make up something like that. Good luck!
Margaret from Denton, Texas
April 1, 2011
0

found this helpful
Best Answer
Get an airhorn and every time you see the dog poop in your yard, blast away with the airhorn. Will not hurt the dog and will get your neighbor's attention. Will also get other neighbors attention; maybe it will embarrass them into being more considerate.
April 1, 2011
2

found this helpful
Best Answer
Buy some black pepper from the $1 store and spread it liberally where the dog usually enters your yard. I use it on my porch when my neighbors' cats start spraying my door. It keeps them away from quite awhile. You will have to reapply it if you water, if it rains, etc, but it might "teach" the dog to pick his own yard over yours!
December 17, 2016
0

found this helpful
It's interesting that this person says "settle down ". Why is it that someone breaking the law many times over has me in a position of not being able to walk freely in MY yard w/o feeling I'm walking through a land mind for fear of unknowingly tracking in poop, burning my grass, their disregard of the cost every month to the gardener to keep up my property and their lazy way of not bending over to pu their pets doodie which is their duty which comes along with owning a pet. One of our neighbors comes all the way down the block w dog off leash to let her dog mess in my yard.
December 31, 2016
0

found this helpful
If you like dog poop so much then let them do it in your own yard! I've had it with people who walk their animal to my yard so they can poop. I was reported to the health department who was about to issue me a citation until I explained that owned no animals and it was the neighbors who constantly brought their animals over to my place. You say it's rude but it's complete disregard for your neighbor to treat them in that manner
March 1, 2017
0

found this helpful
My neighbor had one, it was adorable but the dogs pooped right in front of it. Some owners didn't like the sign.
March 17, 2017
0

found this helpful
I was following you about the fact that the smokers didn't matter, however, Whether they are smokers or not, If the complaint was already conveyed, the fact that they don't want the dog pooping in their yard that should be enough. Why does victim have to be the one to have another meeting with the neighbors, to convey the same point, when that has already been done?? that is ridiculous. And regardless of how many other blessings counted, they should not have to deal with someone else's dog making a mess in their yard, whether they offered to pay for it or not.
SOLUTION: How about they keep their dog on a leash, and watch the dog, and not allow the dog to run in other people's yard. That is easily done by the owners, and could eliminate the problems... it sounds like the smokers are lazy as hell & just letting the dog have his way... instead of Simply honoring the neighbor's wishes about the poop in their yard. That is absurd and I feel as if you belittled the complainants Desire, which is simply to not have someone else's dog shytting in their yard. SMH
March 18, 2017
0

found this helpful
Sprinkle cayenn pepper it works great
Read More Answers
March 31, 2011
0

found this helpful
What can I get to keep dogs from pooping on my grass?

Bridget
Answers:
Keeping Dogs From Pooping on Grass
Try "Grant's Dog and Cat Repellent" I found it at a local nursery, but you can order it online. I used it to teach my dogs to stay out of flower beds, but learned it's also effective to keep cats that are allowed to run out as well. You need to use it daily until your animals learn where they can and cannot go. If it's other animals - you could put up a fence. (04/04/2007)

By
Keeping Dogs From Pooping on Grass
Place the large Pop bottles filled with water on your lot, I don't know how large your lot is. But we place one on each corner. The dogs won't poop where they think it is food. Sounds off the wall, but it works (07/08/2007)

By supersweep
Keeping Dogs From Pooping on Grass
My next door neighbor lets her dog poop in the area behind my patio in heavy vines so she doesn't have to clean it up. I complained to the manager, but to no avail. I want to put something on my driveway so it won't go there, and something right on the vines. So I need something to pour on the driveway that won't hurt the cement, and something for the vines that won't hurt them.
I don't care about the dog. How about some results? (11/20/2007)

By Charlene
Keeping Dogs From Pooping on Grass
Try a sign for the owner. Do a search for no dog poop on the grass tin sign. (02/08/2008)

By Jim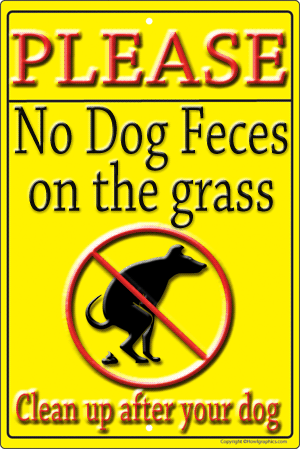 Keeping Dogs From Pooping on Grass
We live in a subdivision, HOA. A nearby woman walked her two small dogs every day to our front yard, she did bring a bag to pick up after them. I had finally had enough of her, would have gone outside except still in pj's, I opened the window and yelled at her and told her not to bring them in my yard again. That I had already discussed this with the board of directors and my next step was animal control and I would file a complaint against her. She walked away shaking her head up and down "yes". I am sure anybody around here heard me but she has not been back. She is now using the yard on the corner. I am not sure what is wrong with her. They say ignorance is bliss. (04/30/2008)
Keeping Dogs From Pooping on Grass
I have had people tell me to spread lye in the area, but I really don't want to hurt the dog I am not sure of this I guess its best to ask a Vet. (12/29/2008)

By George in Naples,Fla
Keeping Dogs From Pooping on Grass
My next door neighbor was letting his dog poop around my mailbox, which is next to the road. One day when I saw the neighbor working in his front lawn I greeted him like a good neighbor. I told him I was having a problem with dogs pooping around my mailbox and I was puzzled as to what to do to stop it. I told him that I didn't want to put any poison down around the area as I didn't want to harm the dogs. I told him that I was thinking about sprinkling pepper all around the mailbox to prevent this. Well, the next day I didn't see any fresh poop around the mailbox, nor the day after, nor the day after that.....and so on. I never did put any pepper down around the mailbox, but it solved the problem. I never mentioned this topic again with my neighbor. (12/30/2008)

By John C.
Keeping Dogs From Pooping on Grass
My subdivision there are 2000 homes probably 1/3 to half have dogs and that may be an understatement. Dog poop has filled the side of my house in front lawn countless times and at times even my driveway. I have had it! I contacted the HOA today to notify them of what I can do since it is against HOA policy to post any type of signs accept if it is approved. My 3 year old son stuck his hand in some today and I am completely lost on what to do. I am diffidently buying a security camera to install on house to at least catch some who are doing this.

I used to love dogs and I have grown up with them my whole life but since I have moved here and have seen the insensitive disrespectful dog owners invade my property with dog crap (sometimes with worms coming out) I have now grown to hate dogs and think that this whole dog owner thing in society is complete madness. I can't believe people will put the health of my kids 2nd to their dog. This is madness people, madness! (06/13/2010)

By finly77
August 3, 2016
0

found this helpful
I fully understand your frustration but urge your to aim your hatred where it belongs, at the owner, not the dog. Having grown up around and loving dogs surely you can appreciate that, changing your feelings about dogs is a punishment to you and robs you of the love and good feelings that most dogs give to you for free. Careless, thoughtless owners that allow this behavior should not be allowed to have pets. Bottom line though, the dogs don't even understand that you don't like it.
Read More Comments
April 3, 2007
0

found this helpful
Does anyone know of a safe natural way to keep dogs from pooping on the lawn? This is inconsiderate and disgusting on the owners part.

Thanks for your help. Have a happy, healthy new year!

Ajgaymon
Answers:
Preventing Dogs From Pooping on Lawn
Do you know whose dog it is? We had a similar problem with the neighbor's dog, and we just asked them if they could do something about it. He's mostly an indoor dog so now they just attach him to a long leash attached to the house when they let him out so he can't roam over to our yard. (01/01/2007)

By Allison
Preventing Dogs From Pooping on Lawn
Is this from people walking their dogs? My neighborhood dogs & parents are pretty well behaved and/or contained or leashed all the time. If it's people who are walking their dogs just run out & tell them to stop it. Dogs aren't allowed by law to run loose either. If you know whose dog it is I would confront them like the 1st person said. (01/03/2007)

By Me
Preventing Dogs From Pooping on Lawn
How about a sign, "Please curb your dog!" (01/03/2007)

By Cheryl from Missouri
Preventing Dogs From Pooping on Lawn
You might hand the dog owner a little plastic bag, nicely, of course. Then tell him or her that you use lawn chemicals on occasion and do not want the dog to get sick from them. Then post those little signs in your right-of-way that warn of lawn chemicals. (01/04/2007)

By Jantoo