Bella (Domestic Shorthair)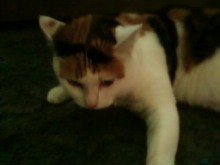 Bella is a five year old Domestic Shorthair. We adopted Bella at the SPCA. When we adopted Bella, I was asked if I wanted her tested for FIV and FELV (feline AIDS and feline leukemia). I declined, mainly because I didn't have $70 to pay for this these tests and I couldn't imagine rejecting an animal just because it might end up being sick. We adopted two kitties that day, Bella and Howard. Bella became sick about 11 1/2 months later and we lost her to feline leukemia almost a year to the day of her adoption. After she died, we had our other cat tested. He is positive for both FELV and FIV. Howard is asymptomatic for the most part, but he occasionally gets rashes that can't be explained. Bella was asymptomatic till about two weeks before she died. Please have your cats tested and vaccinated against these awful diseases.
By Amy from PA
Feedback
Read feedback for this post below. Click here to post feedback.

By
04/29/2012
I am so sorry for your loss. Thank you for the info on the vaccines. It is so hard to lose a darling pet!
Post Feedback
Add your voice to the conversation.