Crafts Using Tiles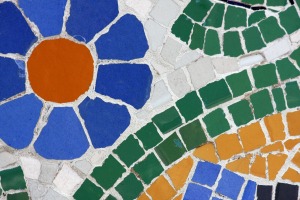 There are many ways to ways to use and repurpose ceramic and glass tiles to create something unique. This guide contains
crafts using tiles
.
Solutions
Share on ThriftyFunThis guide contains the following solutions. Have something to add? Please share your solution!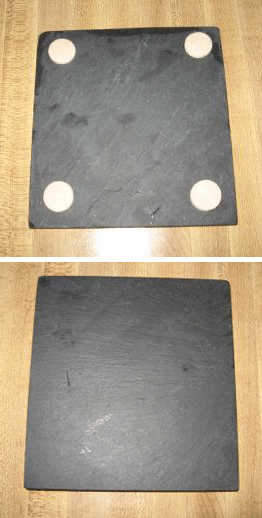 Trivets or small hot pads made from tiles.
Approximate Time: 5 minutes
Supplies:
tiles
cork, or rubber pads
Instructions:
Purchase tiles of any shape or size to fit your decor. Purchase packs of cork, or rubber self sticking pads. Put the pads on the bottom of the tile and you have instant trivets/hotpads.
There are so many tiles out there now you can match any decor. This is also usually much cheaper than buying trivets or hotpads.
The first picture is my hotpad made out of a slate tile. This is the underside of the slate tile that has the pads glued on them. The second is the top side.
By Susan from Mulberry, FL
Read 2 Comments
I have covered the back of a tile with white duct tape. I made a frame of duct tape too around the tile. I then put stencils on it, with a purple ink pen.
I am going to give it to my daughter with a set of brushes and acrylic paints, so that she can maybe start enjoying painting.
You don't have to use a tile. You can get canvas and trace stencils on it, or you can use watercolor paper and give them watercolors (watercolor is harder than it looks).
I am thinking she would enjoy this. I have put a picture of the gift as she will receive it. Blessings.
By Robyn from Tri-Cities, TN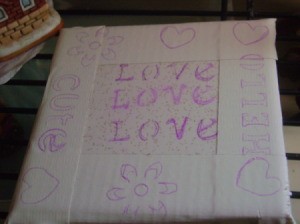 April 25, 2005
0

found this helpful
For an unusual looking planter, take 5 bathroom or floor tiles and glue together with epoxy (4 sides and 1 bottom).

By Truerblue
Read 2 Comments
June 20, 2016
0

found this helpful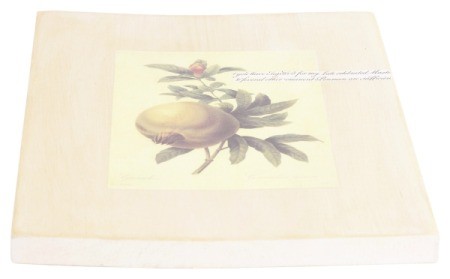 This is a guide about decoupaging ceramic tiles. Decoupage is one method for making decorative ceramic tiles.
January 21, 2016
0

found this helpful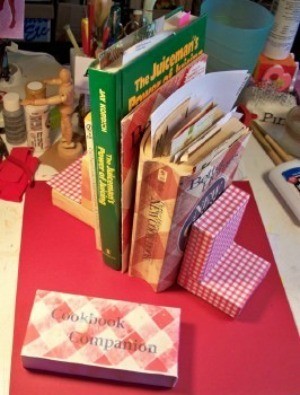 This is a guide about making recycled tile bookends. Using either new or leftover wall tiles, you can make a cute and inexpensive set of bookends.
July 2, 2013
0

found this helpful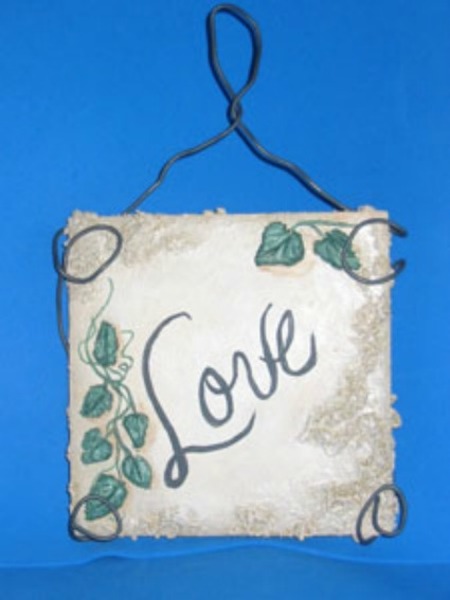 This guide is about painted tile crafts. A personalized, unique message or picture can be painted on a tile.
Questions
Ask a QuestionHere are the questions asked by community members. Read on to see the answers provided by the ThriftyFun community or ask a new question.
January 10, 2006
0

found this helpful
I have one lonely 12x12 ceramic tile that I found the other day. It's beautiful and I don't want to throw it out. Does anyone have any ideas for a craft that I could use to display this beautiful tile with that doesn't require a lot of other items?

I thought about making a notepad holder somehow by adding a small pad and pen but I've run out of ideas. I'd like to make something with it and have it on my counter.

Any ideas would be appreciated.

Thank you,
Yvonne from Ontario
By guest (Guest Post)
May 25, 2008
0

found this helpful
I want to break a miniature tea set and attach it to tile and use as a backsplash in my kitchen so it has a 3-D effect. any suggestions as to glue, etc.?
By guest (Guest Post)
February 26, 2009
0

found this helpful
Why not try decopaguing some kitchen artwork on it and using it as a trivet for setting hot pots on?
Read More Answers
March 21, 2007
0

found this helpful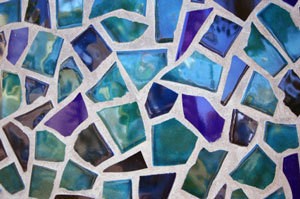 Here are some crafty ideas for using leftover ceramic tiles. Post your own below.
Coasters, Trivets and Other Craft Ideas
I have a home daycare and we have used tiles to make coasters for the living room, a base for another project, glued a picture on one and sealed it, make a trivet, and I think that's all. You could let the kids make their own photo collage on a couple and hang them with pretty ribbon, rafia, or rope. The coasters we put felt on the bottom so they would not scrath the furniture. Good luck!
By Suzi Homemaker
Mosaic Table Top
I am planning a project that uses tiles. My sister's glass patio table top is broken, and she gave me the frame. We are cutting plywood to fit the opening. Then we are breaking up my white tile, grouting the plywood, and making a mosaic table top. I want to purchase a few blue tiles, also, as my home is blue and white. There are colored grouts, also.
Let Kids Decorate Tiles
My grandaughter went to a birthday party last summer and one of the activities was decorating ceramic tiles and using them to set hot dishes that were to hot to set directly on the table. I collect angels so she painted an angel on mine and gave it to me for Christmas last year. When I opened it I got all teary eyed. It was My favorite gift and I use it every night!
By BJ, Ky
Photo Christmas Ornaments
You could use them as Christmas ornaments with the kids pictures on them. You could use a copy of the picture if you didn't want to use the original. Just glue the picture onto the tile with school glue watered down. Then seal it with several coats of the school glue once the picture had dried. Hot glue a hanger or ribbon on the back and it will be ready for the tree. You could also get them to just decorate the tiles any way they like and use contact paper over that and sit them around.
By Michele
Use Glass Paint
You use glass paint on tiles. Then let them dry over night. Next day you bake the tiles in the oven following manufacturing directions. Let cool completely and then take out. You are ready to decorate now.
By Sandy in Vermont
Mosaic Tips
I enjoy mosaics and have made everything from candleholders (broken colored glass is my favorite material for the candleholders) to tabletops. Just make sure your plywood is thick enough that there is no bend or give and be sure to seal it before you begin glueing. You can use broken china on your table also. Find it cheap at dollar stores or garage sales. There really are no rules, you can use almost any material to mosaic.
By Rachel
By guest (Guest Post)
January 24, 2009
0

found this helpful
What am I doing wrong? I wash tiles and clean well with alcohol. I bake as directed, but the paint still comes off tiles. Does not seem to be lasting. Please let me know what I am doing that prevents the glossies from adhering. edwinafox @ live .com
March 21, 2013
0

found this helpful
(Submitted by email)
We have found what you're looking for at Hobby Lobby. It comes in different widths.
Sharon H.
Read More Answers
I have square, clear glass tiles with etched/frosted Celtic circles. The glass is not thick. I would love to do art project with them. Any suggestions? Thanks!

Marie from NYC
By guest (Guest Post)
October 19, 2008
0

found this helpful
Make a gazing ball. See if the bowling alley will give you an old ball. Clean it off with alcohol to make sure it is very clean. You can then prime if you wish with Zinzer 123 primer or you can leave it be ....depends on what you want to show underneath. For instance, if you have mostly blue tiles, a blue ball would look good. The apply the tiles with silicone clear window and door caulk. I have used GE brand. When you apply the tiles, sit it on top of a metal coffee can or something similar so that you have a base for it while applying the tiles. I would say to do about 1/2 your ball one day, let sit and then do the other side. I have used the glass 1/2 balls and they look great when done. I would think the glass tiles would be even prettier.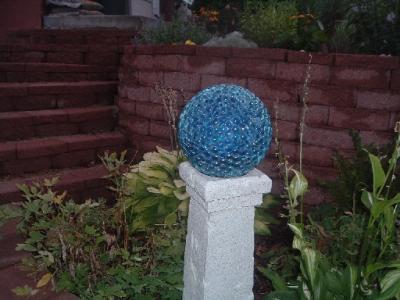 May 25, 2016
0

found this helpful
Take a tv tray and your glass tiles make your design . oh put a couple nail were your TV tray slides with the tile you can fold it . tiles are heavy could come loose and vreakv. So you have your design your tile and your spray adhesive glue down your tiles let dry for 24 hours you can grout let it dry now you have have a new table for your barbecue today or your hot food fun I'm in process of doing one myself
Read More Answers
I would like to hand paint ceramic tiles to give as gifts and am looking for blank ceramic tiles to purchase. Can you help me? I would appreciate it. Thanks.
By Colleen C
November 9, 2010
0

found this helpful
Most people I know just buy them at the lumber yard type store (Lowe's, Home Depot, etc.).
Related Content