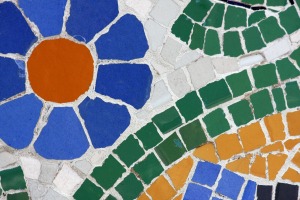 There are many ways to ways to use and repurpose ceramic and glass tiles to create something unique. This guide contains crafts using tiles.
Ad
---
Solutions: Crafts Using Tiles
Read and rate the best solutions below by giving them a "thumbs up".
A fun easy craft for a rainy or snowy day is making bookends from 3 or 4 inch tiles. Tiles can be new, but I have done some remodeling and have excess tiles lying about, and it's easy to find extra tiles at garage sales.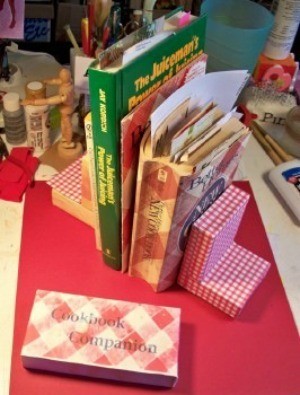 Children can have fun with this, but as always, adult supervision is needed when using a glue gun, or mixing epoxy glue.
Approximate Time: Less than an hour
Supplies:
tiles, new or reusable
glue gun or epoxy glue
construction paper
embellishments, as needed
regular white tacky glue
Instructions:
Gather supplies from the list above. Use four tiles for each bookend.
Glue two tiles together with finish face showing.
Now glue a pair of these tiles to the other pair as shown.
Decorate or embellish as needed.
A pattern is shown that can be used to cut construction paper that can be glued to the bookend.
To this paper, decorations can be applied, be they paper, fabric, artifacts or whatever you want.
Some tiles are pretty enough to stand on their own. Simply cut strips of complementary paper and glue to edges to hide gaps between tiles.
By Lonnie from Chatsworth CA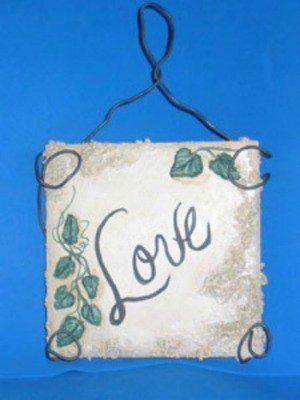 A friend of mine gave me ceramic tiles she had left over from her bathroom. She knows I paint on anything that stands still! Word Art is so popular right now. I decided to make the tiles look like stones. They can then be hung individually or in groups.
Supplies:
4x4 inch ceramic tiles
adhesive tile grout
enamel craft paints
script paint brush
stiff black wire
wire cutters
needle nose pliers
optional-strips of felt/craft glue
Instructions
Using a plastic disposable knife, apply grout to corner edges of tiles. How much you put on is a personal preference. Let dry until hard.

Paint entire top surface of tile with enamel paint. I usually use a darker shade to add depth to the crevices of the grout. Let dry.

Paint tile again with a lighter shade. This time, do not push paint into tile crevices, just brush over the top. This leaves the dark to add depth. Let dry.

You may need more coats depending on how thick your coats are. Make sure the center surface is smooth for the words.

Take the tile grout and put small blobs in a line, smashing them on with your finger. These will be your leaves. Before these dry, take a toothpick and shape into leaf shapes. Use toothpick to "draw" veins in leaves. Let dry.

Paint leaves. (You can add shadows around leaves if you desire.) Paint the vines to connect the leaves to each other. Let dry.

Paint words of your choice with script brush.

Optional: you can spray with satin finish for more protection.

For Hanger: Cut a 24" piece of black wire. I usually buy this by the spool at the hardware store. It's much cheaper than the craft store. A spool usually costs about $3.00 and lasts me for a couple of years!

Fold wire in half and make a loop for the hanger by twisting a couple of turns. You should have two ends, one for each side of the tile.

Place tile on top of wire and bend loops around the top corners of the tile from back to front. Push these down and they will hold the tile.

Take remainder of wire and fold under the bottom corners of the tile coming back up on top with a loop to hold the bottom.

Optional: you can glue felt strips on the back to protect your wall from the wire.
By Artlady from Edmond, OK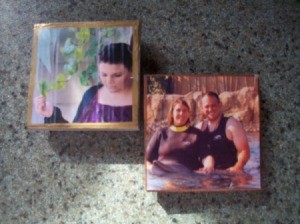 When using Mod Podge to seal your photo tiles and you want to avoid brushstrokes, take a piece of sponge and stipple it on top. You could also use a clear spray lacquer instead.
I have covered the back of a tile with white duct tape. I made a frame of duct tape too around the tile. I then put stencils on it, with a purple ink pen.
I am going to give it to my daughter with a set of brushes and acrylic paints, so that she can maybe start enjoying painting.
You don't have to use a tile. You can get canvas and trace stencils on it, or you can use watercolor paper and give them watercolors (watercolor is harder than it looks).
I am thinking she would enjoy this. I have put a picture of the gift as she will receive it. Blessings.
By Robyn from Tri-Cities, TN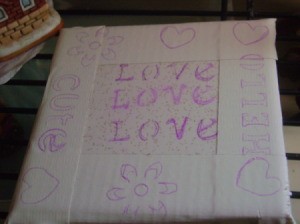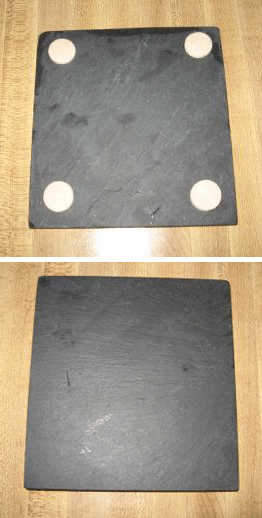 Trivets or small hot pads made from tiles.
Approximate Time: 5 minutes
Supplies:
tiles
cork, or rubber pads
Instructions:
Purchase tiles of any shape or size to fit your decor. Purchase packs of cork, or rubber self sticking pads. Put the pads on the bottom of the tile and you have instant trivets/hotpads.
There are so many tiles out there now you can match any decor. This is also usually much cheaper than buying trivets or hotpads.
The first picture is my hotpad made out of a slate tile. This is the underside of the slate tile that has the pads glued on them. The second is the top side.
By Susan from Mulberry, FL
For an unusual looking planter, take 5 bathroom or floor tiles and glue together with epoxy (4 sides and 1 bottom).

By Truerblue
Give a "thumbs up" to the solution that worked the best! Do you have a better solution? Click here to share it!
Questions
Here are questions related to Crafts Using Tiles.
I belong to a Red Hat Society and I would like to make photo tiles 4x4 for each member with their photo. Any idea on how to do this?

Thanks,
Johnnetta from Clayton, NJ
AnswerWas this interesting? Yes No
Ad
---
---
Best Answer
By Vanessa (Guest Post) 01/05/20090 people found this helpful
Hi, I just did this for my family for Christmas. There are 2 ways. A friend of mine used card stock, and regular modge podge. A layer underneath and a layer on top. The lines were very obvious from the brush, so she made designs with the brush, waves, diagonal lines, etc. I think she put a layer on top too. She also tore the edges of the card stock and printed in b+w to give it an antique look.

I used photo paper, and hard coat modge podge. My lines were also obvious, but not as obvious as hers. I also made designs with my brush to make it look intentional. After I adhered my photos to the tiles, I gently sanded the edges of the photo (with a fine grit sanding sponge) for a distressed look. I also printed in b+w. I cut the photos to almost the edge of the tiles before I glued them down. My friend left a little over 1/4 inch border around her photo. Don't forget the little felt pads underneath the tile if you intend on them for coasters. Good Luck.
I have one lonely 12x12 ceramic tile that I found the other day. It's beautiful and I don't want to throw it out. Does anyone have any ideas for a craft that I could use to display this beautiful tile with that doesn't require a lot of other items?

I thought about making a notepad holder somehow by adding a small pad and pen but I've run out of ideas. I'd like to make something with it and have it on my counter.

Any ideas would be appreciated.

Thank you,
Yvonne from Ontario
AnswerWas this interesting? Yes No
Ad
---
---
Most Recent Answer
By Gloria (Guest Post) 02/26/20090 people found this helpful
Why not try decopaguing some kitchen artwork on it and using it as a trivet for setting hot pots on?
---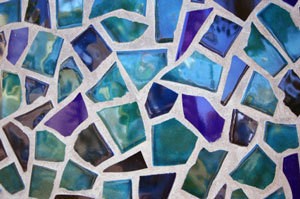 Here are some crafty ideas for using leftover ceramic tiles. Post your own below.
Coasters, Trivets and Other Craft Ideas
I have a home daycare and we have used tiles to make coasters for the living room, a base for another project, glued a picture on one and sealed it, make a trivet, and I think that's all. You could let the kids make their own photo collage on a couple and hang them with pretty ribbon, rafia, or rope. The coasters we put felt on the bottom so they would not scrath the furniture. Good luck!
By Suzi Homemaker
Mosaic Table Top
I am planning a project that uses tiles. My sister's glass patio table top is broken, and she gave me the frame. We are cutting plywood to fit the opening. Then we are breaking up my white tile, grouting the plywood, and making a mosaic table top. I want to purchase a few blue tiles, also, as my home is blue and white. There are colored grouts, also.
Let Kids Decorate Tiles
My grandaughter went to a birthday party last summer and one of the activities was decorating ceramic tiles and using them to set hot dishes that were to hot to set directly on the table. I collect angels so she painted an angel on mine and gave it to me for Christmas last year. When I opened it I got all teary eyed. It was My favorite gift and I use it every night!
By BJ, Ky
Photo Christmas Ornaments
You could use them as Christmas ornaments with the kids pictures on them. You could use a copy of the picture if you didn't want to use the original. Just glue the picture onto the tile with school glue watered down. Then seal it with several coats of the school glue once the picture had dried. Hot glue a hanger or ribbon on the back and it will be ready for the tree. You could also get them to just decorate the tiles any way they like and use contact paper over that and sit them around.
By Michele
Use Glass Paint
You use glass paint on tiles. Then let them dry over night. Next day you bake the tiles in the oven following manufacturing directions. Let cool completely and then take out. You are ready to decorate now.
By Sandy in Vermont
Mosaic Tips
I enjoy mosaics and have made everything from candleholders (broken colored glass is my favorite material for the candleholders) to tabletops. Just make sure your plywood is thick enough that there is no bend or give and be sure to seal it before you begin glueing. You can use broken china on your table also. Find it cheap at dollar stores or garage sales. There really are no rules, you can use almost any material to mosaic.
By Rachel
AnswerWas this interesting? Yes No
---
Most Recent Answer
By Sally [16] 03/21/20130 people found this helpful
(Submitted by email)

We have found what you're looking for at Hobby Lobby. It comes in different widths.

Sharon H.
---
I have square, clear glass tiles with etched/frosted Celtic circles. The glass is not thick. I would love to do art project with them. Any suggestions? Thanks!

Marie from NYC
AnswerWas this interesting? Yes No
---
Most Recent Answer
By Elaine (Guest Post) 10/19/20080 people found this helpful
Make a gazing ball. See if the bowling alley will give you an old ball. Clean it off with alcohol to make sure it is very clean. You can then prime if you wish with Zinzer 123 primer or you can leave it be ....depends on what you want to show underneath. For instance, if you have mostly blue tiles, a blue ball would look good. The apply the tiles with silicone clear window and door caulk. I have used GE brand. When you apply the tiles, sit it on top of a metal coffee can or something similar so that you have a base for it while applying the tiles. I would say to do about 1/2 your ball one day, let sit and then do the other side. I have used the glass 1/2 balls and they look great when done. I would think the glass tiles would be even prettier.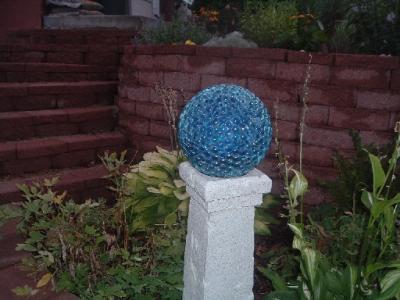 ---
I would like to hand paint ceramic tiles to give as gifts and am looking for blank ceramic tiles to purchase. Can you help me? I would appreciate it. Thanks.
By Colleen C
AnswerWas this interesting? Yes No
---
Most Recent Answer
By Vicki [24] 11/09/20100 people found this helpful
Most people I know just buy them at the lumber yard type store (Lowe's, Home Depot, etc.).
Photos
Below are photos related to this guide.
I'm a rubber stamper/scrapper. This is a photo of a set of coaster tiles that I make for gifts and to sell. They're hand stamped and painted.

By Kathleen, aka StampinGran from Old Fort, NC