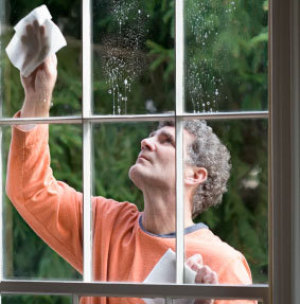 Having clean windows makes everything outside look nicer. However, the cost of window cleaner can add up, especially if you have a lot of windows to clean. This is a guide about saving money on window cleaner.
Ad
---
Solutions: Saving Money on Window Cleaner
Read and rate the best solutions below by giving them a "thumbs up".
I use gallon jugs of car window washer cleaner for cleaning my house windows. I just reuse an empty spray bottle or buy a cheap one and refill as needed. It works great on cleaning them. In the spring, I use the bug cleaner one and the rest of the time I use Rainex that sheets the rain off the window. It's the cheapest way to clean the windows and works great.
Source: My sister thought of this.
By newlifeat49 from Rouses Point, NY
When washing your windows mix equal parts vinegar and water to use as a cleaner and then use newspaper to dry. Cuts dirt on glass much easier and doesn't leave streak marks. Works inside or outside. It's less expensive and using the paper is more ecological too.

Jeanne
Here is a great inexpensive and ozone friendly tip for cleaning windows and mirrors. Alcohol vinegar is found in almost every household and is a very good cleaning agent. Instead of using expensive and ammonia based window cleaners, I take an empty spray bottle (like the one you buy glass cleaner in), put a little less than 1/4 bottle of vinegar, about 5 drops (or one squeeze of dish lotion), and the rest water. Shake well and use to wash all glass surfaces. An extra tip, use old newspapers to wipe down the windows instead of a cloth, as it leaves no lint and a streak free shine.

By Natalie from Zlatar, Croatia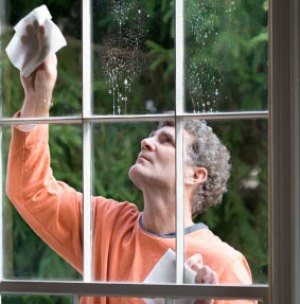 Tips for saving money on window cleaner as posted from the ThriftyFun community.
Windshield Cleaner
Don't pay extra for Windex. Wait until your auto parts store has car windshield cleaner on sale and stock up. Save dollars by refilling your spray bottles at home.
By Terri
Vinegar
I just use vinegar to clean my windows. It is cheap and I always have it on hand.
By Ziggee
Dilute Vinegar Or Windshield Wiper Fluid
I have not bought window cleaner in years. Instead I make my own, in one of 2 ways:
Dilute white vinegar 1/2 with water. Use as you would Windex.
Buy windshield wiper fluid when it is on sale for 99 cents. I dilute it 1/3 fluid to 2/3 water. Again, I use it as I would Windex.
I don't use paper towels on windows either. I either use old newspapers or old cloth diapers.
By April
Hot Water
I use hot water and micro cloths. Many have asked how I get my patio doors to shine.
By Lavonneann
Vinegar and Newspaper
I use plain white vinegar and crumpled up newspapers. The ink in the newspaper shines up the glass or mirror beautifully. Easy, fast, and inexpensive!
By AnyaB
Vinegar Window Cleaner
Ingredients
1/4 cup white vinegar
1 tablespoon cornstarch
2 cups warm water
Directions
Put all the ingredients into a clean spray bottle and shake to mix. Use as you would a commercial glass cleaner. Spray on glass and wipe dry with a clean cloth or newspaper.
Rubbing Alcohol
Use regular rubbing alcohol. Just a couple drops on a cottonball, paper towel or rag will clean any glass squeeky clean with no streaks for less than pennies per use.
By Mary
Dawn Ultra in Water
A couple of drops of Dawn Ultra in a spray bottle full of water works wonders on glass and mirrors. We use it everyday at the convenience store I manage. We also use it in the windshield washer container outside in the summer months. Leaves surfaces streakfree. One bottle of Dawn lasts a very long time!
Gina from Missouri
Rubbing Alcohol and Ammonia Recipe
I have the best glass cleaner recipe ever! I've been using this for over 10 years! You can also put it in your window washer container in your car. No streaks!
Mix equal parts in an empty squirt bottle.
Rubbing alcohol
Ammonia
Water
By Jane from Anaheim, California
Do you have any ideas? Feel free to post them below.
For cleaning mirrors and glass, I use windshield washer fluid and fill my spray bottle. It does the same job as the expensive glass cleaner at a fraction of the price.
Spring cleaning has arrived and time to clean all your windows. This year I purchased an empty spray bottle for $1.00 and a gallon jug of windshield washer cleaner for $1.69. I use a squeegee for a streak free shine. Cheapest way and easy way to clean those dreaded windows.

By Carol from MA
I clean my windows and mirrors with cheap windshield wash. It is about $1.00 for a gallon and I use it full strength.

By Patricia
Give a "thumbs up" to the solution that worked the best! Do you have a better solution? Click here to share it!