Painting Countertops
I have laminate for my countertops and I am intereseted in painting them until I can make up my mind about what material to replace them with. Anybody out there ever paint theirs?

Klorde from Virginia Beach, VA

Answers:
RE: Painting Countertops
10/17/2005
Home Depot and Lowes has spray paint for plastic. This should work. This is a new product.
By octoberbabye (Guest Post)
RE: Painting Countertops
10/18/2005
Go to Thrifty Fun search near the top of your page (NOT the Google search). Choose "Home Improvement" in the first box and "Kitchen" in the second box. Scroll down the entries until you come to one with the heading that says something like "Transforming Old Formica Countertops". This lady did a great job!
By Grandma Margie (Guest Post)
RE: Painting Countertops
10/29/2005
I recently painted mine. I cleaned the counters thoroughly, applied one coat of latex KILZ, then used craft paints to create a marblelized look with various sizes of sponges. I used an acrylic satin finish (4 coats) afterwards in lieu of polyurethane which tends to yellow, sanding in between each coat........worked beautifully!
By TaylorP
---
Painting Countertops
I am wanting to paint my old white Formica Countertops. What do I need to do to prepare it for painting and what steps can I take to have a smooth and shiny finished product? Thank you.
Jennifer from Pensacola, Florida
---
RE: Painting Countertops
We painted our bathroom countertop that was ceramic tile several years ago in our first home. It looked great compared to the outdated color that was there, however, after a year or two standing water made it start to peel and it was very prone to scratching. We did use a special product made especially for painting over this type of material yet it didn't hold up in the long run like we had hoped. It is worth a try, be sure to not leave standing water on it if it is near a sink and you could always try to touch it up in the mean time until you are ready to replace it. Best Wishes! (10/17/2005)
By Sharon from Merton, WI
RE: Painting Countertops
Here's a previous article that may help:
http://www.thriftyfun.com/tf370385.tip.html (05/16/2006)
By ThriftyFun
RE: Painting Countertops
Use a really good primer and then a coat of melamine paint. (05/17/2006)
By PICO
RE: Painting Countertops
I painted our countertops and they look great. First, use a good ammonia based cleaner on the counters. Then roughly sand the countertops and wash them again. Let dry.
I then applied one coat of KILZ. After that dried, I painted them with black satin paint. When that finally dried, I used craft paints to marbleize the counters with greens, aquas, white and a touch of pink. Minwax acrylic topcoat was applied after paint was dry and I applied at least three coats.
Countertops are shiny, as I used gloss clear acrylic. Have had them for over two years now. No chips, no cracks or blemishes and we throw all sorts of stuff on the counters and kitchen desk counter :-) Hope this helps. (10/07/2007)
By lj
RE: Painting Countertops
Has anyone tried painting their countertops with crackle paint? (11/29/2007)
By Cindy
RE: Painting Countertops
I have used the rustoleum paints for my bathroom countertops and kitchen. I used the hammered paints which turned our great, it gives them a metal look, then seal them with one to two coats of poly. If only doing a small area I would use the spray paint, it is more efficient but a little messy so don't forget about over spray. (12/13/2007)
By Ashley T
RE: Painting Countertops
Has anyone used the spray paint that looks likes stone? I am in the process of painting my counter tops in the bath and have 2 coats of the bonding primer on so far. If anyone has used the spray paint method how did you do it? (02/28/2008)
By stacey
RE: Painting Countertops
I painted my kitchen laminated counter top and I did the back splash also. For more info contact lordlady210 AT yahoo.Com (09/03/2008)
By AIDA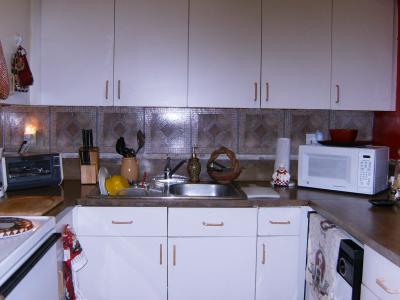 RE: Painting Countertops
I painted my kitchen countertops four years ago, and just finished giving it a fresh coat of spar urethane. We added spray glitter to our countertops, and has a soft sparkle just like granite stone. We absolutely love it, and it is very durable! I would recommend it to anyone, but also recommend you getting specific instructions before attempting such a project. (02/12/2009)
By Laura
RE: Painting Countertops
I painted my countertops a few months ago and sealed with several coats of a water based poly. The counters look great, however, I get white spots whenever something wet sits on it. As soon as it is dry, the spots go away. Any suggestions? (02/19/2009)
By tbonette
---
Painting Countertops
I plan to paint my countertops, and the question is what do you do with the metal on the seams? What would be the best colors? I want to do the granite look.
By Writer10 from Birmingham, AL
---
RE: Painting Countertops
I know of two manufacturers of paint specially for painting counter tops (MDF and Melamine) and such like - Plasti-Kote Projekt paints and Ronseal One Coat Melamine and MDF Paint. Check out the manufacturers websites for your country - they usually have guides and how tos showing how to use the paints. (04/17/2009)
By alloydog
---
Painting Countertops
I want to paint my counter tops in the bathrooms and kitchen. I don't want to have to worry about putting my flat iron or toaster oven on them. Does anyone know a heat/alcohol/water resistant finish I can put on counters?
By Meggiet from Washington, PA
---
RE: Painting Countertops
About a year or so ago, I saw a decorating program on, I think, HGTV and they were showing how to paint counter tops to look like granite. I thought it was kind of neat, but didn't pay a lot of attention, because I rent an apartment. There were several steps to the procedure. I don't know if you went to their web site, if you could find anything on it or not. (05/08/2009)
By redhatterb
---
Painting Countertops
How do I paint countertops?
By 1027Debbie from Nova Scotia
---
RE: Painting Countertops
Water based Paint: First you'll need to totally clean the countertops with straight rubbing alcohol & paper towels, then prime them with a high adhesive primer like "Zinsser 123" or "Gripper". Use a soft foam roller (not a brush or a regular paint roller). Next paint with 2 coats of Latex or even better, use 100% acrylic paint (also sold at the paint store), then lastly apply 5-7 coats of water based varathane sealer.
Oil Based Paint: Clean counter with alcohol then use Melamine paint (1 or 2 coats) then finish with 2 or 3 coats of oil based varathane. Be sure to keep windows open while you're painting & for 3 or 4 days afterward until the smell goes away. Melamine paint is the best and you'll need no primer if you use it, it's made to paint over Melamine. Melamine is that shiny white or black laminate that's over particleboard in shelves & some furniture, so Melamine paint is very sticky paint. This way is much stronger, but smelly & a hassle. Melamine paint costs more, but you'll save money not having to prime.
The best design is one that's not all one color (like fake marbling) or splattering. This way flaws don't show as easily!
*Always use a cutting board because some paints can be toxic. (05/19/2009)
By Cyinda
---
Painting Countertops
How do I paint a countertop?
---
Painting Countertops
How do you paint laminate countertops?