Homemade Hummingbird Food Recipes
Hummingbird food can go bad quickly. So it is important to change it often. Store bought foods can be expensive and contain dyes that are not good for birds. This page contains homemade hummingbird food recipes.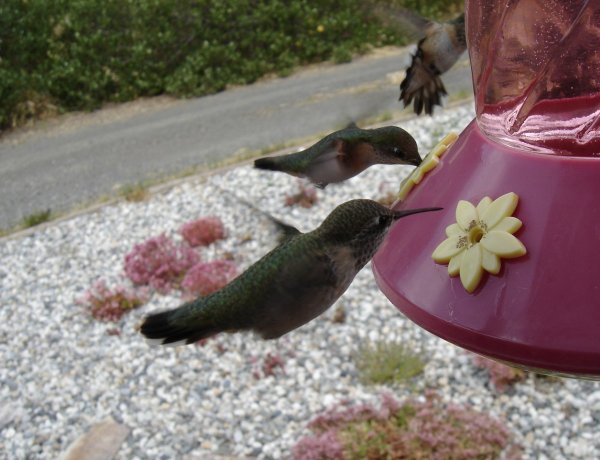 Filter

: All Articles
Sort

: Relevance
Making your own hummingbird food is easy and much cheaper than buying the concentrate. Plus you can make it without the red dye, as it is generally unnecessary for attracting hummingbirds to your feeder.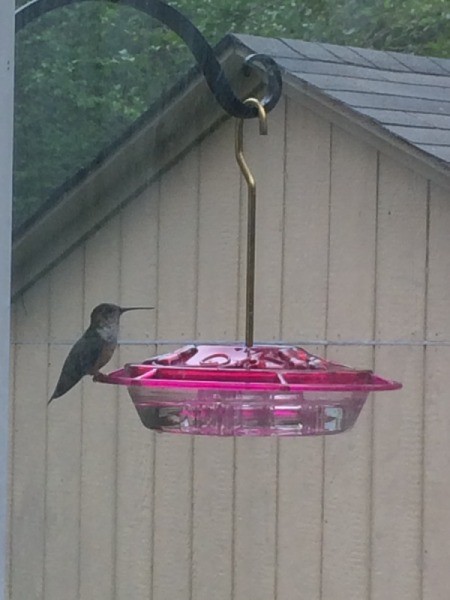 Supplies:
1 cup granulated sugar
4 cups water
sauce pan
stove
clean bottle (for storing leftovers)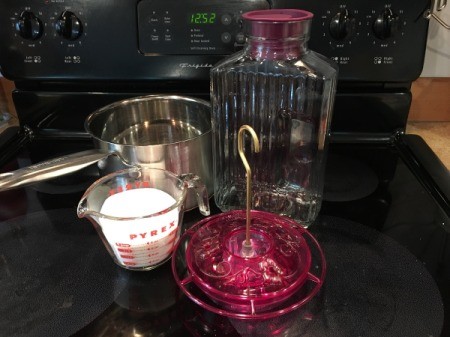 Related Products:
Steps:
Combine sugar and water in a sauce pan.
Bring to a boil. This will help kill any bacteria or mold. Then remove from heat and allow to cool completely.
Fill your feeder with hummingbird food and store the leftover food in the refrigerator. Note: I recommend labeling your storage container to avoid confusion as to what it is. My son poured a huge glass of it, thinking it was cold water. :)
Hang up the feeder and enjoy your tiny feathered friends!
After attending several lectures by the Hummingbird Bird expert in Christoval, TX (that feeds 3 1/2 gallons of food per day), I have learned some helpful information regarding feeding hummers. The mixture is 3 parts water to 1 part sugar. There is no need to boil the water, just use hot water, mix and stir. Add a tiny drop of red food coloring (so you can see when it is empty).
Do not remove feeders in fall, as the passing through hummers are looking for food. They will leave when they are ready and should. In hot weather, the food spoils quickly.
By jbennett from San Angelo, TX
Is it OK to substitute stevia for sugar in hummingbird nectar?

By Amber from southern Ontario, Canada
April 25, 2011
0

found this helpful
Best Answer
No! Stevia is a sweetener for couch potatoes who can't resist sweets; it has almost no calorie value for hummingbirds, who work and need energy. Even greener stevia is close to calorie-free.
And yes, avoid the 'safe' food colors. Color the feeder.
April 25, 2011
0

found this helpful
Best Answer
No. What is this latest " let me feed some phony stuff to the hummers. I'd love to fool them"? Hummers need sugar water. Always have, always will. If they have flowers for nectar they prefer them. In the season when they cannot get enough nectar, we help them to survive with sugar water. Please be kind and feed what is needed.
May 23, 2016
0

found this helpful
No, it isn't. Sweeteners will kill birds. I asked at "Birds Unlimited" and they say only sugar. 4 parts water and 1 part sugar. Bring to a boil and let cool. No red dye. Boiling the water removes the chlorine.
I have always used one part sugar to four parts water and it works for me. Clean out your feeder every time you change the food and you will eventually get hummingbirds. Some suggest boiling the water and then adding the sugar, but I find it is not necessary. I just use the hottest tap water and add the sugar and it works just as well.
By Elaine S. from Near Cedar Rapids, IA
How much sugar do I add to 2ltrs of water to feed my hummingbirds?
By D
September 9, 2013
0

found this helpful
Ditto on the above - 1 cup (white) sugar to 4 cups water. I don't even boil the water - just stir til the sugar dissolves. I keep any extra in the fridge and let sit a bit before I put it out to take the chill out of it - Although nowadays the hummers would probably appreciate a bit of a chill. Good luck!
September 3, 2015
0

found this helpful
There are two suggested ratios given: 1 part sugar to 3 parts water, or 1 part sugar to 4 parts water. Since you're using 2 liters (or "Litres") of water, then you would either add: 1/2 (.5) liter of sugar (for the 1:4 ratio) *or* 2/3rds (.666) liter of sugar (for the 1:3 ratio.)
Apparently no one else realized you were on Metric, but the math should have translated just the same.
April 15, 2016
0

found this helpful
That is not a correct calculation, it should be 400 ml of sugar and 1600 ml water, or 500 ml sugar and 1500 ml water.
Some friends are using a mixture (of what I call harmful) of 1 cup sugar to 1 cup water. This does really attract the birds, but I know that it must be very harmful for the birds. Am I correct?
By Joan from Signal Mtn., TN
June 18, 2012
0

found this helpful
4 cups water to 1 cup sugar is correct.
No need to add red food coloring. Some "birders" say that if it isn't good for humans,why should we give it to birds? I agree. The bird feeders usually have a red base anyway.
We have 4 feeders 3 in our yard and one just outside the wall to the Path Garden. We have 3-4 butterfly bushes and a couple of cape honeysuckle bushes near by. This week a young father and his child said he counted 9 hummers at the garden feeder.
We also have a couple of orioles that sneak a drink from them. Just be sure to check for mold during the week. GG Vi
June 20, 2012
0

found this helpful
It's like everyone saying 4 parts water to 1 part sugar. Thanks, 'Cookie"
April 28, 2014
0

found this helpful
For warm weather 4 parts water to 1 part sugar is proper mix...for those of us who get hummingbirds in cold weather winters...( Vancouver B.C. down to -10 Celsius on occasion) ... then 3 parts water to 1 part sugar is good. A more sugary mix than that is harmful to a hummingbirds kidneys. And once a hummingbird chooses your winter feeder you really are responsible for its survival by keeping the feeder ice free and back outside before first morning light. They need to feed every 15 or 20 minutes at least. Rotate your feeders every hour or two to keep from freezing.
When making hummingbird nectar at home, my solution turns golden before it comes to a boil. Is it being burned? I used medium-high heat and it takes forever to come to a boil (electric ceramic stovetop). Any suggestions?
By Mary D.
August 31, 2011
0

found this helpful
Thanks for the homemade Humming Bird Recipe. It sure beats buying it. Can you put red food coloring in it to make it look like the store bought kind? : )
August 31, 2011
0

found this helpful
Correction: Humming Bird Nectar Recipe. Boy,I got a Good Laugh at myself when I realized what I wrote & posted the 1st time. No I don't eat humming birds! LOL.
August 31, 2011
0

found this helpful
Making humming bird nectar is so easy. I cup of water to 1/4 cup of sugar. Just add the sugar to hot water and stir. Let it cool and put in feeder.
This mixture can be stored in the refrigerator for about 1 week.
Source: My awesome friend Richard Wildermuth
Supplies:
Related Products:
Steps:
Bring water to a boil then add sugar, stirring until all the sugar has dissolved
Cool to room temperature then fill feeders
A few drops of red food coloring will tint nectar to attract birds.
Related
© 1997-2016 by Cumuli, Inc. All Rights Reserved. Published by
ThriftyFun
.
Page
generated on September 20, 2016 at 2:12:08 PM on 10.0.1.214 in 7 seconds. Use of this web site constitutes acceptance of ThriftyFun's
Disclaimer
and
Privacy Policy
. If you have any problems or suggestions feel free to
Contact Us
.