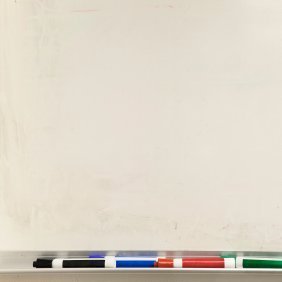 Cleaning a white board can be difficult, especially if the ink has been on it a long time. Properly cleaning the surface will keep your dry erase board looking new and easy to read. This is a guide about cleaning a dry erase board.
Ad
---
Solutions: Cleaning a Dry Erase Board
Read and rate the best solutions below by giving them a "thumbs up".
I have an old whiteboard with difficult-to-remove markings. I grabbed my bottle of Jergen's hand lotion and applied a little to a rag. The board is now like new!
I use fingernail polish remover to clean the dry erase board. Works like a charm, and gets all old ink off immediately.
By Rita H.
For teachers, cleaning a whiteboard of all its remnants can be near impossible, but if you used WD-40, it will look new again!
By AlaskanAurora from Dutch Harbor, AK
I bought some Lysol wipes for my ladies' Sunday School class because we kept getting sick with colds. Aside from wiping down the table, chairs, and doorknobs, I found the alcohol content made it perfect for cleaning dry eraser marker writing from our dry erase board!
By Vivian P.
Liquid hand sanitizer works well to clean a dry erase board.
By Sue from Illinois
I simply use household cleaner spray (409 in my case). Everything comes off easily. A few spots might need a little scrubbing, but not much. And the board comes out sparkling white.
By Cricket from NC
I tried all the other methods listed and none were satisfactory. I put some acetone on the white board and everything from sticky residue to caked-on ink came off immediately without streaking. I washed with soap and dried and it looks and works like new!
By Keith B. [1]
I always clean a dry erase board with alcohol.

By MaryAnn from Alvaton, KY
Give a "thumbs up" to the solution that worked the best! Do you have a better solution? Click here to share it!
Questions
Here are questions related to Cleaning a Dry Erase Board.
I work in the school setting. I 'accidentally' used a regular marker instead of a dry erase marker on a dry erase board. Needless to say, the ink would not come off or what I could remove left a horrible smudged stain.
I was using the dry erase marker and wrote right over that smudge and then erased it. The dry erase marker must have a solvent agent in it as it removed the smudge. I found I sometimes must scribble over the site and immediately rub off with a tissue for a clean dry erase board.
By Antaria from Chino Valley, AZ
Ad
---
---
Most Recent Answer

By jillmomof301/04/2012
My kids scribbled all over their new dry erase easel with a ballpoint inkpen, and I thought it was ruined! I tried this. It only took me 10-15 minutes to do the whole board, and it looks like new again. Wow! Thanks for the tip.
Does the spray eyeglass cleaner you buy and then get free refills from Walmart work on dry erase boards? It would be bargain if it does. Does anyone know?
By Robyn Fed from Hampton, TN
Ad
---
---
Most Recent Answer

By Kerry Browning [2]06/30/2009
I bought a can of denatured alcohol at the hardware store and put it in my original Dry-Erase Cleaner spray bottle. Doesn't take too much to clean the board. I spray it on a rag and wipe. For red ink I spray it right on the board.
I cleaned my whiteboard with a Scotch pad and water and now the markers just sink in and won't erase. This cleaning procedure was demonstrated to me on another board and it worked well. What do I do to fix my board?

Hannah
---
Most Recent Answer

By Amy (Guest Post)01/15/2009
I have used many of the above techniques, including Windex, to clean my whiteboard. Eventually the whiteboard got so that any marking wouldn't wipe off easily. I was told that anything other than alcohol is too toxic to the board and abrades the waxy finish, so if you use stuff that makes it so the marker doesn't wipe off easily you should rewax the board! Then it should be like new again.

By the way, I now use hand sanitizer or rubbing alcohol mixed with water, and it does WONDERS for getting the board clean!
Use toothpaste (the regular kind) and put some on a rag and scrub over the board where the ink is not coming off, then rinse, wipe with a clean cloth and dry.

By Lisa T.
---
Most Recent Answer

By Tommy (Guest Post)02/22/2009
OMG. Half of my board has been bad for over a year. Couldn't believe how easy it came clean.
Archives
Thrifty Fun has been around so long that many of our pages have been reset several times. Archives are older versions of the page and the feedback that was provided then.
To clean dry erase boards, I usually use a paper towel with a little Windex. If that doesn't work, I use a little bit of nail polish remover then wipe it down one more time with Windex. It does the trick!
Laura Lange
---
Cleaning Dry Erase Boards
WD-40 is great for cleaning permanent marker from dry erase boards. By Lisa T. (10/17/2004)
By ThriftyFun
RE: Cleaning Dry Erase Boards
You should avoid using Window cleaners on DRY ERASE surfaces. They will damage the finish, and shorten the board's life span. Many window cleaners have ammonia which is harmful to plexi glass, acrylic, and surfaces with plastic finishes. (11/13/2004)
By Jason
RE: Cleaning Dry Erase Boards
Mr. Clean Magic Eraser will clean your dry erase board. (03/09/2005)
By dj
RE: Cleaning Dry Erase Boards
I used rubbing alcohol. I'm not sure if it's bad for the surface, but it all came off instantly. (03/10/2005)
RE: Cleaning Dry Erase Boards
I found "Off" the bug spray will polish it clean. Don't know if it damages it or not, but cleans perfect. (07/07/2005)
By Darcy
RE: Cleaning Dry Erase Boards
Alcohol will eventually ruin the finish. Spend a couple of dollars on dry erase spray cleaner, found in office supply stores. Some colors are harder to clean off. Go over color with black and clean as you normally would. Black breaks down the color. (07/25/2005)
By CHRISTA
RE: Cleaning Dry Erase Boards
How do I remove highlighter from a dry erase board?
I know that if a permanent marker was used on a dry-erase board then all one needs to do is to reactivate the permanent marker with a dry erase marker, then just erase.
However, this does not work for highlighter...anyone with some ideas? Thanks! (08/02/2005)
By In Trouble
RE: Cleaning Dry Erase Boards
Discovered a sort of new one... Clear gel type hand sanitizer! Mostly alcohol. Took care of the stuff even WD-40 could not touch! (01/17/2007)
By SMS
RE: Cleaning Dry Erase Boards
My sub used a baby wipe on my dry erase board and now everything smears. How do I clean it? I have used Mr. Clean, water, and dry erase board cleaner. Nothing works.. (02/21/2007)
By Jan F.
RE: Cleaning Dry Erase Boards
http://www.wikihow.com/Erase-Old-Marks-off-a-Dry-Erase-Board
- go to this website for your baby wipe board. It has a few ideas to renew the surface. (04/17/2007)
RE: Cleaning Dry Erase Boards
The harsh cleaners you suggest, especially the finger nail polish remover, will ruin your board. A dry erase board is dry erase because of the top protective coat on the board. Removing or damaging that top layer with hard cleaners or abrasive towels will create permanent staining. The mild formulas of the manufacturers, I like Expo, are best. (01/03/2008)
By Karen J
RE: Cleaning Dry Erase Boards
Thank you! I accidentally used a sharpie marker on my dry eraser board. I scribbled over it with an expo marker and then when I wiped it off, it ALL came off! Thank you for the suggestion. (06/06/2008)
By JDWC
RE: Cleaning Dry Erase Boards
Awesome, WD-40 took off the Sharpie pen my kid used on it. Thanks to this board. (09/11/2008)
By Artist
RE: Cleaning Dry Erase Boards
Believe it or not, Gin works just fine. (12/31/2008)
By Mr. Gin
How do I restore my dry erase board to it's original surface? I can no longer erase any markers easily.
Jeff from Chicago, IL
---
RE: Cleaning Dry Erase Boards
I generally use rubbing alcohol on mine; and at the preschool where I work, if there is not alcohol handy, I just use the hand gel, which is mostly alcohol anyway. The magic erasers will work, but you do "Not" want to use them often, as they will abrade the surface and shorten the life of your board. You can purchase special cleaners at the office supply store. (03/03/2009)
By Jilson
RE: Cleaning Dry Erase Boards
Coke works to take permanent marker off the dry erase board. It also works to clean a toilet. (03/04/2009)
By dakota1275