Even though my husband took a pay raise when we moved to NJ almost two years ago, NJ is one of the most expensive states to live in. We are a one income household, so we have to be very frugal.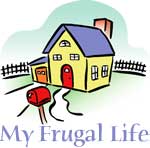 I shop at the Goodwill for our clothes, household items and toys. I have found some brand new items there still with the tags on them. I do our grocery shopping at Aldi stores and Costco.
I have decorated our house using "oops" paint from Home Depot or Lowes at $5.00/gal. I am always on the lookout for free samples on the net. Our laundry is hung up, I use the dryer very little. We have energy saving light bulbs on every light in my house and a programable thermostat. We renovated this year with a new front door, more insulation for our attic, water heater blanket, and took down three 50' trees in our yard (causing damage to our foundation and roof). We've saved $1179.49 on our PSE&G so far this year. We enjoy camping trips for our vacations and we also go down the Jersey shore when ever we can. My husband is a wood worker and makes our furniture. We own two cars (just paid them off) and own our house. We have only one credit card and it gives us travel benefits. We will be using the travel miles to go to Tennessee and also to go on a cruise in 2008. We have cable, phone and internet but I use a strict budget system for our bills so we are able to have some enjoyment in our life.
I haven't had any challenges from being a frugal person. I have seen a "big payoff", so to speak. Before putting us on a budget, I had no idea how much money was going out. Now I have everything budgeted out and I know exactly where the money goes. We have been able to have a savings account for our vacations. We don't live paycheck to paycheck like most people do. We live in a very small house so we save on the electric and gas bill and we don't buy what we don't need. I am thinking of growing a garden in the summer and am looking forward to it. I really enjoy being frugal and I tell a lot of people that I am frugal. I really like to see how much I can save.
Stacia from Mount Holly, New Jersey
Do you have a frugal story to share with the ThriftyFun community? Submit your essay here: http://www.thriftyfun.com/post_myfrugallife.ldml