I started living the frugal life for a few reasons. The first is that I think I have matured and now see that I need to be more responsible with my money. Second is for the "green" reasons.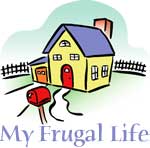 I have started shopping differently and I no longer spend like I used to. I buy only what my family really needs and for the most part that is food and those other daily essentials. I can't tell you the last time I purchased new clothing! If there is an item that I am looking for I will buy at yard sales and flea markets. The best thing ever is Freecycle! I have gotten so many beautiful outfits for myself and my family for FREE! I have also given just as many items away so other families don't need to make an unnecessary purchase.
I have started composting and gardening. I hang my clothes on the line to dry and recently started sewing again! Just the other day I was lucky enough to get a ton of fabric and thread from a fellow freecycler! I am working on home made Christmas gifts like tote bags for the adults and pajamas and ponchos for the kids. My son and I are canning jams and jellies for teachers gifts and I am also sewing them aprons out of my free fabric, thread, and a 50 cent pattern I purchased from a local thrift store! I wash and reuse baggies and foil (what little I use), I have switched to cloth napkins and other than bleach I make my own household cleaners.

I know I will think of more once I send this but I will end by saying that I think it is important for all of us to rethink how wasteful we have been in the past and see not only what it has done to our pocketbooks but the world we live in.
Amy from Long Branch, NJ

Do you have a frugal story to share with the ThriftyFun community? Submit your essay here: http://www.thriftyfun.com/post_myfrugallife.ldml
Answers:
My Frugal Life: Being Frugal and Green
I agree wholeheartedly with Amy! I grew up just after the depression and we reused everything we could and grew a lot of our food. I raised 9 children, the last 5 by myself so it was a struggle but I learned a lot of ways to live frugally. I sewed most of my childrens clothes and planned meals carefully. I still watch my pennies because I like to. I shop at thrift stores and yard sales and love freecycle. Gardening is a great pleasure for me and the vegetables are better than what I can get at the store.
With the economy like it is, I think more people will be learning to be thrifty.
(11/26/2008)

By Pat