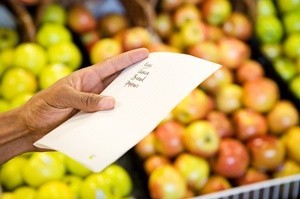 As grocery prices rise, we wait and hope for this economic trend to reverse itself. However, in the meantime there are ways to shop wise and save money at the grocery store. It takes a little planning and bit of motivation, but you too can shop wisely without sacrificing the promise of a full pantry.
Mama Knew Best
Your mother always told you not to shop with an empty stomach, and she knew what she was talking about. Spontaneous purchases happen when tummies are empty, so grab a snack before going to the store.
Most spontaneous purchases involve snack foods which are high in price. Stay away from the junk food aisles, and opt to check out through the candy-free aisle.
Plan Ahead
Taking the time to make a plan before heading to the store can save the most money. Create a list and stick to it; it'll eliminate spontaneous shopping and it will focus your spending on what you actually need. If, halfway through the week, you're missing a key ingredient for dinner, you're left with two choices: run to the nearest store and buy the needed ingredient, or skip the meal and eat out. Eating out is going to cost more than the meal itself, and running to the nearest store costs gas money plus the extra expense of the convenience store. By shopping with a comprehensive, well thought out list, this can be avoided.
Tis the Season
Reorganize your recipe box. Organize recipes by their ingredients, keeping dishes that require tomatoes together for example. When the fridge is overstocked with tomatoes at the end of the summer, pull the recipes that utilize this healthy red fruit.
Avoid out of season ingredients. It'll make the dishes more special when they're only offered during select times of the year, and it'll save money when you go shopping. Tomatoes are too expensive during the winter, but they're much more reasonable and available during the summer months.
Waste Not, Want Not
Have a backup plan for leftover fruits and veggies. If lunches don't use the leftovers, try to create meals that do. Treat the family to a special dessert if berries are ready to go bad, or bake banana bread if a few brown friends are around. Freeze small portions of leftover vegetables in bags. When enough bags accumulate, cook a pot of vegetable stew with them.
If milk is nearing its expiration date, put pudding on the menu. Offer a night of soup and sandwiches, making a cream soup with the extra milk. Think creatively and use what's in the fridge. Make a resolution not to throw anything away, ever.
About The Author: Kelly Ann Butterbaugh is a freelance writer who regularly contributes to a variety of magazines and has written a history book for middle readers. Visit her website for writing help, lesson plans, history fun, or work for hire at http://www.kellybutterbaugh.com
Ad
---
By PENNY K 14 562 02/06/20090 people found this helpful
Is it just me, or in the last few weeks, have grocery store flyers, weekly special ads featured less actual food, and more prepared food, mixes, and loads of non-food items like sprays, personal care items, pet non food items, vitamins, etc. I have noticed it here in 'burb of Denver at several stores and asked myself why. Well, there is generally more profit for the ordinary grocery store for non-food items.
I've just been puzzled. Comment?
By Judi 18 938 02/06/20090 people found this helpful
PIKKA, it could be that fresh produce is harder to get at this time of year and I also think it's an effort by the grocery stores to make their stores more of a "one-stop shopping store" where you can get almost anything you need and won't have to go other places. Isn't that what Walmart has going for them? It's easier to stop at one store than to slip and slide all over town and get in and out of the cold. People are so busy (so they say) that they use more and more boxed foods instead of gooing from scratch. Stores push what sells.
By Carol Rodriguez 35 107 02/06/20090 people found this helpful
Grocery food stores probably gain more per inch or foot by selling high dollar items. However, when no one can afford those foods, they lose money, and they lose employees.
Places like WalMart are probably booming. Less gas to shop instead of running here there and everywhere, and because more people are going there, the produce is fresher, and maybe or maybe not cheaper.
We have also gone to local grocers, and their meat is more than disappointing. I've called them on it, and they won't answer. We've consistently gotten hamburger that was red on the outside, and brown on the inside. When I go to a megamart like Walmart, the ground beef is consistently red throughout. We got a head of lettuce from a local grocer, and in less than a couple of days, it was completely spoiled. It's a sign that megamarts are the way to go. Megamarts, like Walmart have fresher produce and meat because more people are shopping at them, than going to a regular grocery store. And even if you prefer your regular grocery store, who is going to want to buy meat that is red on the outside, and brown on the inside? Yuck! Last Spring, we got a Ham for Easter that cost around 6 dollars. The clove spice, from a local store, cost over the cost of the ham. It was around 7 dollars, and would only last one year or so. Seriously, who wants to do that kind of shopping? There is one grocery store in my area that I could care less if it went out of business. In these past several years, everytime I went in that store, I found expired food. I have complained to their management, and they don't seem to care. I can't count the times that I took food from the shelves of that store and gave it to their own management, and yet it continues! They do nothing about it. One day, they will be sorry when the place closes for good. It won't be my fault, because I warned them several times, and they refused to pay attention.
Yes, I think the megamarts are the way to go, it saves on gas and money. I hate to see the old grocers go, but if they refuse, and give lower quality foods, we can't stop that. Even though the ads keep telling about already processed foods, we can still keep buying unprocessed foods. They may not show as many unprocessed foods in their ads, but we can still keep shopping for them.

This recipe is for being in a pinch, as it isn't totally heathy--a big can of pork and beans, and one pound of ground beef, cooked and drained, add the large can of your favorite pork and beans, stir, heat through, and enjoy. I know I have.
By Brenda Norrish 1 61 02/10/20090 people found this helpful
i am amazed at the number of recipes containing pre-mixed and ready-cooked convenience foods. It is much cheaper (and healthier) to cook from scratch and avoid all those added preservatives, imitation food essences, colours and other chemicals in canned and pre-mixed goods. For example, consider buying dried beans or chickpeas instead of the tinned variety. Soak these overnight, then boil the next day - pure, nutritious food at a fraction of the cost. I know it takes a bit of extra time to do this, but the savings are worth it!