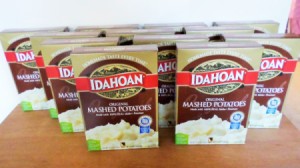 Calculator shopping was popular back when hand-held calculators first became cheap and easy to get. Nowadays, I rarely see anyone shopping with a calculator, but there are many good reasons to use one. Here's how to always get the best price with a dollar store calculator.
Per-unit Prices:
The per-unit price is usually posted on the shelf sticker below the product. This is helpful, but if you shop often, you'll find a lot of mistakes. For instance, a bottle of disinfectant is priced by the gallon. The one next to it is priced by the ounce. Neither is a one gallon bottle.
To figure this one up: There are 128 ounces in a gallon, 32 ounces in a quart, and 16 ounces in a pint.

The Produce Aisle:
I've seen produce priced per pound, per each, per bag, and priced by a variety of other containers and packages. The packages must be marked by weight, and you can weigh individual produce on the scales.
For this one: There are 16 ounces in a pound.

Package Pricing:
Pens, notepads, and all sorts of things that come in packages don't seem to come with the same number in each package. For instance, a package of crew socks contains 3 with a free bonus pair. Another bag contains 6. Start with the package price and divide by the number of pairs to get the per-pair price.
Warehouse Deals, Surplus and Odd Lots:
I've bought bulk, discount food markdowns, odd lots, overstock and surplus. Often all you'll get is a small price sticker on the package. Start with the package price and divide by the unit (ounce, roll, sheet, etc.) to get the unit price. This also works for clearance merchandise.
Once you get used to figuring up unit prices, get a little notebook and write down the best deals you find and where you found them. Take it shopping with you and you'll always get the best price.