October 14, 2009
2

found this helpful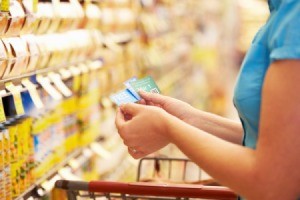 Grocery shopping is not as economical here in Canada, you do far less with coupons, and have to rely on wildly fluctuating prices. I buy only when on special and always buy at least four. I buy the largest sizes (more economical) and keep an eye on your pantry.
The only things here that are always the same are fresh milk and eggs. Eggs can be gotten at the local supplier cheaper. A great way to save on milk is a recipe for do it yourselfers: one cup powdered milk, one half cup of canned milk (buy it on sale) and 4 cups water. Mix well, chill overnight and no difference except the budget.
Buy dry goods in bulk, and store brands are very good quality and price. On extremely rare occasions, I have to pay full price, and am always mortified at the cost difference! Also the local bakery outlet is good to have on your to-do list; you save a bundle on rolls and bread. Of course, look for instore specials, and never pass a bulk Barn or a Dollar Store!
With a little practice, you can cut your food bills by one third to one half. Also, your dishwasher and washing machine do not require as much soap as the manufacturer says; and cold water is fine for clothes.
By Deborahann from East Margaree, Nova Scotia
October 14, 2009
0

found this helpful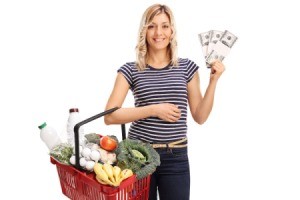 After making a trip to the grocery store and seeing the continued escalation of food prices, I thought this would be a good time to remind all of us, me included of tips for saving money!
I ALWAYS make a list and stick to it!
While making my list, I go clip the coupons for items on my list and put them in a envelope to carry with me.
I buy almost all store brands, unless I have a coupon on a national brand that brings the price lower then the store brand.
Look at the unit price on the items you are buying, sometimes it is not less expensive to buy a larger package or can.
I do not go to the store if I have not had breakfast or lunch, depending on the time of day I am running other errands.
I am growing my own fresh herbs.
The local farmer's market is now open. If you have one in your area, call some friends and carpool together for really fresh produce at (usually better prices), you still have to know your prices.
Also, shopping with a friend or two lets you share larger purchases and split the amount.
When checking out at the grocery store, ask the checker to wait if your cart isn't unloaded, so you can watch the prices as they scan. The store I shop at will give you one item free, is it scans incorrectly.
Buy reduced bakery products and freeze them as soon as you get home. I have also purchased some reduced meat if it still looks and smells good. I rinse the meat when I get home and package for the freezer if I am not using that day.
If you can do it, shop once a month or at least every two weeks, this really does save me money.
Clean out the refrigerator, before shopping and use up what you have.
I purchased some of the green bags advertised on TV at the local Bed Bath and Beyond store, so I did not have to pay shipping. They really work at giving my produce a longer storage life!
Source: These are tips I have collected and read about through the years from many sources, magazine articles, friends, family, and the internet plus several of my own!

By Bobbie from Rockwall, TX

Answers:
Frugal Tips For Grocery Shopping
I always try to stick to my list, but there almost always seems to be some really great deal on something not on my list that runs up my bill a bit. (05/29/2008)
By janice
Frugal Tips For Grocery Shopping
In reading one of my new newsletters, I came across your suggestions and wanted to thank you personally and say hello, after noticing where you were writing from.

Stopping the purchase and building of a home in Memphis metro, and accepting a marriage proposal; My daughter and I moved to Rockwall,TX. purchasing a home and living on Lake Rockwall; living there for several years. My daughter and I loved living in Rockwall, having some fond memories of our time together there. She loved attending the blue ribbon school, we loved our neighbors, church families, enjoyed living on the lake, and seeing the area grow adn change before our very eyes. We sure miss Rockwall and the Big "D"! Until after 9/11, our life was nice living in the Dallas metro of Rockwall, TX. Unfortunately, after 9/11, our life little by little crumbled, losing everything! Our place of employment for both me and my husband came to a halt after our company filed bankruptcy closing the doors, leaving us and many others with nothing; creating a snowball effect creating all kinds of pain and loss; which included our marriage and family broke up after my husband decided to turn his back, disappearing for a very long period of time.
While traveling to and from Dallas - Memphis aiding with immediate family, I felt forced to return to the Memphis metro to be with family, friends, and in hopes of regaining employment. After coming for a surprise visit during holiday season, I discovered the hard way the company I hired to care for my home and sell, skipped the country leaving my home to be foreclosed, which I learned the hard way after finding someone living in my home! Ouch!

Well, in spite of everything, I'm still a southern belle at heart, realizing we wouldn't be the people we are today had we not had ups and downs along the way, while traveling down the road of life. The Lord has made it possible for me to have a little job that doesn't make big bucks, but sure beats nothing.

Having spent many years in specialized ministry, working with all ages and working in different areas of the USA and Mexico, I realized the Lord blessed me with many gifts. In need of extra income,while living and serving in ministry in west TX, I had the opportunity to have a specialty shop where folks enjoyed reaping the benefits of some of my creations.

Again, having the need for extra income, and listening to words of encouragement from friends and family, the Lord has opened a door of opportunity for me to again sell my creations; from the comfort of my at home office - business allowing some peace, calm, and healing while designing my custom designed gift wrapping, and gift basket- containers for all occasions, and all ages.

In attempting to make the best of things, realizing God didn't promise us the beautiful rose garden without the thorns, life goes on; leaving behind our life in Dallas.

Do hope things are going well for you and your loved ones in Rockwall, Texas. Take care and have a great and blessed day! (05/30/2008)

By shelah