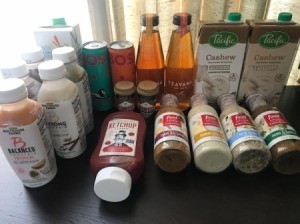 Are there items you wish you could afford but they just don't fit your budget? Items you would like to try but unsure how they'd taste and don't want to consider it a waste of money. Or, did you know items you already shop and buy can qualify toward cash back?!
I am here to share you my in-depth experience with Ibotta. I downloaded this app in January of 2018, but I didn't start using the app and redeeming offers until April 2018. My lifetime earnings from this app is $134.33. I have cashed out 6 times in increments of $20 (minimum payout) via PayPal. If you don't have a PayPal account don't worry, you can cash out with Venmo, or selected gift cards like Applebee's, Barnes & Nobles, Bass Pro Shops, eBay, Lowes, Target, Walmart, and etc.
Essentially with the Ibotta App, you can shop from 300 retail chains, restaurants, movie theaters, convenience stores, home improvement centers, pet stores, and pharmacies nationwide.
Example of some qualifying stores:
- CVS
- Costco
- Meijer
- Target
- Sprouts
- Walmart
- Jewel Osco
- Whole Foods
- Smart & Final
- Vons/Safeway
- And hundreds more!
Before you shop, you will be able to check offers of the stores you want to shop at and add them. You can also scan in store to see if there are any rebates that qualify as well. After shopping, scan your receipt and you'll get the amount back usually within a few minutes, or up to 48 hours. When you have a minimum of $20, you can cash out and receive your money instantly (via PayPal), I have not redeemed in the other methods so I cannot comment on that. What's great is that say the offers you already redeemed can refresh in a few days, so you can buy those items again. In addition new offers are added often and once in awhile bonus offers are added.
19 items pictured below are from offers I bought this week at Vons, Target, Walmart and Sprouts (these offers are still available on the app.)
Total out of pocket cost: $49.93
With this app, I got back $37.46, and you can immediately transfer to PayPal.
Essentially for everything pictured, I spent only $12.47!
TARGET
- Bolthouse Farms Balanced Smoothie - On sale $2 each. The offer is $1.50 back - limit 5. For 5 smoothies, I paid $10 and received $7.50. Total for 5: $2.50 or .50 cents each!!! This is a real big treat in our household.
- Sir Kensington's Ketchup Classic - $3.99, received $2 back from offer. Total $1.99. This is an essential I was already going to purchase so that was great!
WALMART
- Food Network Dressing - Buy at $2.98, get back $2.98 - total cost FREE!
- Organic Coffee Shot - Buy at $1.98, get back $1,98 - total cost FREE (CRV applies)
VONS
- Coconut Drink - On sale $3.50, received $1.50 back from offer. Total: $2.00 an essential for some cooking recipes!
SPROUTS
- Pacific Cashew - $3.99 each, buy 2 for $7.98. The offer is buy any 2, get $5. Total cost for 2: $2.98 or $1.49 each.
- Organic BOS Tea - $1.79, get back $1.79 - total cost FREE (CRV applies)
- Teavana 2 for $5. The offer is buy 2, get $2 back. Total cost for 2: $3 or $1.50 (CRV applies)
All of these items are not something we could afford in our budget but with this app, it is made possible! Your household can try new products, enjoy some splurges/treats or get cash back for items you already purchase! My account just refreshed on the dressing freebie at Walmart, so next time I go to Walmart I can grab another one!
A little lengthy post, but I wanted to share with you all some tips how I save money. I will be adding more ways coming up!