Cricket
Bronze Post Medal for All Time! 205 Posts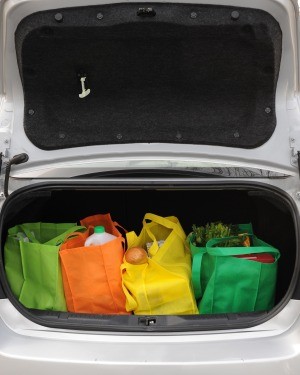 Where we live, it's at least a 20 minute drive home from the closest grocery store. So it never fails, whenever I buy cold foods, they are warm by the time I get home, and frozen foods are melted. Plus all the other foods are rolling around the back end of the car. So I came up with a solution for both problems.
For the foods rolling around, I got this idea from this site actually. Someone on ThriftyFun several years ago sent a tip in about keeping a laundry basket in the back of the car. Voila! No more rolling around!
And to keep my food from thawing out, I also keep a cooler in the back of the car. With it I keep large heavy duty trash bags. After shopping I put all the cold and frozen items into a trash bag and put it in the bottom of the cooler. Then my next stop is to buy some ice. I buy it at the store if they have it. If not, there is usually a place within a quarter mile or less to get it. I put it on top of my cold/frozen foods. This keeps them nice and cold and/or frozen until I can make it home and get them into the fridge/freezer.
If I happen to think of it earlier in the week, I will make up some extra ice at home and keep it in a trash bag in my chest freezer till shopping day.
By Cricket from Parkton, NC
Read More

Comments