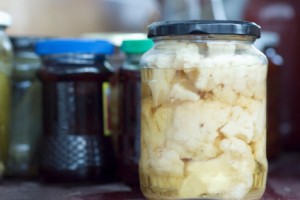 When I was little I remember reading a Donald Duck comic book that revolved around Scrooge McDuck hording food in his basement, his attic, and his barn. When a little duck niece wanted to make soup, her uncle was hesitant but eventually exposed his horde. It's funny how my favorite story inspired my own housekeeping. Like Mr. McDuck, I have a horde of food stored in my basement. It's the rewards gained from "stocking up," but those rewards must be kept tidy because, unlike Scrooge McDuck, our food carries expiration dates.
Know Your Stockpile
After taking advantage of sales and coupons, a consumer can easily accumulate a significant stockpile of food. While it's comforting to know that your family could cut the food budget altogether and still eat three meals a day, it's not comforting to know that food can spoil while it awaits consumption. Stocking up requires careful organization.
Always keep like foods together, and keep boxes and cans in orderly stacks or rows. It will help you to keep track of your inventory.
Keep a dry erase board on your freezer and enter new purchases while erasing old ones.
Move food around, keeping the oldest foods in front.
Look at expiration dates from time to time and create meal plans around those aging foods.
Know Your Limits
It might be tempting to buy four more bottles of salad dressing when the store puts it on sale for the third week in a row, but know your limits. If you currently have sixteen bottles on a shelf and each bottle has a shelf life of three to five months, ask yourself how many bottles your family will use in the next three months. The last thing you want is to throw away unused food; you didn't save any money that way.
Also be aware of your family's product use habits. Extreme bargain hunters aren't typically brand loyal; however, your family might be. There is no point stocking up on products that no one will use. Likewise, if your toddler is progressing through potty training, stop feeding the stockpile of baby wipes and diapers. The only exception would be if the products are free; then donate any unused and unopened packages to a local shelter.
Another potential problem to watch for is the "tired out" factor. While a ten year old might eat tuna fish every day of the week for lunch, the fad is bound to wear off. If you're left with twenty cans of tuna the day he decides he's "tired" of tuna, you'll probably find a use for it before it expires. However, for snack foods and boxed products, the expiration date may not be so far off. For the stockpile, stick with staples.
Keep It Moving
Your stockpile shouldn't accumulate a quarter inch of dust. That means that the products you're purchasing aren't being used. They're also not being organized. Keep the pile moving.
Create a "use now" area for foods that are expiring soon or foods that are coming on sale again.
Keep tabs on foods that aren't being consumed; don't purchase more of an item that isn't in demand in your kitchen.
Keep paper and cleaning products dust free and organized; you can stock up as many of these as you like since expiration isn't a concern. If you're going to reap the rewards of savings, make sure you do it right. Don't throw your money into the trash due to lack of organization.