Cleaning
the
stench
out of a freezer can be difficult especially if you have a lot of built up ice. With these tips you will have your freezer smelling fresh again. This is a guide about
cleaning a smelly freezer
.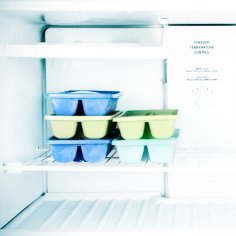 By FRAN 1
During the recent hurricane in Florida we lost electricity. There was frozen fish in the freezer and it defrosted. I cannot get the rotten fish smell out. I have washed it two times and the smell is still there. Any help would be appreciated.

Happy Day from Boynton Beach, FL
---
Best Answers
By guest (Guest Post) Flag
October 31, 2005
I had the same thing happen to me except it was deer meat, I put jar covers with fresh coffee grounds (right from the can) in my freezer and let sit for about a week, the smell has never returned.
---
By guest (Guest Post) Flag
November 10, 2005
I have found fresh coffee grounds (in pie plates to increase their surface area) or crumpled up newspapers (Placed in a salad bowl,& very slightly dampened w/a spray bottle) work the best to pull odors out of the materials interiors of appliances and automobiles are made of. Hope this helps..
---
By guest (Guest Post) Flag
June 9, 2008
You are all brilliant, my freezer is smelling like a summers day. I had already tried bicarb to no avail. Your ground coffee and newspaper did the trick.
Thank you!
---
By guest (Guest Post) Flag
October 3, 2008
I turned off my frig and washed it out with soapy water, then I went over it and cleaned it out with lemon and vinegar. I let it sit open for one day. It did not work. As soon as I plugged in the frig it was smelling like shrimp again. Then I put two round cake pans FILLED with ground coffee and crumbled up news paper lightly sprayed with water and let it sit for two whole days. It WORKED. My frig does not smell like shrimp or fish any more. It smelled like coffee but it will go away in a couple of days and your frig will smell good.
---
By jackie 1
We have a huge problem. We have an old chest freezer downstairs in the basement. It was still operating, or so we thought, until my husband opened it recently. The odor was immediate and horrible. I have never smelled anything worse in my entire 50 plus years. It immediately filtered through our entire house (we have a 3 bedroom ranch built in the 50's).
He closed the lid on the freezer immediately, but it took a couple of hours for the odor to fade. Now we have the problem of cleaning out the freezer. I can't bear to open it again. The meat is now floating in water from bags of ice that had melted. Can anyone give some advice on how to clean this mess without making the entire family ill from the fumes?
By Jackie from Ohio
---
Best Answers
February 22, 2008
This may seem a bit extreme, but I had to mention it. Try contacting the FDA (I believe they have a website listing contact information), to see if they have any safety tips for your situation. I know that the public can contact the FDA to learn food safety tips. I say this because not only is there rotten raw meat in the freezer, but also water in which bacteria can multiply. I remember when there was a canned chili food poisoning issue in my area people were told to not open the cans, but to place them in a plastic bag and seal it, then another plastic bag and seal it, then another, just to dispose of it. If food poisoning in canned food can be seen as that dangerous, all the food poisoning bacteria floating in that freezer has to be volatile. Whatever you decide, please be careful!!!
---
By LuvMyGingerKids 46 316 Flag
February 22, 2008
You do have a problem! Hubby says there should be a drain on the bottom of the freezer. Hook a hose up to that drain.
Connect the hose to an empty 5 gallon water jug and dump the water in an appropriate place. Repeat until water is drained from the freezer.
Plug the drain. Get a couple of strong people to pick up the (now waterless and lighter) freezer. Take the freezer to an appropriate disposal area.
If you really want to save the freezer, it will take some time to clear out the rancid meat. Scrub with bleach.
---
By guest (Guest Post) Flag
February 22, 2008
We had this happen to us several years ago, when it accidentally got unplug & sat for a week before we 'discovered'' it. Whew, but we plugged it in, let it freeze back up, then dumped the food inside to a container we took to the land fill where they disposed of it by buying it in something we didn't have. Then we cleaned it out with baking soda & water. LOTS OF BAKING SODA.
Then we placed newspapers & barbecue briquets inside on the paper & let sit for 3 days...we then replaced the sills, cause it did leave the smell in them, cleaned it with bleach solution and placed another round of newspaper in with briquets & BAKING SODA. It completely took the smell out, still have it, and have never smelled it. We have even moved 2 times since and being unplugged during the move we put newspaper & soda in, just as a precautionary measure, but no smell or anything.
This freezer is almost 55 yrs. old too! VERY THICK SIDES If it is operable, then it is worth the try....let us know how it goes...Good Luck..Vicki in KY
---
By guest (Guest Post) Flag
March 2, 2008
You can wear a swimmer's nose plug, or (a tip from a coroner) put vics vapor rub under your nose.Try wearing a dusk mask with something in it that doesn't bother your breathing - eucalyptus oil, peppermint oil, etc.
Get some rubbermaid tubs and scoop out the water, debris, etc. Dig a hole in your yard, put an old screen on top, and dump the water there. I wouldn't mess with the toilet because you might clog it with something - plus the goal is to get it outside. Bury the hole back up so wildlife or pets don't try to mess with it.
Triple bag the garbage and get rid of it.
Then go spend the night at a friend's house or something and leave the upstairs windows open with floor fans circulating the air. Yuck. You have a job ahead of you.
---
By Bayliner 3 15
Many years ago, my son unplugged my well stocked freezer to plug in his stereo. Unfortunately, he did not plug the freezer back in when he finished listening to his CD. I didn't realize the freezer was unplugged for close to a month. You have no idea how sickening the smell and sight was when I opened that freezer door that morning. It was absolutely horrible! I had just bought a hind quarter of beef and had frozen tomatoes and other vegetables for the winter. Everything was gone.
It wasn't easy, but somehow I was able to clean out and dispose of everything. Cleaning with bleach, baking soda, ammonia, and vinegar did nothing to rid my freezer of the horrible odor. We finally gave up and decided to just take it to the dump.
The very day our friend was due to come over and help load the freezer into the truck to go to the dump, my dear aunt told me she knew a way to rid freezers of smells, use 'pure' vanilla. She said to take a large bottle of 'pure' vanilla and put it in a bowl and then put the bowl in the freezer and close the door. Leave the freezer closed without opening it for 3-4 days.
I was skeptical, but figured why not. I had nothing more to lose. We canceled the dump run and purchased the largest bottle of pure vanilla we could find. Four days later, I opened up the freezer to find absolutely no smell lingering from the rotted meats or vegetables. Absolutely amazing. It was just as fresh as ever.
We lost a ton of meat and produce that day, but we used the freezer for another 5 years.
Source: My dear aunt
By Bayliner from Perry Hall, MD
The freezer was turned off and we were away for 5 weeks. We came back to a freezer full of rotting pungent food. Please help! What can I do to get rid of the smell? Please!
By Maggie
---
Best Answers
By apollard 1 7 Flag
May 7, 2011
Wash completely. (I'm sure you've done that a few times already) then spray with lemon oil, let rest for a day, then wash again. You can also place a bowl of ground coffee in there for a few days to absorb the yucky aromas. If you would like to make a lemon "oil" of your own, you can boil lemon halves previously used for lemonade etc. in a salted water until the liquid has reduced to half. I start with 1/2 litre water to two lemon halves.
---
May 7, 2011
Our daughter's small chest type freezer was off for about 3 weeks and she did not know it. She did not have much meat in it but had a lot of frozen tomatoes. It was full of food and it smelled rotten. We took it out on the deck, scooped out the liquid mess and put it in 5 gallon buckets and poured it out in the woods. The smell about got us.
After getting it cleaned out, we scrubbed it with Clorox water and that did not get rid of the odor. Then we tried white vinegar and still it smelled bad. We also cleaned with lemon juice and soda. It still smelled bad so we let it sit outside in the hot sun with the top open for a couple of days. It still had the odor in it and I thought she would have to junk it but we took it back inside and plugged it up and let it run.
She put a bag of charcoal in it and gradually filled it with jugs of water so it would be full. After a few months, the odor was gone and the freezer was fine. No odor at all.
---
May 14, 2011
Coffee grounds, un-used! I put fresh coffee from container on a plate & place in freezer and keep changing till "rotten" smell goes way!
---
I just a few minutes ago purchased a used freezer from a girl who had no clue. It was nasty. This freezer truly smells like something was dead in it! I have never smelled anything like this and I work in surgery and smell a lot of things. I have cleaned it with straight bleach, then Clorox Clean Up and just rinsed with vinegar. It is awful! It still stinks like something rotten or pet urine. What can I do to get rid of this smell? Thanks.
Sam
---
Most Recent Answer
August 16, 2015
leave baking soda in several small containers sit in the fridge overnight with door closed & next day also wipe all interior surface with diluted baking soda with water, dry.
Kitty litter may help as it its known to absorb odors.
---
By KAYBIRD 1
How do I get the smell of rotten meat out of the freezer of our RV?
By Kaybird from College Station, TX
---
Most Recent Answer
June 17, 2013
My freezer was accidentally switched off for about 10 days, full of meat and smelled terrible! I cleaned it out with a strong vinegar solution, then bicarb soda, but the smell was still really strong and I was starting to panic that I'd have to replace the whole thing. When I pulled the whole freezer out, I saw that blood (from the meat) had dripped down into the recess - a lot of it. Luckily once that was cleaned out, the smell started to dissipate!
Then I cleaned every surface in the room with vinegar and put newspaper sheets down all over the floor with coffee granules, to deodorize. And opened every door/window in the house. 24 hours later, there is only a faint smell! So relieved! (the stench was terrible before). I think I'll have to keep the coffee granules out for a while. After about 3-4 days of airing the freezer, I'll try switching it back on but the coffee inside, to soak up any remnants of the smell. Hopefully I'll be able to use it in about 1-2 weeks.
---
By Peg Ward 5 26
If you have ever had a freezer lose power and have had the stench of rotten meat; here's a tip I learned from my grandmother. Not sure why, but their freezer shut down. They always bought their meat in later year, in halves. Before that they were farmers and raised their own.

After cleaning their freezer out with baking soda, they put a large bag of charcoal in the bottom of the fridge for several days. The smell was gone and they were able to use the freezer again. Before the charcoal, they thought they were going to have to get rid of it.

Several years after this happened to them, my husband needing a 3 prong adapter, unplugged our freezer and forgot to plug it back in. I used Grandma's advise and it worked for me. Appliances are very expensive so I appreciated Grandma's knowledge in the matter. I'm kind of new to this site and imagine that this may have been posted before, but thought maybe there are other people out there like me. Speaking of this site, It is awesome! I'm addicted to it.
By Rich Boyd 1
With the different ideas for ridding the freezer of rotten food odors none of them answer the question, should you have the freezer running or not. Both the pure vanilla idea as well as the charcoal sound like really good ideas. So should the freezer be running when trying theses ideas?
---
Most Recent Answer
---
By akrish44 1
I am currently a freshman in college and my roommate put ice cream in our freezer about five months ago. While we were on break, the ice cream somehow melted in our freezer. The melted ice cream has now frozen to the freezer and no one can open the freezer without it smelling terribly! I wanted to know if anyone has suggestions on the best and most painless way to get rid of the smell and clean the freezer.
Thanks so much in advance!!
---
Most Recent Answer
June 1, 2015
I have used warm water mixed with baking soda , then rinse & dry. 1 quart of water/1 tablespoon baking soda. I also clean the entire inside with this mixture, great for cleaning & removing odors.
---
I cleaned the freezer with soda solution and rinsed it good. I then put crumpled newspaper and two cake pans of fresh, dry coffee grounds in the freezer. I need to know if I leave lid (chest type freezer) open or close it for two days? Thanks for any advice!
By Helen
---
Most Recent Answer
Our freezer was shut down in October, and the lid closed for 6 months. There are no words to describe the stench. Is there any way to get rid of the smell? I read other tips. Do you put the charcoal or vanilla in with the freezer on or off?
By Nancy T.
A jar with turps fell off a shelf and seems to have seeped into the freezer. We are struggling despite several cleanngs to eradicate the smell and it seems to be seeping into new food. Any suggestions please?
By Sarah B
Meat was left in the freezer with no hydro for 3 weeks. There are maggots everywhere and it smells. How do I get rid of the horrid smell?

Thank you.
By LIN
The power was accidently turned off to the RV refrigerator. There was just canned pop in the frig, but there were frozen hamburgers in the freezer. Horrible, horrible!
The freezer surfaces have been cleaned, but the odor is coming from wherever the bloody mess drained. I'm thinking about pouring something onto the bottom of the freezer so it follows the same path as the mess did. Unfortunately, I don't know where it will go. I wouldn't want this mess to run out anywhere on the carpet.
I would appreciate any help. Thanks in advance.
By Susan