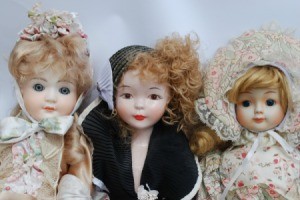 Porcelain dolls need special care to keep them clean. This is a guide about cleaning porcelain dolls.
Ad
---
Solutions: Cleaning Porcelain Dolls
Read and rate the best solutions below by giving them a "thumbs up".
I just purchased 2 musical porcelain dolls from eBay and they were very smoky and had what appears to be water stains. I opened seams and removed the music box, removed the hands, feet and head. Basically they are glued on. I basted the open seams and arm and leg openings and put in the clothes washer, low temperature and on delicate. I have a very gentle HE washer. They came out beautiful. I even put in the dryer on low heat and gentle.
These are Collector Choice dolls and the clothes are sewn onto the body. Previously, I purchased a lot of 9 porcelain dolls. I removed all the clothes and washed the same way in my washer using a small amount of Wisk laundry soap. Dried in dryer in same manner as above, they also turned out beautiful. The bodies of this group, I put in a closed bedroom with an air ionizer turned on high and left for 3 days. The smoke and musty small was removed.
Give a "thumbs up" to the solution that worked the best! Do you have a better solution? Click here to share it!
Questions
Here are questions related to Cleaning Porcelain Dolls.
My daughter has a collection of porcelain dolls from all over the world (about 50 of all different sizes) and they are really dusty. I was wondering if anyone has any ideas as to how to clean them.
The clothes are also smokey (we used to smoke in the apt. before buying a new house and no longer smoke in the house. We are working on quitting permanently.) I would really like to get the smell and dust off of them before we put them up on shelves again. Any and all suggestions greatly appreciated.
By Sandy from MI
AnswerWas this interesting? Yes No
Ad
---
---
Best Answers
By kathy 02/23/20090 people found this helpful
I use rubbing alcohol. Use a container large enough to immerse the entire doll. Soak a few minutes and then swish or dunk a few times to remove any solids. Drain until dry. This removes nicotine stains too.
---
By Sally 16 225 02/23/20090 people found this helpful
I just did a major cleaning of porcelain dolls that had nicotine stains using rubbing alcohol. Put a lot of it in a pitcher big enough to hold the entire doll. Soaked it for a few minutes then swished and let drain. Doll hair was clean but not damaged and the smell was gone.

Kathy
---
By Brenda 25 63 09/28/20090 people found this helpful
I like to dust my delicate items with an appropriately sized paint brush - it works quite nicely!
---
By The Aunt 12 30 09/29/20090 people found this helpful
Wrap the dolls carefully and securely in nylon net and then use your vacuum cleaner to suck the dust through the net. The net will hold the hair and feathers in place while the holes in the net will allow the dust to be removed. A similar method can be used to remove dust/dirt from antique clothing. Lay the garment on a flat surface and cover the garment with a window screen. Then vacuum the window screen.
---
I bought this awesome porcelain doll from a thrift store for a couple dollars, but her hair is in horrible condition and so is her outfit. Does anyone know how to fix her hair and clothes?
By Lauren F
AnswerWas this interesting? Yes No
Ad
---
---
Most Recent Answer
By Deanna B. 04/06/20150 people found this helpful
For the hair: Gently spray water on the hair. You can use Dry shampoo from Dove and spray it on the hair and rub it in good. Spray leave in conditioner in hair and using a small wide toothed comb gently comb out hair. Style hair while it is wet.

For Clothes: Take clothes off of the doll and carefully inspect them for rips and tears. If there are no tears place them in a pillow case and tie the top of the pillow case in a knot. Wash clothes on the gentle cycle using baby shampoo. If there are tears and rips you may need to do a little sewing.
I inherited many dolls that are one of a kind. They are porcelain with a cloth body. The clothes are stained yellow and smell of cats and cigarettes I tried washing with Dawn and peroxide. It took out the dirt, but not the yellow stains or smell. Any suggestions are worth a try. Some of the clothing can not be washed, but the dolls stink on their hair and body. Help please.
By Ruth B
I collect porcelain dolls; I have about 27 porcelain dolls in my collection. And I want to know the right way to clean them. I am not sure what materials I would need, if anything, to keep my dolls looking their best. I would appreciate it if someone can get back to me in regards to my question of cleaning porcelain dolls. I hope to hear from someone soon.
Thank you.
By Regina C from Queens, NY
How do I clean my porcelain angel praying hands, arms move, and the clothes do not come off. It is a musical doll.
By Jeannie C
I have some porcelain Indian dolls. How do I clean the feathers?
By Barb M.
How do I remove black marks from a porcelain doll's face?
By Christine
I have porcelain dolls that smell like mold and some have mold on them. How can I clean their bodies?
By Rhonda from Uhrichsville, OH
Archives
Thrifty Fun has been around so long that many of our pages have been reset several times. Archives are older versions of the page and the comments that were provided then.
Cleaning Porcelain Dolls With Hair: I have porcelain dolls and want to clean them and wash their hair. They were given to me and the hair needs to be cleaned and styled. Can you tell me how to clean and style their hair?
Thank you,
Oceans
---
RE: Cleaning Porcelain Dolls
My suggestion would be buy a can of air like what is used to clean computers or find a friend with an air compressor and blow the dust off. If the clothes are stained by nicotine, (they are yellowed) make a mild solution of oxy-clean and gently wash them and then let them air dry. Then I would spray them with Fabreeze to get the smell out.
You might also try putting the clothes in the dryer on an air only cycle and see if that doesn't get rid of the dust. I also collect Porcelain dolls and I smoke but I try to take all of their clothes to the dry cleaners to get them clean. They only charge me a dollar per outfit. I have also hand washed the outfits so I know that will remove the discoloration of the clothes. Good luck. (12/07/2004)
By Debra in Colorado.
RE: Cleaning Porcelain Dolls
I collect porcelain dolls as well as many of my family members. There are a couple different techniques that actually work very well. One is to get some "Static Guard", and hold it about 4-6in. from dolls clothing and hair and spray them down. Next take a vacuum hose and vacuum the dolls. If you let the static guard sit about 5 minutes, the dust vacuums right off.
Also, for the actual porcelain parts of the doll, there is a cleaner called "Awesome", and that is exactly how it works! It also works to clean hundreds of other things too. (04/10/2005)
By Bubbles76
RE: Cleaning Porcelain Dolls
Most dolls have painted faces. Most cleaners will wash the paint off so go gently and test it in smaller areas before using cleaning products. (09/08/2005)
By snigdibbly