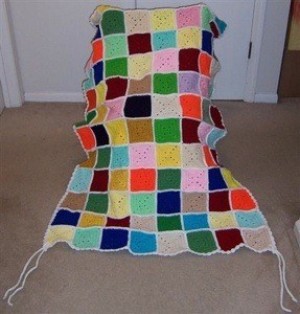 I've made it a habit of taking digital photos of all my completed projects during the year. Starting in Jan. - Dec. 2009, I crocheted 3 afghans and 5 wheelchair lapghans for veterans at our local V.A. Hospital.
Here is another lapghan that I just finished a few days ago for the V.A. Hospital. This is a great way of using up leftover spare yarn.
By MCW from Lewiston, NY
Ad
---
Feedback Forum
Feedback about this article is posted here. Want to contribute? Click above to post feedback.

By Lee Taylor [10]01/11/2010
This is beautiful! You are very talented! And how generous of you to give it away!

By Cricket [201]08/19/2009
I have this same picture in a pattern magazine.

By Colleen Stuchal [4]08/04/2009
This is so pretty. I have to master crochet yet. I can only do the basic single and double stitch. nothing else turns out right. I'd love to learn to do a granny square but I need to be shown how to do it, the symbols in the instructions confuse me until I get the ang of it.

By Arlene [1]08/03/2009
Could you please send me the pattern for your lapghan. I make them to, but I make mine just for a lap- 32"' Square. Would like to try your version of the granny square and add ties- never thought of that. Thanks

By DONNA HUSING [1]06/29/2009
What a thoughtful neighbor.

By Marie [9]06/21/2009
I was wondering if you would be so kind as to share the pattern with me? I believe you can message me on here. Thank you so much and keep up the good work, I only wish i would have thought of this when my Grandmother was still alive.

By Debra Thompson06/19/2009
Just beautiful! You're so kind, thoughtful, and do outstanding work; keep it up!
Debbie

By Deborah [1]06/18/2009
That is such a thoughtful gift! I love it!

By Liz [15]06/17/2009
That is awesome! I love the variety of colors and designs.

By mcw [79]06/17/2009
I neglected to mention that a Size 6 or G crochet hook was used. This was given as a gift to one of the male residents.
Post Feedback
Add your voice to the conversation. Click here to share feedback.
Archives
Thrifty Fun has been around so long that many of our pages have been reset several times. Archives are older versions of the page and the feedback that was provided then.
***
*** We live in a very large apartment complex and two male residents have to use wheelchairs. I just finished this lapghan the other night and have started on a second one.
The approximate measurements are 36 inches wide by 48 inches long. I made two removable 30 inch long cords so the lapghan can be tied to the back of the wheelchair if so desired.
I didn't follow a pattern, this is my own creation.
By MCW from Lewiston, NY
---
***
*** Here is my second wheelchair lapghan I just finished. The approximate measurements are 36 inches wide by 48 inches long. Both 30 inch cords can be removed before washing. This also was another one of my creations, and didn't follow any pattern.
I saw my neighbor out in his wheelchair early this afternoon. I asked if he would stop over so I could estimate and see if I made it long enough. The only thing left to do was to crochet the scalloped edging and make the two ties.
The first wheelchair lapghan was all hand sewn, and this one I crocheted all the squares together.
He told me that my timing was perfect since he's leaving on a camping trip tomorrow and will definitely use it to stay warm at night.
I always attach a tag with the washing instructions.
Crochet Hook - Size G
Source: My Own Pattern
By MCW from Lewiston, NY