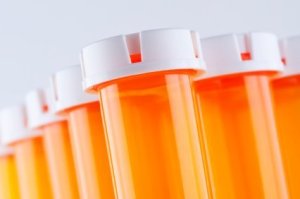 If you or a family member takes medication on a regular basis, empty prescription bottles can add up quickly. Make sure they don't end up in the landfill by recycling the bottles. This is a guide about recycling prescription bottles.
Ad
---
Solutions: Recycling Prescription Bottles
Read and rate the best solutions below by giving them a "thumbs up".
Pharmacies are not allowed to reuse the bottles. Give them to the ASPCA, your vet or any free clinic in your area.
By Cisco's Mom from FL
Give a "thumbs up" to the solution that worked the best! Do you have a better solution? Click here to share it!
Questions
Here are questions related to Recycling Prescription Bottles.
Does anyone know of missionary projects that are in need of used pill (medicine) bottles? Had heard that the Methodist Missionary project used them at one time. I would like to get a project started through my church if possible. If not, I have several to donate on my own.
By Marsha from Eskridge, KS
AnswerWas this interesting? Yes No
Ad
---
---
Most Recent Answer
By gbk [45] 09/29/20110 people found this helpful
I get different sizes of prescription bottles and ask for the non child proof tops and when empty i use them to mix paints, divide kinds of buttons, small nails, small screws, seeds, dried herbs for teas (these I put in the door of the freezer) and all small objects I usually will misplace goes into a bottle and then placed in the room or place where I store the things that go with it. Even my router bits are kept safe in a large bottle or 2 because the South has lots of moisture and keeping it out is a chore in itself. Happy bottling and you can burn them too.
---
Does anyone recycle prescription bottles and how do you do it?
By Jim D
AnswerWas this interesting? Yes No
Ad
---
---
Most Recent Answer
By Calasia 07/14/20140 people found this helpful
In my area of Ohio there is a Humanitarian Organization that takes donations and disperses them to those in need in other countries as well as the USA. They accept prescription bottles of which can be used in other countries.
---
Any thoughts on recycling pill bottles in the Buffalo, NY area?
By Sharon
AnswerWas this interesting? Yes No
---
Most Recent Answer
By Denise [10] 09/29/20110 people found this helpful
My mom recently gave me a bunch, and I put them to work in my sewing/crafts room. I put needles, bobbins, beads, plastic rings, wiggly eyes, etc. in mine. Was thinking about watching for an old spice rack at the thrift store to put them on.
---
Where can I recycle medication bottles? I live near Palm Springs, California.
By Debbie
AnswerWas this interesting? Yes No
---
Most Recent Answer
By Sandy [8] 08/25/20110 people found this helpful
Try contacting some of vet offices near your home. They can't be reused for people medicine, but vets can use them. My vet is very grateful for the bottles I bring them.
---
Where in Toledo, Ohio can I recycle prescription bottles for missions?

By Carol M
AnswerWas this interesting? Yes No
---
Most Recent Answer
By Linda [45] 07/10/20140 people found this helpful
I don't know what you mean by 'missions', but I donate my bottles to our local veterinarian. They have to dispense meds for the animals and can use them - best call and ask beforehand though.
Archives
Thrifty Fun has been around so long that many of our pages have been reset several times. Archives are older versions of the page and the comments that were provided then.
Any place to recycle prescription bottles. I can't stand to put them in the trash and then to the landfill, but no one in our area will take them.
Does anyone know if pharmacies will recycle your empty pill bottles? I take 9 medications every month, 6 of which come in the pharmacy bottles. I don't want to throw them away as I know they can be reused.
I do use some for storing beads. I have used them for storage, when I have mixed acrylic paints and only have small amounts left. I pour the paint into the appropriate sized bottle and smear a little of the paint on the top of the lid so I know what color is inside. But I was just wondering about pharmacies recycling them. Does anybody know?
Sheila from Decatur, IL
---
RE: Places to Recycle Prescription Bottles
Have you tried having your pharmacy dispense your meds in paper envelopes? That way you are in effect "refilling" your own prescription bottles.
Note: How to Dispose of Meds: Please "do not" put down garbage disposal. You contaminate the water ways by doing that and those drugs end up in all kinds on unintended places and bodies. Old prescription meds and vitamins and OTC drugs are considered hazardous waste and should be disposed of at Hazardous Waste collection places. (03/09/2009)
By akosei
RE: Places to Recycle Prescription Bottles
You could donate them to a free clinic with a pharmacy. You would need to remove the labels and clean them inside and out thanks. (03/10/2009)
By wvrdnkwmn
RE: Places to Recycle Prescription Bottles
A new use I found for a few is to dispose of the lid and just use the bottle to store small items in the medicine cabinet. I keep toenail and nail clippers in one and a Burt's Bees lip gloss and a Chapstick in another. They stand up nicely and keep those items from falling off the shelf. You can just grab the little prescription bottle to get what you need.
I still end up with more empty prescription bottles than we can utilize for our own use so I occasionally take a bag of them over to the local animal hospital. They are most appreciative to get them as they have to buy them for dispensing pet meds. (03/10/2009)
By Debbie52
RE: Places to Recycle Prescription Bottles
If you take them in when you need a refill, the pharmacist can use your own bottles for your own new refills.
I have used a multitude of ideas from crafts, sewing, change for the car, skewers, nuts, and bolts. When I have broken something sharp I put it in one before sending to the garbage. Anything small you open can be put into a script bottle. Vitamins, etc. come in recyclable bottles, check the bottom. I also use my 6" tall script bottles for vitamins that don't have child proof caps, they are dark in color and also can be labeled to be high out of the reach of kids. (03/10/2009)
RE: Places to Recycle Prescription Bottles
Take them to your vets, but ask first. That is what I do, as well as many people here in my small town. (03/10/2009)
By islandsage
RE: Places to Recycle Prescription Bottles
I use them to store small screws, tacks, and such. My grand daughter loves to pretend she is cooking so we made her a spice collection for her play kitchen. I use one to carry my spare change in.
Debbie (03/10/2009)
By dcsprsmm
RE: Places to Recycle Prescription Bottles
Hi Sheila, I saw that you are from Indiana, I found a place through earth911. I have a Whole Foods store nearby, their recycling machines will take medicine bottles, I see there are stores in IN. I don't know if you are nearby one. The site is
earth911.com
it should be able to tell you nearby places by zip code. You would be looking for recycle plastic #5 . Good Luck and Thank you for your post.
Lizz (03/21/2009)
By lizz50