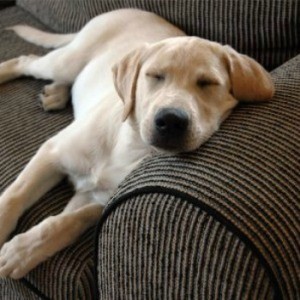 Pet hair can be quite a nuisance and can be difficult to remove from fabric or microfiber couches, chairs, and other furniture. This is a guide about removing pet hair from furniture.
Ad
---
Solutions: Removing Pet Hair from Furniture
Read and rate the best solutions below by giving them a "thumbs up".
Removing pet hair from any cloth surface is easy if you use a damp washcloth. Wipe cushions or clothing in one direction only and the hair will lift off. You can also try a damp sponge mop to remove pet hair from your carpets. Again wipe in one direction only and the hair will just pile up and can be easily picked up by hand.
Source: Dog Fancy Magazine
By Teri from Tionesta, PA
To remove pet hair, use a plastic gloves from the dollar store, 10 pair for $1.00. Place one glove on your hand. Sweep the area with the glove. Hair will all ball up and be easy to pick up. Reuse the glove as many times as you need to. I have 5 cats and one Chihuahua. It works great!
Source: I got this tip from Martha Stewart.
By Tamsy from TX
A rubber window washing squeegee attached to a long pole is an excellent way to pull pet hair from carpets. I have two in different widths. The narrow one does stair treads and can be used to reach confined spaces, the wide one makes short work of the open areas. I've a third one for furniture.
Source: My brilliant husband!
A dry sponge, such as those designed for kitchen use or for washing a car, is an excellent magnet for pet hair on upholstered furniture. Just rub the sponge across the furniture and pet hair clings to it like magic. All you have to do is wipe the hair off of the sponge and store the sponge with your cleaning supplies. One sponge will last a very long time. Keep the sponge easily accessible for a quick cleaning when unexpected company arrives.
By VeronicaHB from Asheboro, NC
I was mopping my wood floors one day and discovered this tip by accident. When I was through mopping, I noticed excess hair on the sofa and edges of the couch. I grabbed my somewhat damp mop (I mean very lightly damp) and took it across all of the fabric, seat cushions, corners, and back of the couch were the cats seem to fit.
To my amazement, it took the hair right off. It can save a lot of expense from using the pet hair rollers especially made for this use. Just use your hands for easy hair removal from the sponge. Discard in the trash can. Happy cleaning!
By Kathy from Harrisonburg, VA
Use 2 inch duct tape or masking tape. Either wrap the tape backwards around your hand or lay out a strip 6 to 12 inches and place on what area you want to remove the hair. After a few strip removals, replace the tape when it won't pick up any more.
By Tommy from Dudley, MA
To remove pet hair from all upholstery try a stiff scrub brush. The brush picks up the fur, remove it from brush and go again. A lot cheaper than anything else I've ever used.
By FL.gal
To remove cat hair from your furniture, take a damp sponge and brush it one way across the fabric. It helps ball up the hair and you can pick it off the sponge.
Vacuum each section thoroughly to remove as much of the loose pet hair and dander as possible. Simply attach the upholstery attachment and suction the hair from the surface. This also helps to remove the pet dander that falls off with the fur. If there are individuals with allergies in the house, use a vacuum with a good filter to avoid irritation.
Give a "thumbs up" to the solution that worked the best! Do you have a better solution? Click here to share it!
Questions
Here are questions related to Removing Pet Hair from Furniture.
How do I remove cat hair that is deeply embedded throughout a couch, in the seams & everywhere. The couch is high grade aniline Leather. I bought the set at a garage sale. It had been stored/uncovered in a barn for a year. It looks great, but there is cat hair everywhere and my vacuum isn't getting it all. It's really sticking to the cloth sections that connect the seat and back cushions together (cushions are NOT removable). Help! I can't bear to bring it into the house unless it's hairless & odorless too!

Cristy from Molalla, OR
Ad
---
---
Most Recent Answer

By alan julier [3]02/16/2009
I use an atachment that fits onto a vacuum cleaner pipe. Its called "Seathog" does the job fine.
Hope this helps!
How do I get dog hair off furniture?
By jsclgreen from CA
Ad
---
---
Most Recent Answer

By Beth [25]07/17/2009
It also depends upon the type of fabric you have. Something with a weave is harder to get hair off of because the hairs always seem to get woven in. Smooth fabrc like quality microfiber or non-woven types like velour respond to the methods mentioned by other posts.
What is the best way to get dog and cat hair off of my clothes, the furniture, etc.?
By Susan P.
---
Most Recent Answer

By earthhat [1]10/26/2011
Put on a rubber glove, slightly damp works great.
My new rescue terrier is shedding; how do I clean wood floors? When the afternoon sun comes it, it is just awful. I have tried the vacuum and a Swiffer. What else is available?
By J H M
---
Most Recent Answer

By Joan [19]05/26/2011
Make sure to brush your dog every day, this will help. Also, animals tend to shed more in the Spring. Hopefully it won't be so bad when Summer arrives.
We bought a royal blue couch at a thrift store, and it seems to be made of wool or some similar fabric. The problem is that I have two dogs and a cat, and the pet hair on that solid color is very noticeable (our previous couch was leather, and I didn't have to do anything to keep dog hair off of it).
I am looking for tips on how to keep this couch looking good. I have tried the the pet hair lint roller thingies, but I go through so many of those sticky sheets per day and still don't seem to get all the hair off. I feel like I need to do something else to get the majority of the pet hair off and then maybe finish off the job with a pet hair/lint roller. I also tried a wet sponge, which was great at getting the pet hair off, but small pieces of the sponge were being left on the couch, which I then had to try to remove. It just seems that there's got to be a better way than what I am doing. Got any suggestions?
By Tina
---