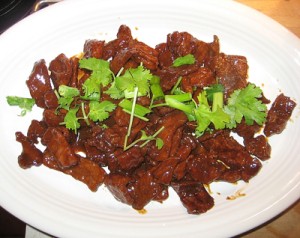 I made this Vietnamese recipe last weekend for my wife and brother. They really liked it. The recipe is for Vietnamese Caramelized Pork. In Vietnam, we always eat this pork with rice. It's an easy recipe for you to make for your family.
Ingredients:
1 lb. pork
4 Tbsp. sugar
3 tsp. salt
2 Tbsp. caramelized coconut sauce*
1 Tbsp. cooking oil
3-4 garlic cloves, crushed
1/3 cup water
fish sauce (optional)
1/2 tsp. red pepper flake (optional)
cilantro leaves
dash pepper
Directions:
Marinate 1 pound pork with sugar, salt, and caramelized coconut sauce. Let sit about 15 minutes.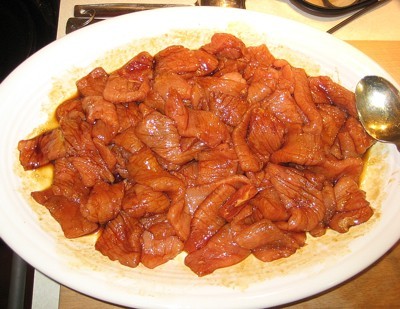 Heat a pan on medium and add a tablespoon of cooking oil and the crushed garlic cloves to the pan. Heat and stir fry for 2 minute until the garlic turns a light brown, then add the meat.
After the meat has been cooking for about 2 minutes, add 1/3 cup of water,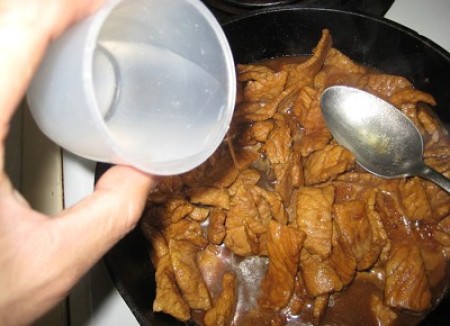 Cook for about 10 minutes, stirring occasionally. Taste the sauce. If you would like it saltier, add a splash of fish sauce. If you would like it spicier, add 1/2 teaspoon of chili pepper flakes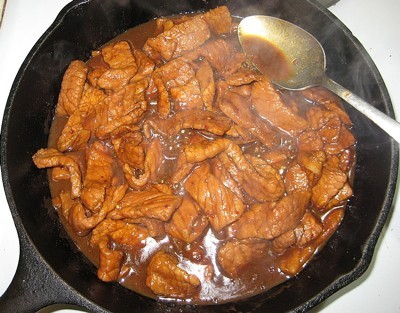 Cook for another 15 to 20 minutes to let the sauce boil down. Remove from heat and place the meat on a serving dish. Add cilantro leaves on top and sprinkle with a dash with pepper, if you want.
Serve with rice and vegetables.
*Note: You can get caramelized coconut sauce from an Asian market, but if you do not want to go though the trouble of finding it, you can make your own caramel sauce by heating 2 Tbsp. sugar on medium. Once the sugar changes to a dark brown, add 1/4 cup water and remove from heat immediately.
By Viet
December 13, 2010
0

found this helpful
Oh yum! My sister (Viet's wife) says that this is a little like pork adobo, but without the vinegar. I am definitely going to try this one.
Thanks Viet, keep those delicious recipes coming.
December 13, 2010
0

found this helpful
This looks so tasty. I can't wait to try it. Thanks Viet!
December 13, 2010
0

found this helpful
I don't understand how caramelized coconut sauce cannot include coconut. I'd like to make it myself as I'm sure I have few resources to find it in a store. Otherwise this recipe sounds wonderful. Please explain the coconut sauce?
December 13, 2010
0

found this helpful
@ SavingGrace. I thought the same thing myself so asked my sister Stella about that. Apparently, the caramelized coconut sauce is mostly for color. I'm sure the homemade sauce is a little bit different, but probably not enough to really change the flavor. Making it at home seems like a good option if you don't want to buy the whole bottle or can't find this ingredient at your local store.
December 15, 2010
0

found this helpful
Upon examining the bottle, I found out that it is made from coconut juice (not milk). So, it is the water that comes out of the coconut when you first open one, this water doesn't really taste like coconut. I am guessing that it is then cooked to thicken and brown it. This would be why the sugar and water method would work just as well, cause the flavor isn't effected that much. I think Viet (my husband) just used the caramelized coconut juice because we had it laying around the house, and not so much because it was necessary for the recipe. I attached a photo of the bottle in case anyone really wanted to try and find it. It's name on the bottle is "Coco Carmel Super." : )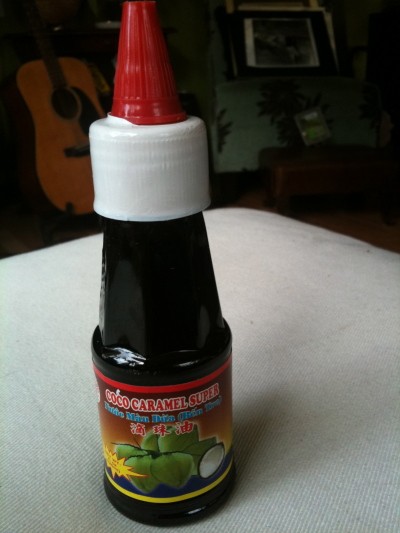 December 15, 2010
0

found this helpful
If the coconut caramel sauce is only for color, you might try a product called "Kitchen Bouquet". It is used for sauce and gravies. You could add coconut flavor to it also. I made the artisan bread that calls for the caramel color and could not find it so used the "Kitchen Bouquet" and found it worked wonderfully.