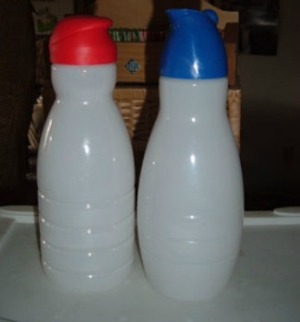 Plastic creamer bottles can be reused, for things like crafts, organizing, and storage. This is a guide about uses for creamer bottles.
Ad
---
Solutions: Uses for Creamer Bottles
Read and rate the best solutions below by giving them a "thumbs up".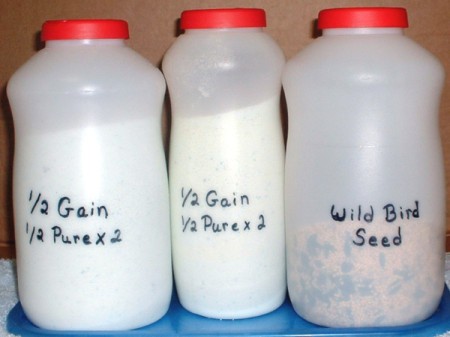 I dislike grocery shopping, particularly in the wintertime. I get a head start during the summer. I watch for sales on staples. The more I buy now, the less I'll have to lug home in the sleet and snow.
I mix my own laundry concoction, and really like it. I use ½ of a popular laundry detergent and ½ of a non chlorine fabric whitener/brightener. Often these powders are lumpy when I first buy them, and even lumpier after being on the shelf for a while.
I measure equal amounts of these two into a plastic bucket, stir for a second, and then funnel the lot into clean and dried coffee creamer containers. I keep these filled containers in the laundry room, and at the kitchen sink, where I wash my dish towels in scalding water. (Tip within a tip: I don't use fabric softener on my dish towels. It tends to leave a film on glassware).
The lumps do not reform in these plastic containers. I can dispense a little through the pour spout or remove the lid to measure a cup or so. This idea may not be practical for large families, but for a small crew, it should work well.
Also, I stock up on wild bird seed. I transfer the contents of a 10 lb. bag of seed into these containers. When refilling my several feeders, it's much easier dispensing from these containers, rather than a 10 lb. bag. With a home made inner seal of foil, the seed will stay fresh and bug free.
I have stared using large coffee cream containers to store rice and other things. The opening makes it easier to pour into measuring cup.
By Teresa from Dickinson, TX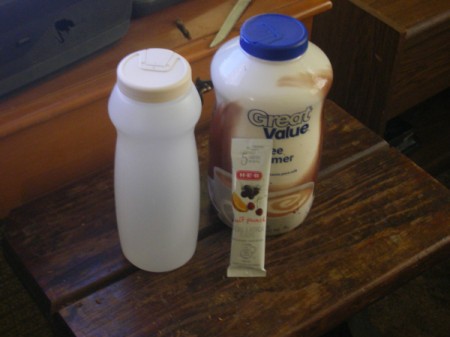 Empty non dairy creamer containers are perfect to use as drink bottles. No water bottles to buy and less waste in the landfill/recycling bin. The smaller ones are great for mixing and drinking from and the larger ones are the perfect size for the 1/2 gallon unsweetened drink mixes. They freeze without cracking for use on hot summer days, for taking on picnics or a day of running errands and they fit in most car cup holders. The large size can be use in place of regular plastic pitchers and take up less room in your fridge.
When you're ready to drink, just pop open the pour spout and use a large straw. I re-use the long straws from fast food or convenience store sodas but you can buy them anywhere. I like freezing them and drinking it while it melts. No ice to water down your drink. Be careful if you're going to shake up your drink, it could leak, so use a paper towel or dish cloth over the lid while shaking.
My daughter and I used them all summer last year. We kept one in the freezer while using another one, so when it was finished, we had another cold drink ready to use. They can also be filled with water, then frozen for use in coolers to keep your picnic food cold. No melting ice making your food all soggy!
Directions:
By Lisa S. [2]
I use empty creamer bottles for lots of things, especially food items we buy in large containers at Sam's Club: syrup, dishwasher soap (awesome for that!), hot chocolate mix, strawberry mix, even as a small pitcher of milk for the dining table that kids can easily pour.
By mj9876 [1]
For my Kindergarten class at Sunday School, we made Santa toys out of Liquid Coffee Mate bottles. The white bottles have red caps that are shaped as Santa's hat. The children simply glued on on a cotton ball for the tip and gave him either button or google eyes and a black dot nose and mouth. Scraps of fabric gave him a scarf (a loan from from Frosty) around the smaller neck of the bottle and the children put rice or other safe noise making materials inside to shake. We shook them keep rhythm to music as a take-home treat.
By Becky from Addison, AL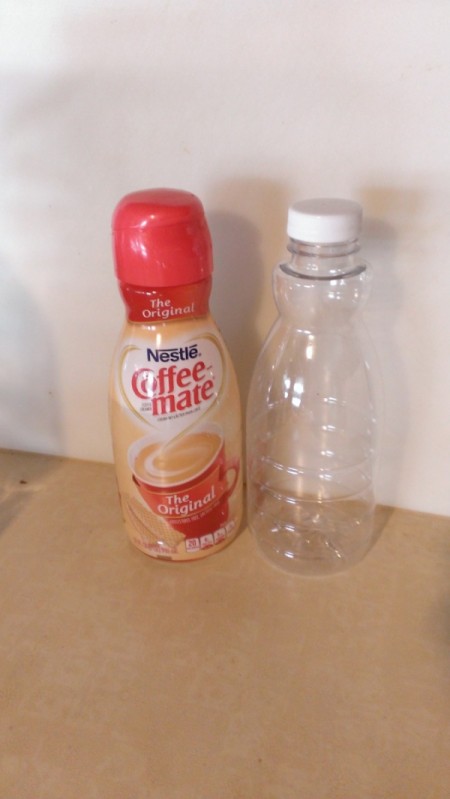 I go through the local recycling center at my mobile home park. I do this for two reasons. One is because people just don't read the numbers in the triangle and toss in those plastics we can't recycle in Douglas County anymore.
The other is to save coffee and creamer containers, and all others that I can use for food storage. Once washed, they are perfect for keeping critters out. So today's tip is that sometimes, you can still use something even though the lid is missing.
I find these creamer bottles without the tops and replace them with juice container lids. Still useful, clear and ready to fill with things like:
rice
beans
soup mixes
pasta
candies
staples like flour or pancake mixes
and more
I love the fact that they are clear and easy to see. I hope this helps!
Give a "thumbs up" to the solution that worked the best! Do you have a better solution? Click here to share it!
Questions
Here are questions related to Uses for Creamer Bottles.
I have tons of Coffee Mate liquid cream containers in three sizes: 32 oz, 64 oz (2 qt), and 16 oz. I think they would be great to make gifts for young and old.
Could you please suggest ideas and instructions for something easy and inexpensive? I guess I need to get started, the holidays are near. I also want to say thank you for accepting me. I am so excited to be a part of ThriftyFun. I am looking forward to a very long stay here. Blessings.
By Linda H
AnswerWas this interesting? Yes No
Ad
---
---
Most Recent Answer
By Marlena S. 1 3 09/01/20150 people found this helpful
Crafting with Coffee Mate Liquid containers - They can be used to storage a variety of materials. I am an art teacher and I would especially save them to make snowmen/women or a nesting doll where you only have one and there are books to read to the kids before creating the art project. There are many colorful books on snowmen and Patricia Polacco has a story called Babushka Doll that would be perfect!
I hope all of you creative people can help me out.

I have many of the big plastic canisters that powdered coffee creamer comes in. We drink A LOT of coffee around here! I'm reusing one to store sugar in. It's great because it has the spout on it for pouring. Other than that, what else could I use these containers for? I'm at a loss, and I hate to throw these canisters out. There's got to be other ways of reusing these. Thanks. and I'm looking forward to all of the creative ideas you have.

Lynn from Colbert, GA
AnswerWas this interesting? Yes No
Ad
---
---
Most Recent Answer
By Colin 2 11/21/20100 people found this helpful
Take ten of the coffee creamer bottles and fill half full of sand. Glue the tops on with silicone or Gorilla glue. Take a piece of 1/8" thin Luan plywood and paint spots on it in a triangle pattern to make a pattern to set up bowling pins. Set up in your driveway, pace off a bowling lane, and use a soccer ball to make a lawn bowling game for kids or adults. Great for yards parties.
---
I am wondering if you can still use Coffeemate creamer bottles to make snowmen since they are now clear under the label? I don't want to have a bunch of kids painting them. Any ideas?
By Pam from Knoxville, TN
AnswerWas this interesting? Yes No
---
Most Recent Answer
By Tammy K. 1 08/13/20150 people found this helpful
fill with mini marshmallows, keep the snowmen in the kitchen where you make your hot chocolate
---
I use lots of liquid creamer and have saved the bottles. I want to make a craft the children will enjoy.
By Gidget123 from OK
AnswerWas this interesting? Yes No
---
Most Recent Answer
By sarahbelleblue 1 04/22/20130 people found this helpful
I, too, go through a lot of coffee creamer and was looking for a use for the bottles. The other day, my 3 year old was complaining that her 'baby robots' (legos) couldnt go to space because they didnt have a rocket ship. Ii made her a space shuttle. I just covered it in printer paper and colored it, and stuck a few triangles of cardboard for wings. She's a big fan! It turned out pretty cute. You can cut the bottom out so 'baby robots' can ride inside!
---