I take coffee-mate containers, the ones that are found in the dairy case, and use them for sugar dispensers. You can cut and peel the outside plastic off. You could use these for other dry ingredients as well.
By Janett48 from Stamps, AR
Answers:
Uses For Coffee Creamer Containers
I also use them for my laundry detergent, generic oxyclean and fabric softener. I hate lifting those heavy liquid detergent bottles. I posted this idea on thriftyfun a while ago. (05/13/2009)

By MCW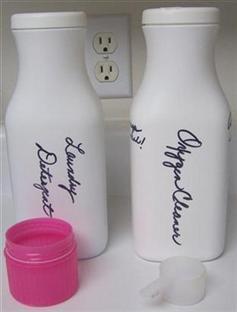 Uses for Coffee Creamer Containers
Ha ha on me, I wanted to see what everybody came up with. the first picture showed me I need to take a break. I thought you meant those you get from restaurants What a dope, but when I went looking for a pics.of what I meant. I found this site. She has way to much time on her hands
(http://www.craftster.org/forum/index.php?topic=266969.0%3Ball) A coffee creamer cozy (05/16/2009)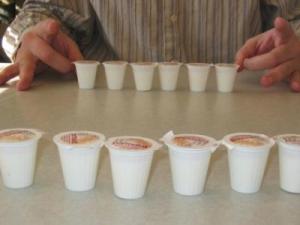 Uses for Coffee Creamer Containers
How about refilling them with homemade creamer for less than you pay for store bought?
1 can of sweetened condensed milk
2-3 cups of milk
2 tsp. of your favorite flavoring extract
Or even better yet, make your own sweetened condensed milk
1/2 cup hot water
3/4 cup sugar
3/4 cup powder milk
(05/17/2009)

Uses for Coffee Creamer Containers
I use the Coffeemate ones (with the pour spout that flips open) to keep cooking oil handy near the stove. Much easier to use than the screw-off capped bottles the oil comes in originally. Easier to control the amount, too. Also great for keeping paint handy for touch-up projects without pouring out a big pan full and risking it drying out and getting wasted. If you use a sponge-type paint applicator, you can squirt paint directly onto the sponge! (07/12/2009)

By `republichik
Uses for Coffee Creamer Containers
I have a big dog who will sneak into the kitchen garbage can if any kind of leftover bones are in there. Not a good thing. We used to have to be extremely diligent and take any bones--most especially chicken, which can splinter easily and do the most intestinal tract damage, to the outside trash immediately at dinner cleanup until we started using empty creamer containers for this purpose.
I just stuff them into the container, screw the lid back on and throw it in the kitchen can--and the dog doesn't bother with them. I'm not running to toss out half-full trash bags any more.

These containers are also great for discarding leftover cooking oil or the gunk that gathers in the sink drain strainer ( without having to sprint across the kitchen to dump it there--usually a wet, sloppy mess). (01/11/2010)

By PupperMom