June 20, 2008
0

found this helpful
I save a lot of things to recycle and these containers are great for them, and they smell so good every time I open one. Use to collect change(let kids draw pics on them and use for banks), bottle caps, can tabs, marbles, nuts and screws in the garage, craft supplies, etc. Sure wish I had a few, I just moved and left mine all in CA by mistake.
July 18, 2018
0

found this helpful
i might do that idea
June 20, 2008
0

found this helpful
Keep some in the car for emergency pet food, change for the parking meters, pre-moistened wipes, sewing kits, eyeglass and fingernail repair parts, sugar free candies, energency candles and waterproof matches, or just about anything you need to keep protected from water and sun. In the kitchen, they are perfect for ice cubes in lunch boxes because they don't melt all over everything. When they do melt, you have nice cold water. They make nice spice containers but you have to be careful of no place for a shaker. Keep powdered things, pasta, or just about anything in them. They are just about perfect!
June 20, 2008
0

found this helpful
My daughter and I made this birdhouse to go with our collection! I also have used them to make snowmen and santas.
They are a great start for the body part! My snowman is packed away so no pictures.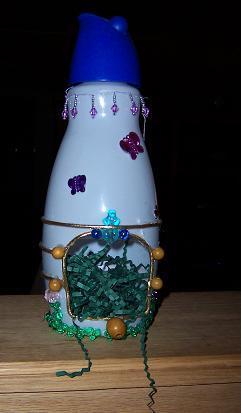 June 20, 2008
0

found this helpful
I like to reuse such containers myself but I am worried about putting food products in the plastic and wondering if it's safe or not. Some plastics are not safe for re-using for food. How do we know?
August 9, 2017
0

found this helpful
I found this explanation. If your creamer bottle has a recycle code of 1, it's probably not a good idea to store food in it.
#1 is for a one-time use. Visit
http://www.baby mbers-guide.aspx
to see all codes.
February 9, 2018
0

found this helpful
Check out the website, baby green thumb.com. Numbers two and four and five are safer than the rest. Glass is always the best choice!
June 20, 2008
0

found this helpful
i like to keep a couple similar items by my brew station for cough drops & hard candy.
Because these 2 items (in particular) come in a plastic bag that usually gets torn I cut the label off them & tape them on the canister to ID it!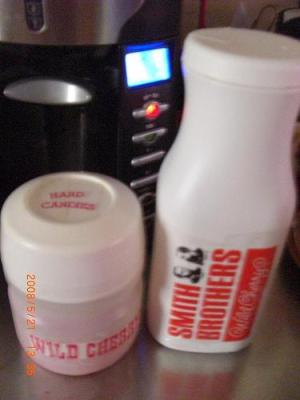 June 20, 2008
0

found this helpful
I'm using a Folger's plastic coffee can for coffee filters.... We don't use creamer so I don't know what those cannisters look like but as I've said before ...
if it will fit it will store. Cough drops mints gum anything small.
By Guest (Guest Post)
June 20, 2008
0

found this helpful
Fill the canister with baking soda or Epsom salts to add to your bath water or foot bath. Looks lots nicer than having the box sitting out!
By Mary (Guest Post)
June 20, 2008
0

found this helpful
We use the really big economy sized creamer canisters, too. Up until now I'd only used them when cleaning out the fridge or throwing away cooking oil, anything messy that might leak in the garbage bag. I like your idea of storing sugar in one! Also would be good as a sand shaker when snow or ice is on the steps, or keep one full of sand in the car's trunk in winter, or use to shake fertilizer out around the garden in the summer, easier to hold whatever comes in a big bag and is hard to deal with.
The labels peel off on most things like that, should be easy to re-label.
June 21, 2008
0

found this helpful
Thanks for all the great ideas! I appreciate your input...
June 22, 2008
0

found this helpful
Great tip! I recycle any containers like this also. I recently used one for the bathroom filled with laundry detergent as I find that to be the best cleaner for my bathroom over other cleaners. and it saves me money big time. Thanks for sharing.
By Cindyc (Guest Post)
June 24, 2008
1

found this helpful
They come in handy for flour, sugar. I use them around Christmas. I like to make flavored coffee and teas. We have been short on cash the last couple of years so I make family & friends a basket of crocheted things and the drink mixes, baked cookies and breads.
August 6, 2008
0

found this helpful
Just this year I started using the containers from creamers and lemonade for instant potatoes,dog treats, choc. drink mix, spaghetti noodles ( broke in half) pencils,crayons, clips, etc.
They come in very handy in our travel trailer. Does not useup much space and keeps ants and other bugs out.
November 21, 2010
0

found this helpful
Take ten of the coffee creamer bottles and fill half full of sand. Glue the tops on with silicone or Gorilla glue. Take a piece of 1/8" thin Luan plywood and paint spots on it in a triangle pattern to make a pattern to set up bowling pins. Set up in your driveway, pace off a bowling lane, and use a soccer ball to make a lawn bowling game for kids or adults. Great for yards parties.
June 13, 2016
0

found this helpful
You can store rock salt in them for the winter. When I buy a big bag, I transfer it into a bunch of creamer containers and former orange juice bottles.