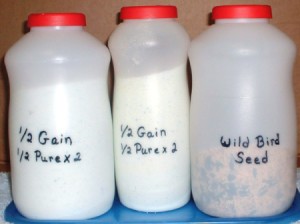 I dislike grocery shopping, particularly in the wintertime. I get a head start during the summer. I watch for sales on staples. The more I buy now, the less I'll have to lug home in the sleet and snow.
I mix my own laundry concoction, and really like it. I use ½ of a popular laundry detergent and ½ of a non chlorine fabric whitener/brightener. Often these powders are lumpy when I first buy them, and even lumpier after being on the shelf for a while.
I measure equal amounts of these two into a plastic bucket, stir for a second, and then funnel the lot into clean and dried coffee creamer containers. I keep these filled containers in the laundry room, and at the kitchen sink, where I wash my dish towels in scalding water. (Tip within a tip: I don't use fabric softener on my dish towels. It tends to leave a film on glassware).
The lumps do not reform in these plastic containers. I can dispense a little through the pour spout or remove the lid to measure a cup or so. This idea may not be practical for large families, but for a small crew, it should work well.
Also, I stock up on wild bird seed. I transfer the contents of a 10 lb. bag of seed into these containers. When refilling my several feeders, it's much easier dispensing from these containers, rather than a 10 lb. bag. With a home made inner seal of foil, the seed will stay fresh and bug free.