Sugar works as a great base for an exfoliator. Exfoliation is an important step to keeping your skin looking young and vibrant. This page contains recipes for homemade sugar exfoliators.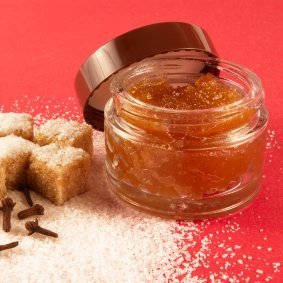 Filter

: All Articles
Sort

: Relevance
Face Scrub from the Kitchen
I have discovered the most amazing face & body scrub straight from my own kitchen! Take a 1/2 cup of sugar, 2 Tbsp. of olive oil and 1 Tbsp. of any extract (I've tried vanilla and mint - but not together!). Mix all ingredients, jump in the shower, wet your skin, massage the scrub into your skin and rinse. The sugar removes all the dead skin and all that remains is soft skin from the olive oil. I've even used it on my face and lips (don't rub too hard) and my face looks and feels amazing.
Don't be concerned about olive oil on your face - it's one of the most natural oils and won't clog your pores. I love using the vanilla for Saturday nights and peppermint for mornings. You can use any scent you want! Experiment and enjoy!
By Ricki from Westfield, MA
I use lemon juice and sugar (try not to lick your face). Mix together and gently rub on your face. Let stay on about 15 minutes, and then rinse with warm water. It will lighten age spots and freckles.
My favorite though is honey and aspirin. Soften the aspirin with a drop or two of hot water, and then add some honey. Rub gently onto your face and leave it on for 10 to 20 minutes. Then rinse it off. My skin feels great.
By Mell from Traverse City, MI
This is a recipe for a simple summer detox face cleanser. We play in the mountains a lot and this facial removes dirt, grime, and sweat and leaves my face fresh. I use it 2 times a week, especially after a long ride on our four wheelers!
Take two tablespoons baking soda and two tablespoons of sugar and slowly add droplets of water until it forms a paste. (Sometimes I get the paste thick, sometimes I like it runny, it's up to you.) Gently rub on your face and rinse well.
It's awesome, simple, easy, and works well.
Source: I snagged this recipe from Herb Quarterly
By Bobbie Jo H. from Boise, ID
I use a loofah to scrub my dry skin off and then I start with a sugar and olive oil scrub. How many times may I do this?
By Elizabeth from Las Vegas, NV
August 27, 2011
0

found this helpful
One to two times a week at the most, or it will irritate your skin. I have found also that using sea salt instead of sugar works better because the salt won't melt and make you need more, as well as it doesn't attract ants.
Reply
Was this helpful?
Helpful?
Yes