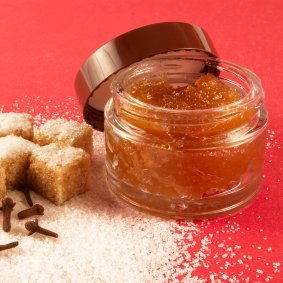 Sugar works as a great base for an exfoliator. Exfoliation is an important step to keeping your skin looking young and vibrant. This page contains recipes for homemade sugar exfoliators.
Solutions: Homemade Sugar Exfoliator Recipes
Read and rate the best solutions below by giving them a "thumbs up".
I use lemon juice and sugar (try not to lick your face). Mix together and gently rub on your face. Let stay on about 15 minutes, and then rinse with warm water. It will lighten age spots and freckles.
My favorite though is honey and aspirin. Soften the aspirin with a drop or two of hot water, and then add some honey. Rub gently onto your face and leave it on for 10 to 20 minutes. Then rinse it off. My skin feels great.
By Mell from Traverse City, MI
This is a recipe for a simple summer detox face cleanser. We play in the mountains a lot and this facial removes dirt, grime, and sweat and leaves my face fresh. I use it 2 times a week, especially after a long ride on our four wheelers!
Take two tablespoons baking soda and two tablespoons of sugar and slowly add droplets of water until it forms a paste. (Sometimes I get the paste thick, sometimes I like it runny, it's up to you.) Gently rub on your face and rinse well.
It's awesome, simple, easy, and works well.
Source: I snagged this recipe from Herb Quarterly
By Bobbie Jo H. from Boise, ID
Give a "thumbs up" to the solution that worked the best! Do you have a better solution? Click here to share it!