I am trying to decide what color to paint for an accent wall. They are cream, in between a yellow and white right now with white trim. My sofas are red, mostly all my living room furniture is black, but I have paintings that have very vivid colors in them, blues, greens, reds, browns.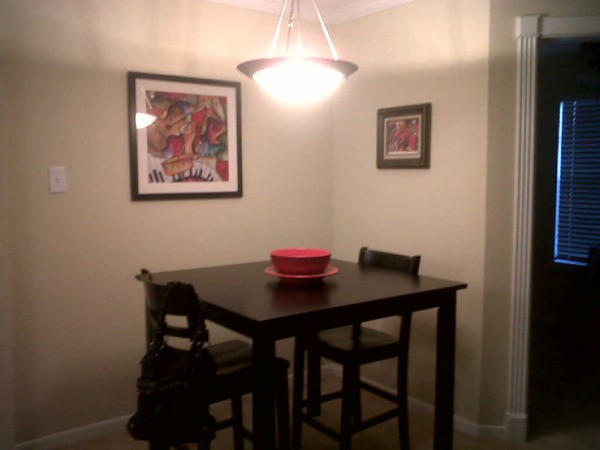 I was contemplating doing a light blue wall? Ideas are much appreciated!
By Hannah
Answers
June 15, 2011
0

found this helpful
How about a nice shade of sage green/mint green.
June 16, 2011
0

found this helpful
Take pictures of all your artwork, then spread them on a table. Find the one color that stands out in all or a majority of the art. You've just found the color for your accent wall! My mom was an interior designer who gave me this info.
June 16, 2011
0

found this helpful
I agree with aloham58 picking an accent color, perhaps one that is common to all the art work would be the best idea. It is an accent wall, so really make it one
June 16, 2011
0

found this helpful
When we moved into our place, there was already a red accent wall in the living room. The other 3 walls are the yellowish-cream that you mention.
I have lots of artwork with strong, vibrant colors and the red really complements all my accessories. Here is a picture of the corner of the room. Obviously we're not done fixing everything!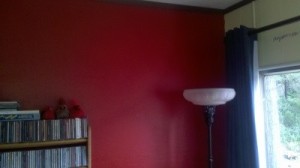 June 16, 2011
0

found this helpful
Just don't forget how light or dark you want to make your room before you paint. Your paint can make a dark room darker and a light room dimmer than you want.
you also don't want it to appear more cluttered or smaller. You may just want to accent with a trim paint that will go with your room. What color of curtains do you have and how big is the room.
Read More Answers
I recently got married and my husband and I have moved into a house and have been remodeling it. We have already fixed up the kitchen and changed the ugly green walls to a nice golden yellow color. Now the next step is to tackle the living room, dining room, and our bedroom walls.
Here is the problem. There is at least one wall in each room that is painted a dark salmon color and all the other walls are a dark beige. My husband actually likes the salmon color so as a compromise I am keeping that color for him.
I want to paint the dark beige walls a different color and the trim work a different color, but I cannot figure what goes with that color. Any suggestions would be very helpful.
By Tiffany from NC
Answers
July 11, 2010
0

found this helpful
Match the salmon to a sample and go with the lightest version of that or even half of that. If you can find a color half way between the salmon and yellow, that might work on the trim, but I am not sure you want the salmon in every room. Perhaps one room with a salmon ceiling to match the wall, but you need another color. The right green or blue or blue green might work. Perhaps all salmon with bright ceiling and very light furniture in the dinning room, but not salmon in every room. Decide the mood of the room. Green and blues are restful, yellow is cheerful. so repeat shades and tints of the same colors, but one predominant color throughout which should be neutral.
July 13, 2010
0

found this helpful
Go to a wallpaper store or fabric store and look for combinations with dark salmon, you might even be able to incorporate that color into your room with fabric or paper instead of a whole wall. Good luck.
July 13, 2010
0

found this helpful
The best thing I have found to do in your situation, is to go to any store that sells paint and get some paper samples., pick up at least one shade of every color. For instance, pick out a blue tone, a green, a yellow etc. The samples in Lowes have little holes in the center of the sample, these enable you to hold the paint sample on the wall and see how you like the two colors together. It is much better than holding the sample next to the wall. For some reason you get a better feel for it. For samples without the hole already in them, I just use a scissor and cut a hole in it looking at the new color surround the wall color makes a difference. Tape these on your wall for a few days and look at them from different places in the room, at different times of the day in different light.
All these things affect the color.
The other thing that you can do, is find a pillow in a store, (or a napkin or something that has the wall color in it), and see what other colors are in the pillow that you like, pick one and have it matched. The one thing about paint, you can always change what you don't like. Paint is not cheap, but if you get one of those small sample cans it can be worth the money. They will make the color you want, you can take it home and live with it for a week, and if you like it you can take the can back to the store with the "recipe" for that color on the can, they can make it over again.
Good luck, happy painting.
July 13, 2010
0

found this helpful
Are you sure it is not a shade of terra cotta? If so you can go Italian or Mexican color themes. Check out decor in those styles and see some combination's that might work for you.
July 13, 2010
0

found this helpful
Go to a paint store, find a color wheel, locate your salmon color on the wheel and select a color directly opposite it on the color wheel.
July 13, 2010
0

found this helpful
Another thought is to do some decorative/faux painting either on the salmon wall only (to diffuse the salmon a little) or on the other walls to mask the color coordination a little. If you're mixing two colors in a ragging technique, for example, it won't be so obvious is the color isn't exactly what you wanted.
http://www.oldh e-painting.shtml
July 14, 2010
0

found this helpful
Though it's not salmon, my sister and her husband are redoing a 1950's house that has a bathroom with a deep pink tile. The decorator is having them put up a large floral walllpaper with a blue background. It looks great and tones down the pink. Perhaps you could use a nice cream color on the other walls. Then use some accent pieces (pillow, lamps shades, etc.) in another strong accent color. This way, if you don't like the color of the accent piece, it would be much easier to change than repainting the other wallls.
Answer

this Question

...
I painted my room pink, well 3 walls, hot pink and I don't know what color to paint the wall that my bed leans against. Any suggestions?
By Diana from Downey, CA
Answers
August 22, 2010
0

found this helpful
A pale pink would be nice. So would a pale green. Or choose a color from your bedding and use that.
August 23, 2010
0

found this helpful
Chocolate brown might work. Whatever the color, it needs to be picked up elsewhere, rug, throw pillows on a light brown bed spread with some hot pint accents. Ivory might work too, but you need to repeat colors. That hot pink can be overpowering so choose carefully.
August 25, 2010
0

found this helpful
Choose a color that is in the fabrics that you are using in the room, like bedspread, drapes curtains etc.
September 20, 2010
0

found this helpful
The bed wall needs to be the focus of the room, so you need to go bolder on that wall. I would try to go 1 or 2 shades darker than the other three walls. Or paint it the same color and wash it with a darker color pink. You can always paint some kind of wave design on it, try it on a piece of paper first to see if you will like it.
Answer

this Question

...
I want to paint a wall in my bedroom. Is there a decorating tip that will help me choose which wall I should paint? The wall that you face as you enter the room that has a window on it, or the wall to the right that is opposite the bed?
By Jodi from Ogden, UT
Answers
April 16, 2009
0

found this helpful
Which wall to accent is a matter of personal choice, and you should take into consideration the overall space. But the wall that comes into view that is opposite the main enterance is most often the feature wall and usually the safe choice to paint with an accent color.
April 21, 2009
0

found this helpful
All the rooms I've ever seen that had an accent wall had a solid wall accented, not a window wall - usually the wall that the bed goes on. Good luck with your project.
April 22, 2009
0

found this helpful
I agree with the idea that the wall opposite the entrance to the room is usually the focal point wall. This would be the one you would want to have the head of your bed on.... usually. Use the same shade as the other 3 walls but one (or possibly 2)step darker on the paint strip. That way you'll always know it "goes" together.
Try to watch episodes of "Sell this House." The designer on that show is especially gifted at choosing colors for paint, defining accent walls, and furniture arrangement. Where I live the tv show is on A&E on Saturday mornings.
Good luck and enjoy your new room!
January 6, 2011
0

found this helpful
I painted a 8x12 bedroom where the window was on the opposite wall as the door the accent wall was a fresh green think of spring, and the others were a moderate yellow, not neon not gold. The green was called Shakespeare and the yellow was sunshine. The focal wall was not a drastic eye popping difference but it was nice use of two different colours it looks awesome because it wasn't a very big room and it made it seem bigger. I could have also done the right hand wall that the bed was on but it just didn't seem to appease the eye quite the same, often on tv designer shows you see the wall that you see as you walk in as the focal wall.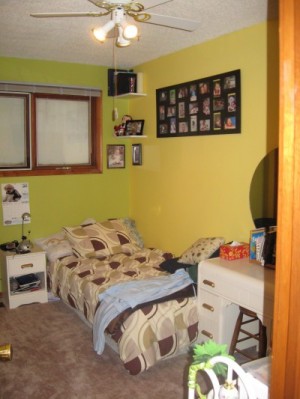 Answer

this Question

...
October 30, 2012
0

found this helpful
I have a light living room with 3 walls; it opens into the kitchen. It faces west. There is a full tall cathedral wall, another the same that tapers down to the front wall which is all the same height and has a fireplace and 2 windows. This wall does not have much wall space, it is all window and fireplace.
Which of these 3 walls should I paint darker? It's not a big room, but it is bright because it opens into the kitchen. I may not be describing this right, but I guess my main question is: I have 3 walls and I want to paint them; 2 one color and 1 another color. Do I paint the shorter wall with the windows darker or lighter then the other 2? I do not have a photo at this time. If you picture a room with a cathedral ceiling and put a wall up in the middle so you have a 1/2 cathedral that is my living room not big, but with a high ceiling in half.
By Barb
Read More Answers
April 26, 2013
0

found this helpful
I planned to paint an accent wall of my family room with random stripes (four different colors). I brought the paint and now I feel so lazy and it seems like lots of hard work. The paint is non refundable so please can anyone suggest how else can I make a pattern or how else can I work with multiple colors on a wall. The colors include light beige, light yellow, light green, and light grey on an off white wall
Thanks a lot in advance.
By Miss handy from tomorrow
Answer

this Question

...