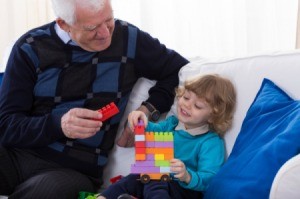 I am in a predicament that I really need advice on. I babysit my 6 month old Granddaughter and her brother (age 6) who is home-schooled. I don't agree with the home schooling situation but he is my grandson by marriage and therefore I try to keep my opinion to myself. 6 hour days can get long when a child gets bored of his own toys and I often bring games or toys to play with him for a change of normal routine.
Last week I was told in no uncertain terms that NO MORE TOYS were to be brought, the excuse being lack of space to keep them. I take them home and keep them in my car to avoid conflict. I do not feel that I am wrong and have the right to bring them as long as I don't leave them. As if this was not discouraging enough,their mother (my Daughter-in-law) now INSISTS that I not rock the baby to sleep at naptime. Maybe I'm just too opinionated, but I feel that I have the right to make the call on that, since I am with them 5 days a week to save them the high cost of Daycare.
We have actually had words over these issues and even though they are small ones, it puts my son in the middle and adds stress to an already OVERLOADED Dad who does more than his share of cooking, cleaning, laundry and childcare. This really has me tore up and for his sake I feel that maybe I don't need to be the caregiver as I cannot cope with her attitude towards my methods of dealing with the children. My head tells me to get out of the picture but my HEART tells me to stay for my Grandchildren's sake.
I would appreciate advice, but please, this involves my family, and is an extremely sensitive issue. If I am wrong I am woman enough to admit I am and correct the problem. How should I handle the situation?
Sharon,Ky
Answers
By (Guest Post)
October 4, 2005
0

found this helpful
Best Answer
What a tough situation!! It sounds like she might resent you being able to stay with her children when she has to go off to work. This sounds like a power struggle as to "who's the better mother" here.
I would start by praising as many things as possible that she does while still being sincere. Brag her up a little in front of others if you can.
You needn't mention to her that you rocked the baby to sleep. Personally I think you would both find that restful during the middle of the day and she doesn't need to know about it.
Regarding the toy situation, I would leave that alone for awhile. Don't bring them over or ask her advice as to what she would suggest you buy your grandson for his next birthday. Again keep in mind she may feel jealous that you can provide her son extras (toys and time) that she can't provide him because she's at work.
The bottom line here is that you need to keep this relationship as positive as possible for all involved...you, your son, the grandkids, and even your daughter-in-law.
Do give yourself an out though. If the above doesn't work and she continues to criticize constantly, just tell the kids you will need a break from daycare (cite age, health, etc.) and let them foot the bill for awhile. Believe me, they will really appreciate grandma after that!!
Good luck with this. You are a very special person for wanting to help out. Know that others recognize that!!
By Memere (Guest Post)
October 4, 2005
0

found this helpful
Best Answer
I, too, watched my granddaughters on a daily basis until school was in order. I've always watched them all night Wed nights, and often when asked or I ask to take them. My DIL recently commented on how she never asked or concerned herself about my "handling" them, etc. She wondered if that made her a bad mother or if she just trusted me totally. She decided she trusted me..her girls run to me as soon as they see me. It's a tough call for you and maybe a hard descision has to be made. Hang in there, the kids would miss you terribly.
By (Guest Post)
October 4, 2005
0

found this helpful
Best Answer
Homeschooling is a choice parents make because they want to teach their kids-its not fair to expect an unpaid "grandma" to do it. Perhaps the 6 yr old needs to go to school where he will have lots of learning as well as new and stimulating activities to do everyday with teacher and peers. Then, when he gets home you can play with him, read to and with him, help with homework, talk to and listen to him.
As long as the care you are giving these children is safe and loving, and appropriate, and it sure sounds like it is, DIL needs to back off, or pay for a caregiver to whom she can dictate her wishes.
Your son should be the one to go to with this first, and decide together whether he alone or both of you together want to broach it to her. You are being taken advantage of, but it would be best for you to set some boundaries.
Unless you are engaging in behavior that harms these children, DIL needs to appreciate what you are doing for them or, you should make your services available only on special occasions or something like a weekly date nite for them. She will never find more loving care for her kids than you, and certainly not for free or little money, and it is unlikely she will find anyone willing to "homeschool" her son. Since she isn't doing it anyway, he might be better off in school!
By Sharon,Ky (Guest Post)
October 5, 2005
0

found this helpful
Best Answer
Let me clarify my statement about homeschooling.I do not do it,the Mother does when she's at home from work. He certainly is not behind other children. He actually is far advanced most his age.She is a great Mother as far as the new baby is concerned.She's just one of these "No extra Maintenence" mothers.I brought games because he and I love to play them when the baby is not needing my attention.I never had the advantage of a loving Grandmother.The only one I knew was an old grouch that we all dreaded to see come for a visit.So I try extra hard to be a fun loving role model for my Grandchildren.Her complaint about rocking the baby is that my doing it makes them have to do it as well.She says that she wants the baby to learn that when it is laid in the bed that it is time to sleep.Which makes sense,but on occasions one doesn't want to be laid down and walked away from.In keeping children you have to deal with the situation as it arises many times.ALL IN ALL---There's a world of difference in being a PAID BABYSITTER and being a GRANDMOTHER.My mother did things which made me feel incompetent in my early years of childraising,but I had respect enough to keep my frustrations to myself and appreciate the help she gave me.Thanks for all the kind advice.I'm sure that we'll work through this but as for the moment I'm feeling very discouraged.My Family is--and has always been--my LIFE, and I want to help raise happy,well adjusted Grandchildren.
By Sharon,Ky (Guest Post)
October 7, 2005
0

found this helpful
Best Answer
I have decided what I'm going to do.I read in the local paper that volunteers are needed by the Red Cross to help with aid to Hurricane relief projects.It's a three week period and there's nothing more beneficial I could do with my time.My two still at home are 20 & 24 and they both work full time jobs and will make out fine in my absence.The grandchildren will have to be put in Daycare but this will be a rewarding experience for me,folks there may need and appreciate help.This is the first time in MY children's lives that Mom hasn't been there, but hey--I figure I've earned the right to do what I feel in my heart is the right thing to do.
November 14, 2016
0

found this helpful
Best Answer
But she is an unpaid babysitter. Sounds to me like the problem is not the rules but the lack of respect. As long as the kids are safe, mother needs to give grmother some latitude. It isn't easy watching kids all day. & the kids are not going to be catered to when they are in daycare.
Read More

Answers