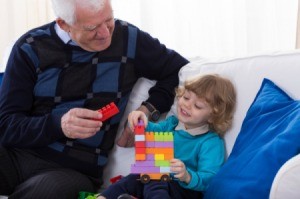 I am in a predicament that I really need advice on. I babysit my 6 month old Granddaughter and her brother (age 6) who is home-schooled. I don't agree with the home schooling situation but he is my grandson by marriage and therefore I try to keep my opinion to myself. 6 hour days can get long when a child gets bored of his own toys and I often bring games or toys to play with him for a change of normal routine.
Last week I was told in no uncertain terms that NO MORE TOYS were to be brought, the excuse being lack of space to keep them. I take them home and keep them in my car to avoid conflict. I do not feel that I am wrong and have the right to bring them as long as I don't leave them. As if this was not discouraging enough,their mother (my Daughter-in-law) now INSISTS that I not rock the baby to sleep at naptime. Maybe I'm just too opinionated, but I feel that I have the right to make the call on that, since I am with them 5 days a week to save them the high cost of Daycare.
We have actually had words over these issues and even though they are small ones, it puts my son in the middle and adds stress to an already OVERLOADED Dad who does more than his share of cooking, cleaning, laundry and childcare. This really has me tore up and for his sake I feel that maybe I don't need to be the caregiver as I cannot cope with her attitude towards my methods of dealing with the children. My head tells me to get out of the picture but my HEART tells me to stay for my Grandchildren's sake.
I would appreciate advice, but please, this involves my family, and is an extremely sensitive issue. If I am wrong I am woman enough to admit I am and correct the problem. How should I handle the situation?
Sharon,Ky
Answers
Read More

Answers