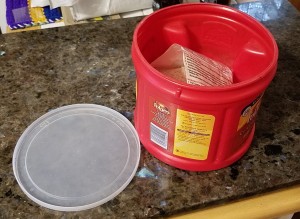 The local squrrels love the birdseed I have on the back porch. So much so that they ate into the lid! So, I swapped out the containers, using a metal can with a metal lid.
I cleaned and dried the coffee bottom the bird seed was in, and put some Cream of Wheat in it. But without a lid, it was not going to stay protected from insects or stay fresh. So I had just recycled a nut can, which was carboard. But the lid was plastic and I thought "why not try"?
I took the lid from the nut can, or the same size as a coffee can lid, and I was thrilled when it fit!
It's the little things that make our days, esp' now. Hope this helps.