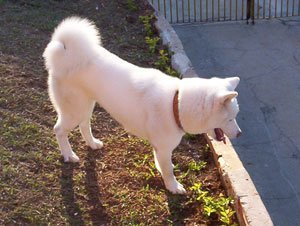 Breed Description:
The Akita is a large, powerful, dog with a broad head, erect ears, muscular body and a large curled tail. It has a strong courageous spirit and is an excellent hunter.
Group: Working Group
Purpose of Breed: Bred by Japanese nobleman living in exile in the province of Akita, on Honshu island, the dogs were bred and used in pairs to hunt dangerous game like bears.
Country of Origin: Japan
Average Size: 75-110 lbs and 24-28 inches tall (at shoulder)
Color(s): Any color including white, brindle or pinto. Sometimes have masks or a blaze.
Coat Type: The Akita has a double coat-a thick, dense soft undercoat and a longer, straight-standing outer coat.
Grooming: The coat of the Akita is easy to maintain. It requires regular brushing but infrequent baths. This breed requires standard care for eyes, ears, pads and nails.
Exercise Needs: The Akita is an athletic dog that requires a great deal of exercise in order to be a good companion. They should have access to a fenced yard.
Temperament: The Akita is alert, active, friendly and independent. If not socialized early, this breed can become aggressive toward other dogs.
Common Ailments: Hip dysplasia, gastric torsion and eye problems.
Life Expectancy: Averages 10-12 years
Trivia: There is a spiritual significance attached to the Akita; when a child is born in Japan, the proud family will usually receive a small statue of an Akita signifying health, happiness, and a long life.
More Information: The Akita Club of America