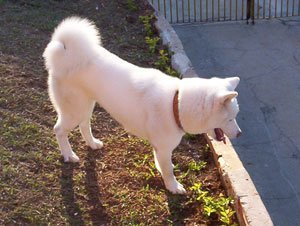 Breed Description:
The Akita is a large, powerful, dog with a broad head, erect ears, muscular body and a large curled tail. It has a strong courageous spirit and is an excellent hunter.
Group: Working Group
Purpose of Breed: Bred by Japanese nobleman living in exile in the province of Akita, on Honshu island, the dogs were bred and used in pairs to hunt dangerous game like bears.
Country of Origin: Japan
Average Size: 75-110 lbs and 24-28 inches tall (at shoulder)
Color(s): Any color including white, brindle or pinto. Sometimes have masks or a blaze.
Coat Type: The Akita has a double coat-a thick, dense soft undercoat and a longer, straight-standing outer coat.
Grooming: The coat of the Akita is easy to maintain. It requires regular brushing but infrequent baths.
This breed requires standard care for eyes, ears, pads and nails.
Exercise Needs: The Akita is an athletic dog that requires a great deal of exercise in order to be a good companion. They should have access to a fenced yard.
Temperament: The Akita is alert, active, friendly and independent. If not socialized early, this breed can become aggressive toward other dogs.
Common Ailments: Hip dysplasia, gastric torsion and eye problems.
Life Expectancy: Averages 10-12 years
Trivia: There is a spiritual significance attached to the Akita; when a child is born in Japan, the proud family will usually receive a small statue of an Akita signifying health, happiness, and a long life.
More Information: The Akita Club of America
March 24, 2006
0

found this helpful
I am totally amazed by this breed! Years ago I had a female Akita named Luka. I always knew she was awesome,but one day she proved it! New people moved in next door.They had a little girl that was mentally and physically challenged(Grandmother was raising her because mom was a crackhead) Anyway I introduced myself ans Luka. Right away Luka fell in love with the little girl.It got to the point if I was outside grandma would put her over the fence to play with Luka.
This child was very unstable as far as siezures were concerned,but she never once had one when playing with Luka. Her coordination improved by rolling a ball to Luka,holding on to her and walking.To many other things to list.Her Dr. was shocked at how well the child improved.The Grandma told him it was all Lukas doing. Oh one funny thing. She couldn't say Luka, she called her Yucky lol. Variven
By Bunny (Guest Post)
February 12, 2008
0

found this helpful
I lost my beautiful male Akita about 18 months ago, and have never gotten over it. He was the most wonderful friend I have ever had.
He was 12 1/2 years old and died of bone cancer. Some say Akita's are rough and agressive, but I don't believe that is true about any dog. We have rescued several Pits too. It all depends on how you raise them and treat them.
Also spending a lot of time with them so they know they are loved.
I will never forget my Cookie Man! (He loved his cookies.) Real name Harly Budda.
Still hurting terribly,
Bunny