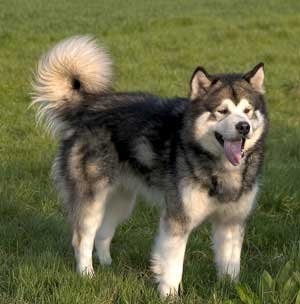 Breed Description:
The Alaskan Malamute is a large, powerful dog with a well-muscled body, erect ears, a coarse, thick coat and large curly tail. It is one of the oldest breeds of Arctic sled dogs.
Group: Working Group
Purpose of Breed: First used to pull sleds by a nomadic native Alaskan tribe called the Malhemuts, the breed was bred for stamina rather than speed.
Country of Origin: USA, but believed to have descended from the boreal wolf originating in 3000B.C.
Average Size: 85-125 lbs and 23 to 28 inches tall (at shoulder)
Color(s): Ranging from light gray shades to shades of black, sable and red. With the exception of solid white, the colors are usually in combinations and splashed throughout the body. White is always the predominant color on the underbody, parts of the legs, feet and face markings. There is often a white blaze on the face or collar or a spot on the nape.
Coat Type: Thick, coarse outer coat and a dense, oily and woolly undercoat.
Grooming: Malamutes are prone to heavy shedding and need a good brushing several time per week, daily when they are shedding. This breed requires standard care for eyes, ears pads and nails.
Exercise Needs: Alaskan Malamutes need lots of space. A house with a large fenced yard with some shade is essential for this dog breed. This breed prefers the cold, but can live in a temperate climate if properly cared for.
Temperament: A friendly, good natured dog breed. Good with children and strangers. This strong-willed, independent dog breed tends to be very stubborn and early obedience training is a must.
Common Ailments: Hip dysplasia, chondrodysplasia and eye problems.
Life Expectancy: Averages 10-12 years
Trivia: Early Arctic explorers used Alaskan Malamutes to haul sleds on expeditions to the North Pole. In the summer, the dogs carried packs weighing as much as 50 pounds for up to 20 miles per day.
More Information: Alaskan Malamute Club of America, Inc.