April 18, 2018
0

found this helpful
You are probably allergic to some chemical in the adhesive, not the adhesive itself. Try a different brand.
April 19, 2018
0

found this helpful
In the time it took you to wait for us, you probably could have googled it or asked webmd.com.
I only say that because some folks wait so long for a solution when they could do something else. It's not a criticism.
Here is just one article about hypoallergenic tape. www.advancedtissue.com/.../
I hope it helps.
PBP
PS: If you do have a break out, sometimes the cheapest solutions can help. I use athletes foot cream from the dollar tree.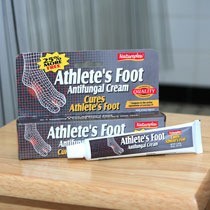 April 20, 2018
0

found this helpful
Sandi, sometimes people don't realize that it is going to take a few days for the question to get answers when they are submitting it. Also, once the question has been asked and answered well on ThriftyFun, another person who searches for it might come across this post.
When you find out the best alternative to this type of adhesive, please let us know. I had a friend in the past with this issue but I cannot remember how she dealt with it. Good luck!