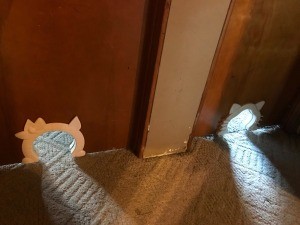 My adult children each have a cat that is their responsibility, including the litter boxes which are kept in their bedrooms. When we got our newest kitten at Christmastime, there was a period when we would find messes on the kitchen or bathroom rug. We soon realized that it was because they were locked out of the bedroom and couldn't go in the right place. We tried adding a third litter box in the bathroom but it is also our laundry room and there just wasn't enough space. So I got these cute cutout cat doors for each of their bedroom doors.
They have been working perfectly. No accidents since we installed them and the cats love chasing each other down the hall and into one bedroom or another. They were not very expensive and easy to install.
One issue is that there is a little less privacy, but we have been living in this small three bedroom house together for over 18 years so are used to a bit of noise. The kids can block the hole if they wish to keep the cat inside or outside. There are doors that can be closed entirely or even locked but they were nowhere near as cute.
Please forgive my ugly wall, we are in the process of repainting and replacing the molding.
Update : We've had the cat doors installed for over 6 months now. In retrospect, it would have been nice to get the type that you can close off. There are times when the cats need to be locked in a room or separated. We had to use our bedroom in these instances. I'm allergic to cats so was intending on keeping them out. Now my one year old scratches like crazy to be let in.
The cat openings also allows more sound and light to come out than I would like, which can be disturbing in the middle of the night if people are on different schedules. This is another reason to get the closing type cat doors.
Once installed, they cannot be removed easily. The door will have a big hole and will need to be replaced. We are planning on getting new doors and we are weighing whether to reinstall these. One of bedrooms is getting turned into an office so I lean toward having one in that door. Just thought you would like to know my experience. :)