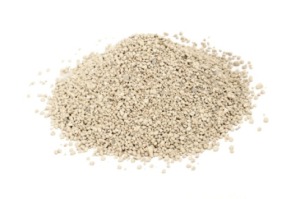 If you have a stinky pair of gym shoes you would like to deodorize, try cat litter. Put some fresh litter into a couple of old socks (about a half cup in each), tie the tops, and tuck them inside the offending shoes. Leave them overnight and the clay will absorb the moisture that stinky bacteria thrive upon. You can pop the same litter-filled socks back into the shoes after each workout. This is way cheaper than the alternatives that typically smell worse than the problem (most commercial deodorizers have cloying perfumes that purport to mask odor).
If you get your cell phone or another electronic device wet, cat litter may save it! Dry it off as best you can and slide it into an old sock. Tie the top and slip it into the middle of a bag of clean litter. The clays in clumping cat litter suck the moisture out of it quickly. This method dries out electronics even faster than rice does. Just be sure to provide some sort of cloth barrier (like an old sock) to prevent clay from getting into the device. Leave it for a couple of days, and your phone, iPod, or mp3 player may work again! If you see any moisture on the display screen, don't turn it on! Return it to the litter for another couple of days to continue drying out.
Finally, there is the old standby of using non-clumping litter to prevent slipping on ice. It can be a lifesaver after a freezing rain. Never use clumping litter for this, as that would create the most tenacious slime ever!
Cat litter is cheap and readily available. Many people already have a bag of it in the house!
Source: I saw a blog asking for possible uses for catlitter; I think it was LifeHacker.
By Janet Sigurdson from Red Deer, AB
Read More

Comments
My cedar closet which happens to be underneath our front porch had an off and on slightly humid smell, depending on the time of year. I filled the bottom 3 inches of a pantyhose leg with kitty litter, tied a knot, cut off the excess pantyhose material and hung it in my closet. Never had a problem with odor again!
By Wilhelmina from Amherstburg, ON
Answers
March 3, 2010
0

found this helpful
Try hanging the kitty litter in a piece 0f panty hose like I did for the odor in my cedar closet. It took only a day or so but the smell went away and has never come back. P.S. Even after the smell went away, I left the hanging kitty littter panty hose. It's not in my way and it's there 'just in case".
March 4, 2010
0

found this helpful
Very nice hint, Mlina! Thank you.
March 4, 2010
0

found this helpful
I can just see that cat!
Marg from England.
March 5, 2011
0

found this helpful
Is it hard to walk with kitty litter in your hose?
March 5, 2011
0

found this helpful
Charcoal in open cans works very well for mildew too. Put a piece of fabric over the top of the can, and add a rubber
band to keep it in place. I also keep all my soap bars unwrapped in my linen closet. Smells wonderful every time I open the door. And it lasts forever. If you like the fragrance of lavender, buy a few bars of Yardley's English Lavender
soap, and just use it in the drawers and linen closet.
Good tip with the panty hose and kitty litter. I've also used cans of cedar shavings from my hubby's wood shop
in the same manner as your kitty litter.
Thank you for sharing.
Pookarina
March 9, 2011
0

found this helpful
Thanks for a great hint!
Answer

this Question
Does anyone have any ideas for the cat litter that doesn't clump? I bought a large bag by accident. What else can it be used for other than absorbing spills? I have no car.

Answers
By (Guest Post)
June 8, 2007
0

found this helpful
Maybe you could save it to sprinkle on your walkways during winter. You can also put it in cans to absorb odours in the house (closets, etc.)
June 8, 2007
0

found this helpful
If you run out of de-icer for the walkway and/or driveway during the winter, you can shake the cat litter over the walk to prevent people from slipping. It gives a little traction. We've had to do this numerous times.
For those who have cars, littler also provides traction when your car is stuck in the snow. Just dump a little where the wheels are slipping. Keep a bag in your trunk, even if you have all wheel drive!
A big bag of cat little lasts longer and saves money over de-icer in the long run
June 9, 2007
0

found this helpful
I took a class in gardening and our instructor said it can be used like perlite or vermiculite(they hold in water and keep plants moist). I've also heard it can be used just like baking soda to absorb odors. Never tried either so can't vouch for these ideas. Don't think I'd put it around food(like in the fridge).Maybe in the bottom of a garbage can, musty closet, funky old tennis shoes, etc....
June 9, 2007
0

found this helpful
I use it in my composting garbage can (our town lets us recycle food waste, pizza boxes, paper plates, napkins in a food waste container) to keep down on the smell during the week (it's not bad until you open the can).
June 11, 2007
0

found this helpful
You could give it away to an animal shelter or join Freecycle.org and give it away there!
By Anonymous (Guest Post)
June 11, 2007
0

found this helpful
Try mixing it together with cat litter that clumps. It should still clump and control the odor.
June 11, 2007
0

found this helpful
I don't smoke and can't breathe around smoke. When my cousins come over and smoke on the porch, I have cans of cat litter sitting out for them to use as ash trays. It obsorbs the odors and quickly puts out the cigarette without the smell. Then just dump it in the outside dumpster.
By Rasta (Guest Post)
June 14, 2007
0

found this helpful
It is good for oil spills in the garage, driveway, or anywhere. Sprinkle it on and let it set and sweep up and dispose of it properly.
By Pam (Guest Post)
March 7, 2008
0

found this helpful
I've heard you can use it in your basement if you have a damp problem. If so, let me know.
Answer

this Question
Can unused kitty litter decrease unpleasant compost bin odors?
By Mary H.

Answers
August 5, 2013
0

found this helpful
Cat litter isn't compostable unless made specifically to do so.
But the important thing is that your compost bin shouldn't smell if it's working properly. Are you using the right mix of materials (brown, green, etc, but nothing meat or dairy) and are you turning it regularly?
Even if one of those 'no need to turn' bins (HA!), all compost bins should be turned regularly to encourage decomposition without odour, more frequently if weather is humid (hot or cold, doesn't matter). I turn mine once a week.
Read More

Answers