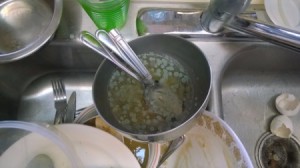 By definition, the word "frugal" means to not waste. And I have always believed it meant more then to not waste money, but also work and time, energy and resources.
So, a lot of people talk about "I have a friend" which really means them. But this isn't the case. I do have a friend whose habits have now gone beyond what I can tolerate and I just have to put my frustration into words and perhaps help others.
My friend inherited money from her father's estate. At the age of 65 and in poor health, you would think she would and could be a bit more conservative. But in the last six months she has spent $70.00 on a pair of house slippers, 13K on a bathtub, and I bet she has 5K in jewelry. Please remember these numbers when the crux of this submission becomes clear.
The real reason these numbers frustrate me is that she has just convinced her church ladies that she can't take care of her house work anymore and they have offered to come over and take care of it. For free. And she is going to let them.
Now I am not trying to toot my own horn, but I can remember during my whole life that "an ounce of prevention is worth a pound of cure". It's something I live by. I also love "a place for everything and everything in its place". I hate not being able to find things so I am almost anal about putting things back. I never leave my house dirty because frankly, I don't know if I will be back. After working for hospice and the state police, I have seen what happens when your level of procrastination is at Defcon 1.
When she gets the mail, it piles up on the tables till it's falling over. There's no such thing as recycling right then. She leaves the mess for me to do if I want to sit and have coffee, much less a meal. It is nothing for me to come over to watch her dog and see the same bowl of moldy peas on the table for 3 weeks. A table she walks by every single day on the way to the kitchen.
Her TV chair is the central hub of the house, and whatever she eats stays there, within arm's reach, for weeks. Once, while she was gone on a trip, I sat things that needed to go into her room by the door. Seven months later, it was all still there.
She didn't get around to filing her taxes one year and, for the next 9 months, she had to pay double for her medical insurance because it was deemed she had more money; and her stress was high when it didn't have to be. Once she had a meltdown on the phone to the poor girl at the insurance company when none of it would have happened had she just filed her taxes.
I lived with her for seven months, until I could move just three blocks away so I could still help. But it got so bad, I told her I wouldn't clean her house anymore. It was tough love but I had to do it. I didn't have time for a life of my own because I was trying to train her to take care of her own. Now she has figured out a way to not do it herself. Again.
So, she's wasting other people's time and generosity of spirit. She's wasting more money because she doesn't have to spend any on housekeeping services, and she would rather donate to the local radio station than the food bank. She is wasting energy and resources because she is asking others to spend electricity and water on huge messes that take hours when she could do little things every day to prevent them. It's gotten to the point where I don't even want to go over anymore. And that makes me sad and mad at the same time.
I guess if I had a point to make in all this it is that if you are the kind of person who has respect for yourself, your home, and your family and friends, feel very good about that. If you see yourself in anything I have written, please forgive me but it's never too late to change. If you know someone with these issues, tell them how you feel. It's not mentally healthy or safe to live in a house that you wouldn't invite anyone over and if you did, they would tell you they were busy.