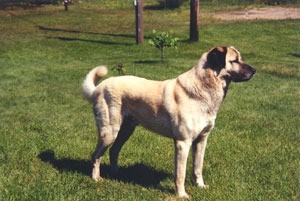 Breed Description:
The Anatolian Shepherd Dog is a large, rugged and powerful dog that is unrivaled in his ability as a working guard dog. This breed is impressive in size and strength, alert and intelligent and has a calm, yet bold and highly territorial nature.
Group: Working Group
Purpose of Breed: Shepherd's guardian and herding livestock
Country of Origin: Turkey and Asian Minor over 6000 years ago.
Average Size: Bitches mature to 80-100 lbs. and 27 inches tall (at shoulder); dogs mature to 110-150 lbs. and 29 inches tall (at shoulder)
Color(s): Classic coloring is fawn with a black mask. Other colors include pinto, white or brindle.
Coat Type: Coats can be both short and rough within the same litter.
Grooming: The Anatolian Shepherd requires little brushing, except bi-annually when it sheds heavily. This breed requires standard care for coat, eyes, ears, pads and nails and tends to have a bit of a "doggy" odor.
Exercise Needs: This breed should be kept in a fenced area for its own protection and so it does not become a liability. A large yard with a 5 or 6 foot fence and a locked gate is ideal. Although the breed can endure extremes of temperature and terrain, a shelter from inclement weather and a shady area when it is warm should be provided.
Temperament: The Anatolian Shepherd Dog is a fiercely loyal guard dog that demonstrates a possessive attitude towards family, property and livestock. He is suspicious of strangers, reserved when in public and may expect a "formal introduction" before accepting strangers. This dog requires an owner who is capable of being a strong, positive leader and consistently requires him to demonstrate civilized behavior. Early socialization and obedience training is essential, however Schutzhund training is not recommended for this breed. This dog is affectionate towards family, but should be supervised around children due to his size and temperament.
Trivia: The Anatolian Shepherd Dog was originally developed to endure the shepherd's nomadic lifestyle and stand up to the harsh climate and rugged terrain of Turkey. Not a "glamour" breed or a suitable breed for beginners, these dogs still possesses the loyal, independent nature, agility and hardiness that they were originally bred for.
More Information: The Anatolian Shepherd Dog Club of America, Inc. www.asdca.org