I followed the package directions when applying flea treatment to my Numi cat and placed it between the shoulder blades. Well, Mr. Flexible had no trouble twisting around to lick the spot, sigh.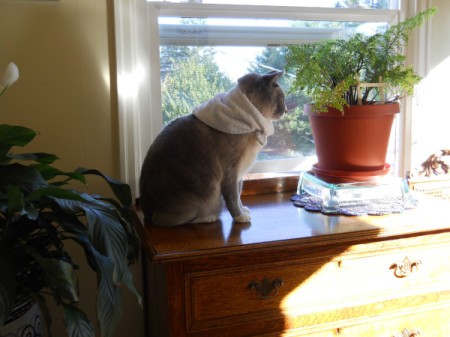 So, while keeping a very close eye on him, to prevent the kerchief from catching on something, I loosely tied a terry cloth cleaning rag around his neck, after blotting up any liquid that might have gotten on the surface of his fur. I was working in the same room, so he was quite safe. After a bit he stopped trying to lick, so I removed the cloth.
Lesson learned, I will always put the drops higher up on his neck to keep him from licking himself.
These medications work well on most pets, but do keep close watch after applying them, as some dogs and cats can have moderate to serious reactions to them. We had to switch brands a few years ago when the product we used on our dog made her nauseous.