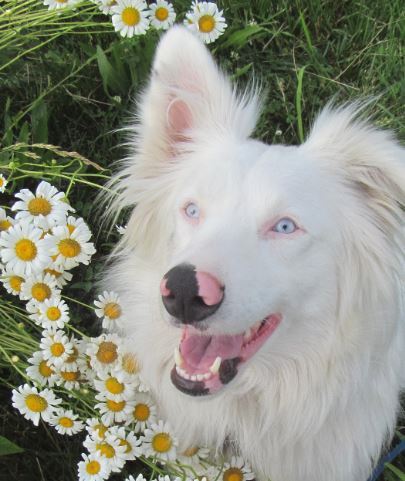 Your Pet's Age
around 5 years old now
Your Pet's Breed
Australian Shepherd (Double Merle)
How and when did you get your pet?
In 2014, my companion dog, Arlo Buddy, passed away and I was becoming very depressed. A friend told me to check out Petfinder. As soon as I saw her photo, I knew she was meant to be my girl. She was with a rescue called Speak! for the Unspoken, and I wrote the essay of my life to convince them I was a good match for this dog and how I needed her to push me into a more active lifestyle. I'd had an Aussie in my life before and I had no doubt this smart girl would be good for me. The rescue volunteers invited me to come meet "Matlin" and we hit it off. A week later she was redubbed Madelyn Snow and we've been busy ever since.
What does your pet like to do for fun?
Though Madelyn was born deaf and has epilepsy, she doesn't lay about and feel sorry about it. Being an Aussie means being active! She enjoys doing scentwork and recently completed her first Hide 'n Seek fun trial. The challenge of learning tricks from high five to playing a toy piano keeps her mentally sharp and last fall she earned her AKC Novice Tricks title. And of course, being an Aussie means we had to take a shot at agility for recreation- tunnels are her favorite obstacle and if there is an A-frame to climb at the end, so much the better! We have our own language - MSL - Madelyn Sign Language.
Do you have anything else to share about your pet?
In May of 2018, Madelyn Snow will be taking part in the first ever Special K-9 Games - two days designed to show off what deaf, blind, deaf-blind, tripods, and wheel-chair dogs can do. She and I go to events to educate people about merle to merle breeding in hopes that breeders will stop producing pups that can't hear or see. We also want people to know that even without hearing or sight or both, the double merle dogs make wonderful companions can live full lives.