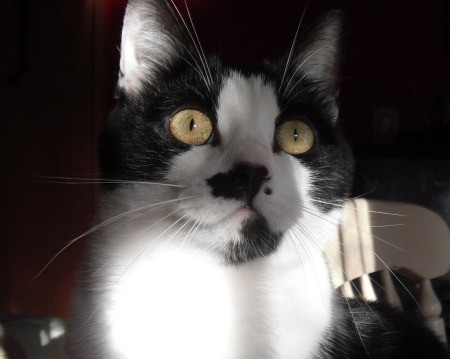 Your Pet's Age
3 years old in April
Your Pet's Breed
Domestic Short Hair
How and when did you get your pet?
Ava was a foster kitten that our daughter just could not part with. Her life was changed 3 years ago when she and her two siblings were found alone, helpless, and dehydrated at the age of 4 weeks. Being the animal lover that she is, our daughter took them home and became their foster mom. She kept them warm, fed them by hand, and rubbed their little tummies to make their bowels and bladder function until they were able to eat on their own and use the cat litter.
While house sitting for our daughter, I was able to capture the closeup photos of Ava as she was mesmerized by the birds at the bird feeder.
What does your pet like to do for fun?
Ava has grown up to be a beautiful prissy cat and quite loving at times, but does not like to be held. She loves her big brother, boyfriend, uncle or whatever she calls him and when he is not in the room, she wants to know where he is. They have playful moments together and there is a lot of affection shown between the two like when she rubs up against him, he grabs her and washes her face.
Ava and Max love to watch the birds and squirrels at the bird feeder. Both are inside cats and are not allowed outside to roam. They have a crate on the deck and on pretty days, they get to go outside and enjoy the fresh air.
Do you have anything else to share about your pet?
Max did not know what to think of these 3 babies at first and he kept his distance by laying on the back of the couch while watching them. The next week, he watched from the couch cushions. By the time the kittens were old enough to play, he was on the floor playing with them. Max and Ava get along really well and keep each other company.
Add your voice! Click below to comment. ThriftyFun is powered by your wisdom!
February 14, 2013
0

found this helpful
I love Ava's markings...what a beautiful cat! The others are cute, too.
February 17, 2013
0

found this helpful
That is such a heartwarming story! I am so glad they were loved and rescued! Thank you so much for the beautiful picture of Ava!
February 18, 2013
0

found this helpful
This is another picture of Ava as a kitten. I love to watch kittens play.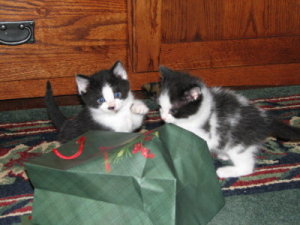 Add your voice! Click below to comment. ThriftyFun is powered by your wisdom!