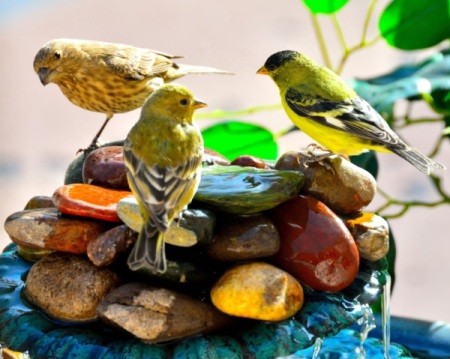 Photo Description
We had picked up an inexpensive fountain for our backyard feathered friends a few years ago, and I piled rocks on the top tier as it seems by watching them, they appear to like the naturalness of the rocks, maybe it makes it more realistic to them, and we just love seeing them enjoy it.
This is my "Au Naturel" stress reliever too. Taking a peek at them on and off throughout the day I'll burst out laughing watching them, because we've seen, (my hubby and I) some really funny stuff they do, and seeing them have a ball in the water, just gives one a different perspective on life too -
a great one.
The hummingbirds drink and bathe also, which is so adorable, and we get all kinds of species that come to drink and bathe every day, and it's been an absolute kick watching them with their get-togethers at the fountain.
The tannish bird on the left that was watching me take a picture of them all, we call him Stilts, as his legs are long and straight, as though his knees are locked, (heck maybe he doesn't have knees that bend, I don't know), hehe, but he's so cute and seems not afraid of the camera.
We have mother birds and their babies that will fly in together to the fountain, and the mother birds will sometimes feed their babies right there on the fountain while their little feet are all gripped onto the rocks, and it's a magnificent sight to see such life happening!
Photo Location
This picture was taken in our backyard in Las Vegas.
Add your voice! Click below to comment. ThriftyFun is powered by your wisdom!
Add your voice! Click below to comment. ThriftyFun is powered by your wisdom!