This bird caught my eye because it seems to be an albino mourning dove. These birds enjoy eating their food each morning. They have their favorite from the mix. I have noticed that birds of a feather do not flock together. If one type is eating they will leave when another type arrives.
Some birds, like the mourning dove, will run other birds away. Finches constantly watch from left to right as they eat. They refuse to fly down to the ground to eat. I have learned some great lessons from watching my birds. They dislike changing types of food.
By Gwen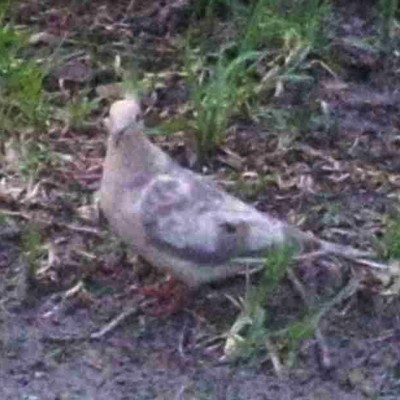 I love to take photos of birds, and I am learning their habits, bird calls and so on. When I watch birds, it has a great calming effect, very good therapy when I need to unwind at the end of the day, or in the morning. I like to drink my morning tea in their company.
By Leigh
Answers:
Wildlife: Backyard Birds
Beautiful. We also watch birds, but don't have quite the variety that you do. We've also moved into butterflies and have planted several things to help attract them. Here's a good list: http://www.oldhouseweb.com/gardening/Detailed/817.shtml
(09/10/2010)

By Allison
Wildlife: Backyard Birds
Three photos didn't post, maybe Thriftyfun will be able to fix the problem.
By the way, beautiful photos! (09/10/2010)

By Marjorie
Wildlife: Backyard Birds
Oh my goodness! What gorgeous photos! I loved every one of them and enjoyed all the different kinds of birds. That little yellow one upside down cracks me up! And the serenity of the fat one on the branch is beautiful. Thank you for sharing. You should frame these photos or make them into a calendar or blank cards to give as gifts.
People would love them! Oh, and the five in the pine tree I have to comment on, reminds me of a family gathering, perfect shot! (09/12/2010)
By Lee Taylor
Wildlife: Backyard Birds
I love to feed and water birds, and laugh over their antics as well! since moving in, most all my neighbors have joined me! One neighbor visits every afternoon with me, and she calls it "bird heaven!" I have the finch socks and feeders out the front window, on shepherds hooks, and a bird bath near the butterfly bush they love to land on which is by their feeders!

Many times will have 40 finches here at one time! Also have hummingbird feeders out the front, and plant flowers for them to enjoy as well! Going to go outside this evening, I had 4 beautiful doves on my fence! The migrating birds really bring a variety through my area and I just delight in seeing all of them as well! I made a dripper out of a plastic milk jug; fusion painted it green; place it in a "fork" above the birdbath and love to listen to the "drip" of it as well! (09/24/2010)
By katrina