We made these delicious apple egg rolls for dessert tonight! They were so easy to make and the vanilla whipped cream was perfect for dipping. :)
Preheat oven to 375 degrees F.
Peel, core, and chop up the apples. Add to a medium bowl.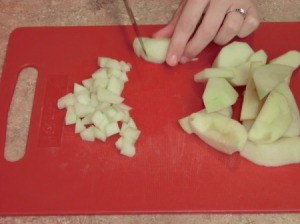 Add remaining filling ingredients to bowl and stir until well combined. Allow mixture to sit for about 10 minutes.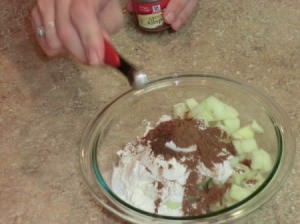 Put egg into small bowl and beat slightly.
Place a layer of parchment paper on a cookie sheet and lightly spray with cooking spray.
Lay out one egg roll wrapper and carefully spoon about 2 Tbsp. of the filling onto the wrapper, near one of the points. Fold the point over the filling and then fold the two sides in towards the center. Brush the wrapper with some egg wash and carefully (but tightly) roll up the egg roll. Lay seam side down on prepared cookie sheet. Repeat until all of the filling is gone.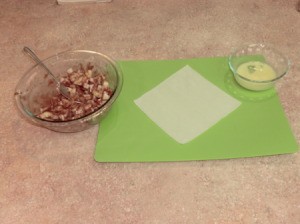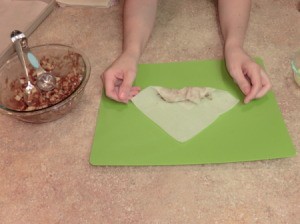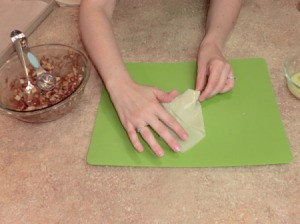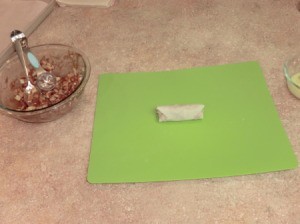 Bake for 20 to 25 minutes or until golden brown and crisp.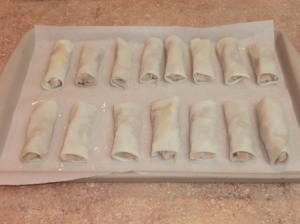 During the last 5 minutes of cooking, remove from oven and brush with melted butter and sprinkle with cinnamon and sugar.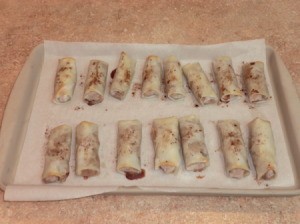 Return them to the oven for the remaining 5 minutes. Serve immediately with vanilla whipped cream.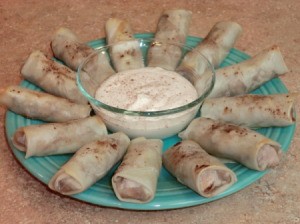 Vanilla Whipped Cream:
Place cream into a mixing bowl and using a hand mixer, beat on medium-high speed. Once cream has begun to thicken, add sugar and vanilla. Combine well, and continue to whip mixture until stiff peaks form. Lightly sprinkle with cinnamon.