This is a picture of a balloon "fruit bowl" centerpiece I made for a 50th birthday party. Everyone thought it was so cute!
It's very easy to do. I used a pack of mixed balloons, and used a round orange one, a round red one (tie on a piece of ribbon for the apple leaf), an oblong yellow for a pear.
Then, I added some of those long animal twisty balloons. You can buy them individually at most party stores. You'll probably have to blow them up with a hand pump, though.
For the bananas, blow up a yellow one about half way, and twist it in half. Tie the nozzle to the nipple. This makes two bananas. Do it again for a "bunch" of four bananas.
For the grapes, use a purple or green balloon, and blow it up halfway. Start twisting one inch bubbles, one after another, till you use up all the balloon. Bring the last bubble back and twist it around the first. Voila. Grapes.
Or, do it in red and it will look like cherries.
Put all your balloon fruit in a clear glass bowl, and wait for the laughter.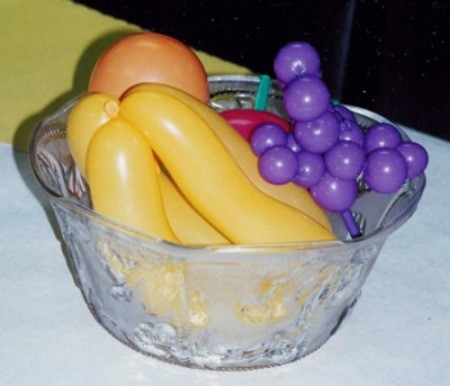 By zballoongirl