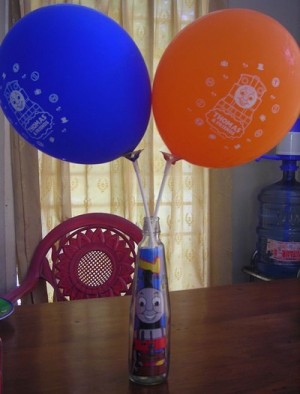 This is an easy, cheap, recycled decorating tip for kids' birthday parties. I do it for every party my kids have. Cuts the cost of helium for party balloons.
Approximate Time: 5-8 minutes
Supplies:
glass bottle or jar
character picture
balloon sticks or small dowel rods
balloons
Instructions:
Save a glass bottle (or jar) of any sort: ketchup, juice, wine - as long as the "trunk" is plain with no writing or curved surface. Removing the label is the hardest part of this craft!
Cut a picture of the featured character from a coloring book, picture book, magazine advertisement, party napkin or party invitation. Printed pictures from the Internet work, too.
Roll the picture to fit through the neck of the bottle and use the sticks to unroll it inside the bottle.
Attach balloons to the sticks, insert into the bottle, and voila! A centerpiece for the birthday table that kids won't be tempted to "bat" at while eating cake.
The balloons still have the "floating" effect, but without the cost of helium. Different heights of sticks look really good and mylar balloons can be used, too.
You can blow them up with a hand pump, deflate after the party and use again later or pass on to another family. If need be, add a little sand, colored flour or sugar, or marbles to the bottle for stability.
By Kelli from Sentani, Indonesia
Party idea for kids of all ages. I do this for my sons' parties every year and it is always the most favorite part of the party for all of the kids playing and the adults watching.
I put 2 Rubbermaid containers on the lawn (where they will be used). I fill them up 1/2 way with water then place in filled water balloons. (The water inside of the totes helps take pressure away from the balloons on the bottom so that they do not burst.) When it is time for this activity, I huddle all of the kids around me and get them amped up by asking them how much they would like to throw water balloons at a parent.
After they are all psyched up and know the rules, I take off in a mad dash around the entire yard and make them chase me and try to throw the water balloons at me. Normally I have 25-35 kids doing this.
By Brainstorm from Finksburg, MD