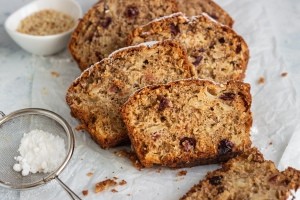 Instructions
2 1/2 cups flour
3 tsp. baking powder
1/2 tsp. salt
3/4 cups walnut meats, broken up
1 cup sugar
1/3 cup soft butter
1 egg
3 bananas
1/3 cup cherries, cut in quarters
3/4 cup raisins, simmered 3 minutes and drained
2 Tbsp. orange zest
1 tsp. cinnamon
Directions
In large bowl add the flour, baking powder, salt and cinnamon. In a large mixing bowl, add butter, and sugar, beat on low until well blended. Add the egg and blend. Add the mashed bananas, continue to mix on low, add orange zest, and milk. Do not use mixer for the rest, do by hand with large wooden spoon. Gradually pour in the flour mixture, drained raisins, cherries, and broken walnuts, fold in just until well blended, do not over mix.
Pour batter into greased 9x5x3 inch loaf pan. Bake in preheated oven at 350 degrees F for 1 hour, or until long toothpick or knife inserted comes out clean.
Sometimes after it is cool, I drizzle a little frosting made from powdered sugar, a touch of cherry juice, milk and vanilla. You can also add a drop of red food coloring for a pink cherry color.
By Shirley from Oneonta, NY