Be Prepared Prior to Doctor's Appointment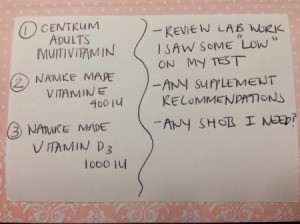 Before your doctors appointment, be prepared by:

Writing your appointment down on your calendar or journal. Specify any requests needed to be done before the appointment like fasting, or removing jewelry for specific appointments. Be sure to have the address, phone number or research location if it's a new facility or location you never been to. I like to always Google Map a day prior so I have an idea of how long the route will be and be familiar with the area.

Bring some spare dollar bills because usually parking at the hospital, doctors office takes a small fee and cash is only allowed.

Wear comfortable or loose fitting clothes just in case you need to have your blood drawn. I like to wear a short sleeve so they can draw blood easier.

I write all my medicine that I am currently taking down on a note card so when I'm asked, I will have it with me. I also write down any concerns I have so I can remember to ask my doctor.
Add your voice! Click below to comment. ThriftyFun is powered by your wisdom!

Judy
Gold Post Medal for All Time! 677 Posts
July 29, 2017
0

found this helpful
This is a good idea. I also write down what the doctor tells me, so I won't forget later. If you are accompanying someone else, especially if they are ill, writing down what the doctor says is essential.
Someone in an emotional state won't remember

August 2, 2017
0

found this helpful
That is a great pointer, writing down what the doctor says. I know when I go with my father he may be forgetful, so I always jot down quick notes to refresh his memory when we get home. Or, I've seen some record if the doctor allows it.

Jackie H.
Silver Post Medal for All Time! 355 Posts
September 13, 2020
0

found this helpful
This was a great idea to post. Not one I would think of. Sometimes we take things for granted. But, we all are getting *just a bit older* :) And reminders are great. I have many health problems and many prescriptions. I always keep a list of meds that need refills and the dose and description of how many I take and the frequency.
I hand it to the nurse when she does my vitals. It saves so much time. And like said before, a list of questions you have for your doctor. This is so important. I know that my mind would go blank, and I would remember something on the way home. And these days, it is not easy getting your doctor on the phone!

sandy
Bronze Request Medal for All Time! 87 Requests
July 31, 2017
0

found this helpful
Great ideas. I also encourage getting to your appointment on time if not a few minutes early. Yes doctors are often late but when the appointments before you were no shows the staff are often in a quandary of how to keep doc on schedule. You could get there and be out before your actual appointment time.
I also encourage not to yell at staff when the Dr is late. They are dealing with the sick injured or elderly all of whom take time. The doctor will give you the same courtesy they gave the previous patient and you won't get a bad name with the staff.
I also encourage you to do what the nurse or other staff asjksyou to do the first time. The staff aren't there to hear the 100s of jokes about you not getting on the scale. If you don't want the weight just say NO.
YEs I work at a doctors office. Oh and pay your copay!

August 2, 2017
0

found this helpful
Most definitely one should arrive on time. Many should factor in doctors are important and sometimes running late, although it is a frustrating matter we have to accept it.
Oh yes yes yes! How did I forget about the insurance card handy. Some people fidget with their wallets looking for their identification card and insurance card which then holds the line up.
Add your voice! Click below to comment. ThriftyFun is powered by your wisdom!
Published by ThriftyFun.
© 1997-2022 by Cumuli, Inc. All Rights Reserved.
https://www.thriftyfun.com/Be-Prepared-Prior-to-Doctors-Appointment.html