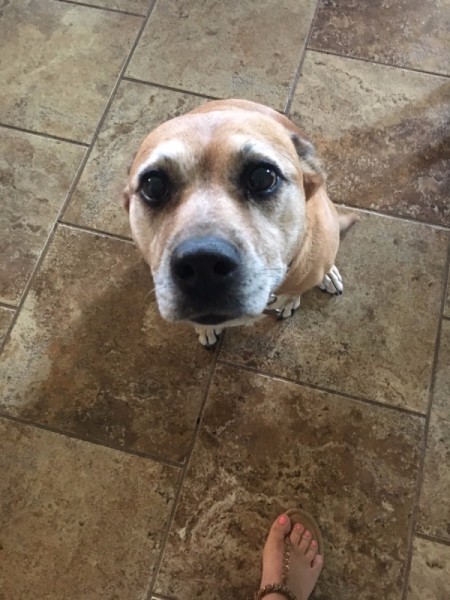 Your Pet's Age
11 years
Your Pet's Breed
Boxer-Pit Mix
How and when did you get your pet?
My oldest daughter got her in Dallas from a friend whose Boxer had a fence jumper visit. We thought Belle would be a good addition to the family since my Rottie mix, Skye, was so sadden by her buddy's death. In the 3 hour drive home I wasn't so sure it was the right choice. Belle cried and howled the entire trip home. Belle, being a puppy, did adjust and they became fast friends. Lucky for us, Just Jack came into the picture a few years later and now it's just the two of them.

What does your pet like to do for fun?
Chase balls, Frisbee, and guard the front door and back yard.
Do you have anything else to share about your pet?
I want to share this picture of my dog Belle. I recently went to Houston for a Hurricane Harvey Helper program with my job. My Mini Pin, Just Jack went to a friend's house because he needed meds on specific days and times and had fallen seriously ill about 2 weeks prior to this. Jack loves going to her house, he thinks he's on vacation and getting spoiled. Belle went to stay at my daughter's house with her family. Belle has stayed there before, but Jack was not with her and she gets restless without him. I texted my daughter several days after I got to Houston and wanted to know how Belle was doing, knowing she gets very homesick.
She sent me this picture. The picture was hilarious, big head and no body. It was more of a a missing you card. She looked so sad and seems to be saying I miss you so much. Waiting for you. Love you so much. Heeeeeelp, come get me. My daughter assured me she was fine. She told her to stay and her ears went back just as she snapped the picture
A week later she was back home and no worse for wear, and Just Jack will recover from his illness.
Add your voice! Click below to comment. ThriftyFun is powered by your wisdom!