Holly
Silver Post Medal for All Time! 364 Posts
January 11, 2014
0

found this helpful
I would like to suggest you call the local animal shelter, police dept., and a veterinarian to get professional opinions as to the fencing. Also know that pits can be good jumpers, so this fence has to be plenty tall.
Lastly, I do not think you should go in on the fence replacement fee at all (unless it is your fence). Not your responsibility.

Lizzyanny
Bronze Feedback Medal for All Time! 226 Feedbacks
January 11, 2014
0

found this helpful
Wow! What a scary situation. 1st off you are not obligated to go 50/50 for a new fence to protect your neighbors from a lawsuit. However in real life you may feel you want to make a contribution. After all they have destroyed a fence that worked for everything but their dogs. The responsibility is 100% theirs.
The standard fence for pit bulls is 8 feet tall. Anything else they will get through or over. Watch a couple episodes on Pit Bulls and Parolees on cable (Animal Planet). They deal a lot with this issue and will not adopt out a dog to anyone without this type of fence. Don't be bullied on this issue by the landlord or the dog owners. Many towns do not even allow this breed to live within the city limits.

January 11, 2014
0

found this helpful
The simple solution is for the home owner to legally write in their renting contract "No dogs permitted under any circumstances.".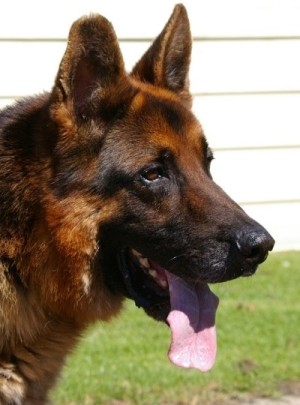 August 18, 2014
0

found this helpful
In addition to fences, there are other deterrents that can be used. There are liquid deterrents that can be applied to the bottom of the fence and some electronic deterrents that could be used. The key is to make your yard a place they don't actually want to be. It's possible that you will need to escalate to the police or animal control agencies; but, unless you actually feel you are in danger, you should try other things first.
Here's a good article that details the steps and solutions you should consider:
badneighboradvice.com/.../my-neighbor-s-pet-keeps-coming-into...

June 9, 2016
0

found this helpful
The landlord doesn't want a lawsuit, but he wants you to pay so it isn't hit with a lawsuit? Ask him which of the two is likely to be the most costly. Then get a can of bear spray. Not pepper spray for humans, BEAR SPRAY. It's stronger and will shoot 30 feet. They are usually very effective on dogs. If you are out in the yard, have the spray with you. If the dogs so much as stick their heads through the fence, spray them.